All Things About East Lothian Council, Scotland
East Lothian, council area and historic county, southeastern Scotland. It lies on the southern shore of the Firth of Forward east of Edinburgh. A lot of East Lothian is an undulating beach front swamp, however it stretches out inland to incorporate piece of the upland fields of the Lammermuir Slopes. The chamber region and notable district involve somewhat various regions. A segment of the Lammermuir Slopes in the southeast has a place with the memorable district of East Lothian however frames part of the Scottish Lines board region. In the west, the region around Musselburgh is essential for East Lothian gathering region however has a place with the memorable district of Midlothian.
In the Medieval times, East Lothian (habitually called Haddingtonshire until the twentieth 100 years) framed piece of the bigger locale known as Lothian. It lay in the way of the English trespassers and experienced a lot of obliteration during the fourteenth, fifteenth, and sixteenth hundreds of years. In this period the medieval palaces of Dirleton, Tantallon, and Hailes were constructed. There were likewise convents at Haddington and North Berwick, friaries at Haddington, Luffness, and Dunbar, and the heavenly well at Whitekirk, a position of journey. The Protestant chief and scholar John Knox was a local of East Lothian, and its kin gone to the Transformed church during the sixteenth 100 years. The last fights battled in the area were those of Dunbar (1650) and Prestonpans (1745).
Conditions were more gotten comfortable in the eighteenth 100 years, and there was further advancement in farming. The land was encased and depleted, businesses created, and woods were planted. The old settlements of gathering property gave approach to incorporated ranches, each with a scheduled farmhouse, enormous pantiled administration structures, and a gathering of rubble-and-pantiled bungalows. Houses were assembled, and stops were walled and planted. A few new towns were laid out (Gifford in 1722 and Ormiston in 1732, the two of which are of building revenue), and Haddington and Dunbar created as market towns.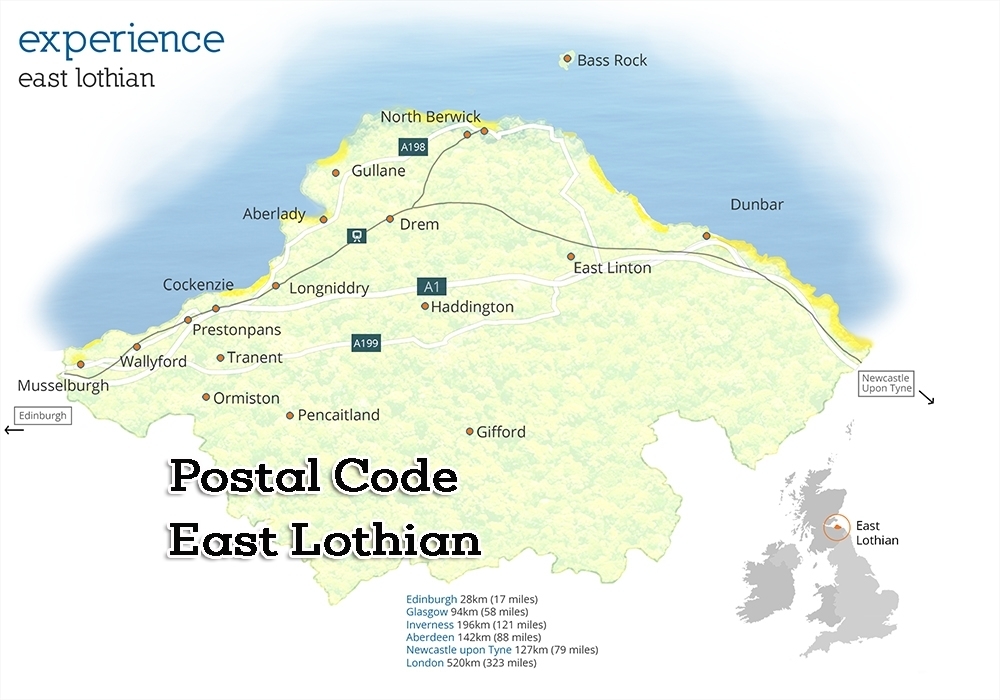 Search For The Latest Postal Code in East Lothian, Scotland.
Global Zip Code offers you currently has a total of 44 Postcode areas in East Lothian, Scotland.
| | |
| --- | --- |
| All regions in East Lothian | Postal Code |
| Aberlady | EH32 |
| Athelstaneford | EH39 |
| Belhaven | EH42 |
| Canty Bay | EH39 |
| Carberry | EH21 |
| Cockenzie | EH32 |
| Dirleton | EH39 |
| Drem | EH39 |
| Dunbar | EH42 |
| East Fortune | EH39 |
| East Linton | EH40 |
| East Saltoun | EH34 |
| Elphinstone | EH33 |
| Garvald | EH41 |
| Gifford | EH41 |
| Gladsmuir | EH33 |
| Gullane | EH31 |
| Haddington | EH41 |
| Humbie | EH36 |
| Innerwick | EH42 |
| Inveresk | EH21 |
| Kingston | EH39 |
| Longniddry | EH32 |
| Luggate | EH41 |
| Macmerry | EH33 |
| Monktonhall | EH21 |
| Musselburgh | EH21 |
| New Winton | EH33 |
| North Berwick | EH39 |
| Old Craighall | EH21 |
| Oldhamstocks | TD13 |
| Ormiston | EH35 |
| Pencaitland | EH34 |
| Port Seton | EH32 |
| Prestonpans | EH32 |
| Spott | EH42 |
| Stenton | EH42 |
| Tranent | EH33 |
| Tyninghame | EH42 |
| Wallyford | EH21 |
| West Barns | EH42 |
| West Fenton | EH39 |
| Whitecraig | EH21 |
| Whitekirk | EH42 |