Dundee City Overview
Dundee is a dynamic and compact city that's becoming a modern wonder. This is a city with science, historic ships and museums for kids (and big kids), plenty of culture with theatres, arts centres, coffee shops and cool bars for grown-ups, and walking routes past interesting architecture for everyone who visits.
Dundee, major industrial city, royal burgh, and seaport of eastern Scotland. Dundee is the fourth largest city of Scotland by population. It constitutes the council area of Dundee City in the historic county of Angus. About 40 miles (64 km) north of Edinburgh, it is situated on the northern bank of the North Sea inlet known as the Firth of Tay, which is crossed there by the Tay road and rail bridges; Dundee's frontage on the Tay exceeds 8 miles (13 km). The city extends from the Tay to the Dundee Law, which is a prominent volcanic plug with an elevation of 571 feet (174 metres).
SEARCH FOR THE LATEST POSTAL CODE (ZIP CODE OR PIN CODE) OF DUNDEE CITY
The Dundee postcode region (DD) contains 11 unique 'outward' codes. Dundee is the main postal town/district for this region, with all postcodes starting with the following outward codes.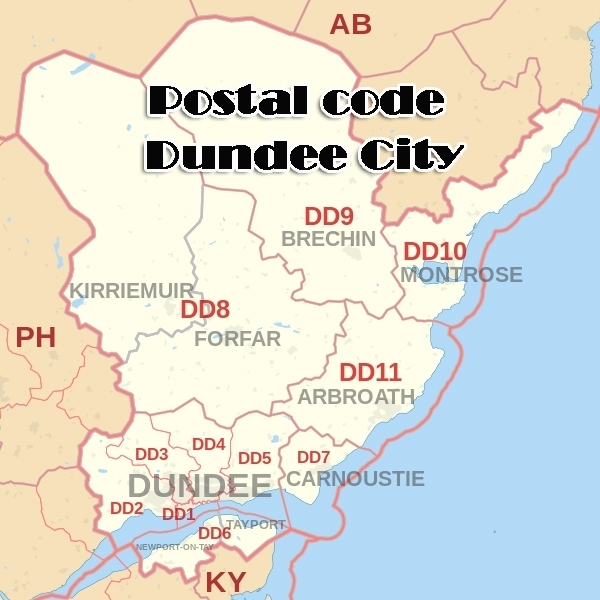 | | |
| --- | --- |
| All regions in Dundee City | Postal Code |
| Dundee | DD1, DD2, DD3, DD4, DD5 |
| Baldovie | DD4 |
| Ballumbi | DD4 |
| Barns of Claverhous | DD4 |
| Broughty Ferr | DD5 |
| Claverhouse Industrial Par | DD4 |
| Dryburgh Industrial Estat | DD2 |
| Dundee Technology Par | DD2 |
| Dunsinane Industrial Estat | DD2 |
| Loche | DD2 |
| West Ferr | DD5 |
| West Gourdie Industrial Estat | DD2 |
| West Pitkerro Industrial Estat | DD5 |