Global Zip Code Delighted Recommend The Latest
Vietnam Postal Code / Zipcode (Mã Bưu Chính) Update in 2023
What is the Postal Code (ZIP codes or PIN codes)?
As per Wikipedia definition, postal codes are unique identifiers either series or combinations of letters, digits, or even spaces and punctuation included in the postal address with the purpose to make mail sorting easy. The postal codes are named differently depending on the country. In India, postal codes are known as PIN, which stands for Postal Index Number, commonly called a PIN code. Similarly, in the US and the Philippines, the postal codes are termed ZIP codes, where the ZIP is the acronym form of Zone Improvement Plan. And in Vietnam, it's simply called Postal Code.
When were the ZIP (PIN) codes introduced in Vietnam?
Vietnam Postal codes are regulated by the Universal Postal Union as well as Global Zip Codes. Postal codes in Vietnam help confirm the location when transferring mail, and postal items or are used to fill in information when users register online with a request to enter a postal code or postal code.
Before 2018 Vietnam Postal Code has a 6-digit number. But from January 1, 2018, the Ministry of Information and Communications officially issued Decision 2475/QD-BTTTT on the National Postal Code, re-stipulating the national postal code to consist of a set of 5 digits, previously 6 numbers..
Specifically :
Determining the province or city directly under the Central Government: The first two (02) characters.
Identify districts, districts and equivalent administrative units: The first three (03) or four (04) characters.
Specify the Country Postal Code: Five (05) characters.
What are the Postal Codes / PIN (ZIP) codes of Vietnam?
Postal Codes (also commonly called a PIN Code or ZIP codes) are required when you are sending or receiving the parcel across the locations. Importantly, required during online shopping these days. Here we have prepared a complete list of postal codes of Vietnam and briefed why are zip codes important and how to use them. Besides, because of immense confusion on how to enter a 5-digit postal code for Hanoi, Ho Chi Minh City, or other Provinces, Vietnam in Google My Business, eBay, and Amazon…., we have also covered that topic.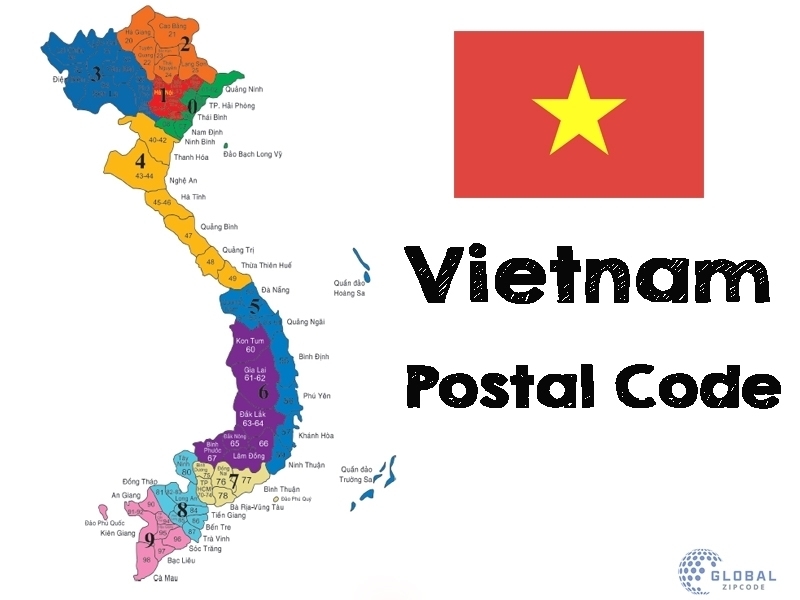 Why are PIN Codes (ZIP codes) so important?
Postal codes (ZIP codes) are not something Vietnamese often use. But postal codes are one of the most important parts to use when you are sending or receiving couriers. The postal codes help the mailmen to speed up the sorting and delivery process for your courier to the right address. For example, in a large city like Sai Gon, there might be a street with similar or identical names, and in those cases, without correct postal codes (ZIP codes) delivering a parcel could be difficult.
These days postal codes have become well-known or subject of curiosity among youths because of the increasing adoption of technology and growth in online shopping habits.
How do you use Postal Codes (ZIP Code) for Vietnam while online shopping on eBay, Amazon, or other Platforms?
Before you learn how to use postal codes for Vietnam while shopping online on Ali-Express, Amazon or any other trade platforms, here's what the digits signify in the ZIP codes
For example, let's take a postal code for Hanoi City, which is 12400.
12400
Generally, The first two (02) characters Identify as provinces or cities (Hanoi) in the postal code, and the second two digits represent for District or Town (Tay Ho District). And the last two digits address the post office in that local area (Phu Thuong Ward) or street.
Now here's how to use the postal code (ZIP codes) for Vietnam in the address format.
Mr. Nguyen Van Tuan
689 Lac Long Quan Street
Phu Thuong Ward, Tay Ho District
Hanoi 12400
Vietnam
| | |
| --- | --- |
| | |
| | |
| | |
| | |
| | |
| | |
| | |
| | |
| | Chinese, some French, English (increasingly favored as a second language),Vietnamese (official) |
| | |
| | |
| | |
| | |
| | |
| | |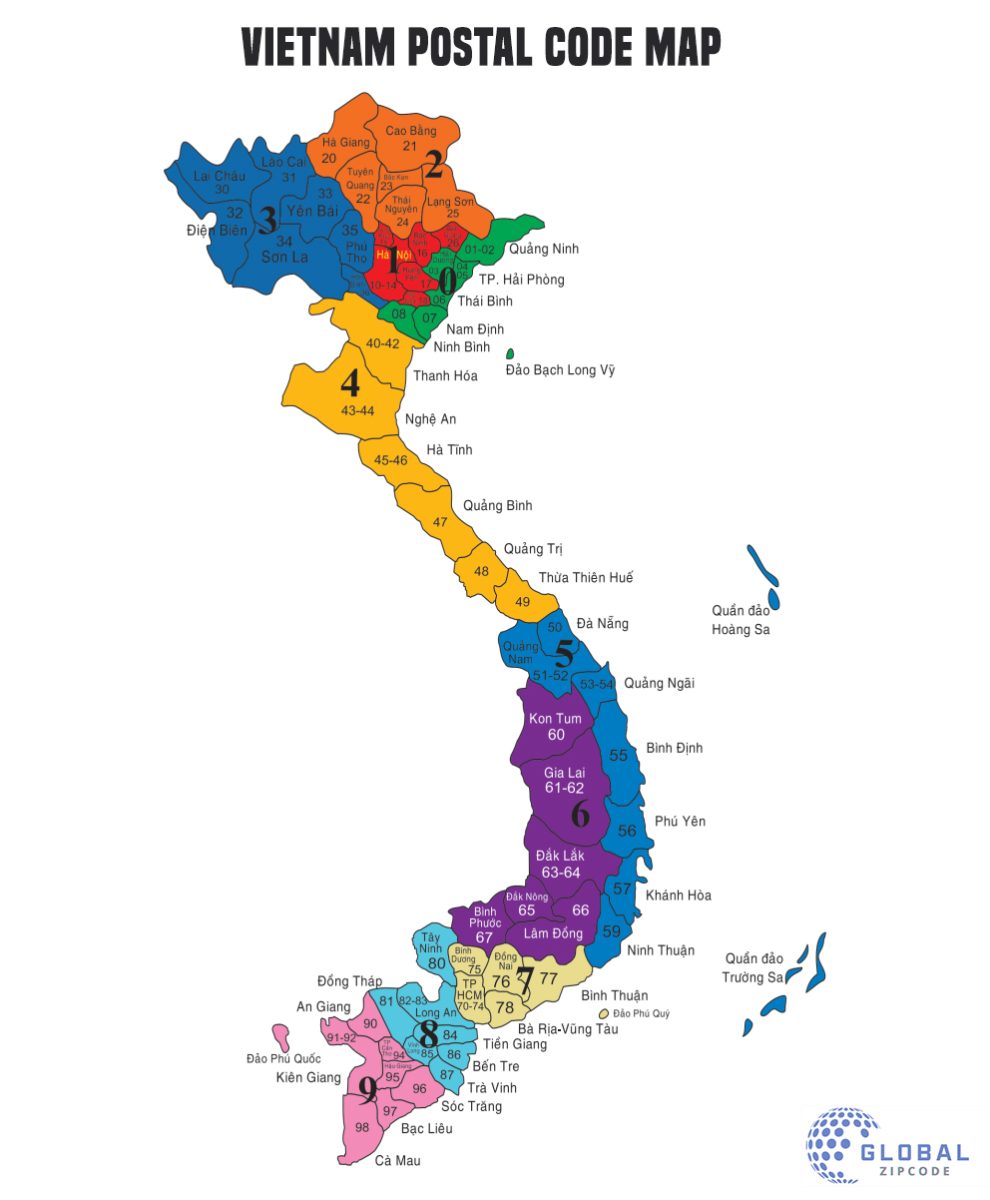 Global Zipcode delighted recommend you The Latest Postal Code/Zip Code in Hanoi District (New 5-digit zip code)
Commonly used Postal Codes for Vietnam (Hanoi City)
Ex: 689 Lac Long Quan, Phu Thuong Ward, Tay Ho District, Hanoi – Postal Code 12400
Ho Chi Minh city Postal Code (New 5-digit)
Commonly used Postal Codes for Vietnam (Ho Chi Minh City)
Ex1: 57 Tran Hung Dao Street, Nguyen Cu Trinh Ward, District 1, Ho Chi Minh City – Postal Code 71000
Vietnam 63 provinces, cities Zip Code (New 5-digit) and Telephone number
For 10-digit Phone Numbers for Vietnamese;
Vietnam uses 10-digit mobile phone numbers, however, there are other forms of contact numbers that are less than 11 digits — Landline numbers. So, while entering the 10-digit phone number for Vietnam in the payment process form, registered online form or store Shopify, simply enter your landline number with the area code like as; any landline number, use "024x.xxx.xxxx" which is the landline number for Hanoi City.
List of Postal Code for Vietnam
Here's this is a complete of postal codes of Vietnam. However, if you have difficulty finding the postal code for your region, or district, use the shortcut Ctrl + F (or tap on the search function on the footer of the web) and enter your region to find the postal code for that place.
Note: Search by the postal code of the province or city:
Ex1: 110 Vo Van Kiet Street, Can Tho province => Find Postal code of Can Tho
Ex2: Village 1, My Gia Ward, Yen Binh Commune, Yen Bai Province => Find Postal code of Yen Bai
1. HOW MANY WAYS TO DETERMINE THE POSTAL CODE WHERE I LIVE?
There are two ways to determine the postal code where you live.
Method 1: If you are using the internet, you can look up the postal code of your place very quickly. Please go to the following link: http://mabuuchinh.vn/. Then enter the address where you want the postal code search to Postals.
Method 2: Checkthe postal seal of the post office in charge of your area of ​​residence. On all letters or documents sent by post, there are postage stamps of the place of sending and the place of receipt. On this black stamp, there are 3 pieces of information: the name of the post office (above), the postal code of the post office (below) and the date of sending/receiving (in the middle).
2. HOW TO WRITE THE POSTAL CODE ON THE ENVELOPE CORRECTLY
When writing postal codes on envelopes, note:
The postal code must be followed by the province/city name and separated from the province/city name by at least one blank character.
Printed or handwritten accurately, clearly, legibly.
For postal items with a dedicated box for Postal Codes in the sender's and recipient's addresses, each box must have only one digit and the digits must be written accurately, clearly, and legibly without crossing out.
3. DO YOU NEED A POSTAL CODE WHEN BUYING PROVINCE/CITY?
Postal codes are essential when making international purchases.
The society is increasingly developing, especially after the covid pandemic, the online shopping trend is growing, technology companies grasp the shopping needs of customers, so more and more online shopping platforms are born. Many convenient international payment methods, when paying for international payment cards such as Visa Master, JCB Amex Card, G Pay, Paypal or Payoneer will be asked to enter the postal code in the payment information. Postal code will help the parcels from abroad to Vietnam convenient and fast
The postal code is also so that you can buy goods online from abroad to Vietnam like amazon, ebay, aliexpress…so on and pay Facebook Ads, Google Adwords, pinterest ads or register google my business…etc.
4. IS THE POSTCODE DIFFERENT FROM THE POSTAL CODE?
Vostcode is a combination of national postal codes and location codes on Vmap digital maps, applying the latest technologies in creating, assigning codes, managing, searching and locating addresses.
Vpostcode helps the community find the exact location and route, improving efficiency for e-commerce, logistics, delivery, real estate, tourism businesses…etc.
5. SOME NOTES WHEN SENDING BY POST
Provide complete and accurate information
It is very important to fill in complete and accurate information of the recipient and sender. In many cases, the recipient cannot be contacted because the address or information is not detailed and incorrect.
Determine the type of goods to be sent by post
Each item will have a different shipping fee. Therefore, it is necessary to determine whether the items sent are parcels, documents, invitations, high value items or fragile goods such as glass, ceramics, liquid goods, …
Determine the correct size, weight, and packaging status of the goods
You need to check the product weight, pack and preserve the goods carefully when sending the goods by post.
Respond promptly when there is an incident
When the recipient does not receive, the goods are returned or lost or broken in transit, you need to quickly contact the post office to have it resolved.