With the development of economy and society, the rapid urbanization speed has more and more skyscrapers, becoming symbols for big cities as well as the whole country. This is evident in the large fluctuations in the list of tallest buildings in Vietnam.
After 8 years of holding the top position in terms of height, the Keangnam Hanoi Landmark Tower building had to "give up" the top position to Landmark 81 in Ho Chi Minh City. And the top of the tallest buildings in the country will continue to change as more and more impressive buildings with outstanding heights are being built.
Here is a list of tallest buildings in Vietnam up to now:
1. Landmark 81
Address: 720A Dien Bien Phu, Binh Thanh, Ho Chi Minh
Height: 461.3 m
Number of floors: 81 floors (3 basements)
Overall area: 241,000 m2
Completion time: July 26, 2018
Investor: Vingroup
Primary Location
Located on the banks of the Saigon River, Landmark 81 building is considered the heart of Vinhomes Central Park urban area with an investment of nearly 40,000 billion VND. Owning 81 floors, the total area of ​​241,000m2, the building holds the record of the tallest building in Vietnam and is also named in the top 14 tallest buildings in the world.
Inspired by traditional bamboo bundles with strong stretching, Landmark 81 possesses unique architecture, and includes functional spaces such as hotels, serviced apartments, office blocks for rent, Officetel, shopping mall and other entertainment facilities.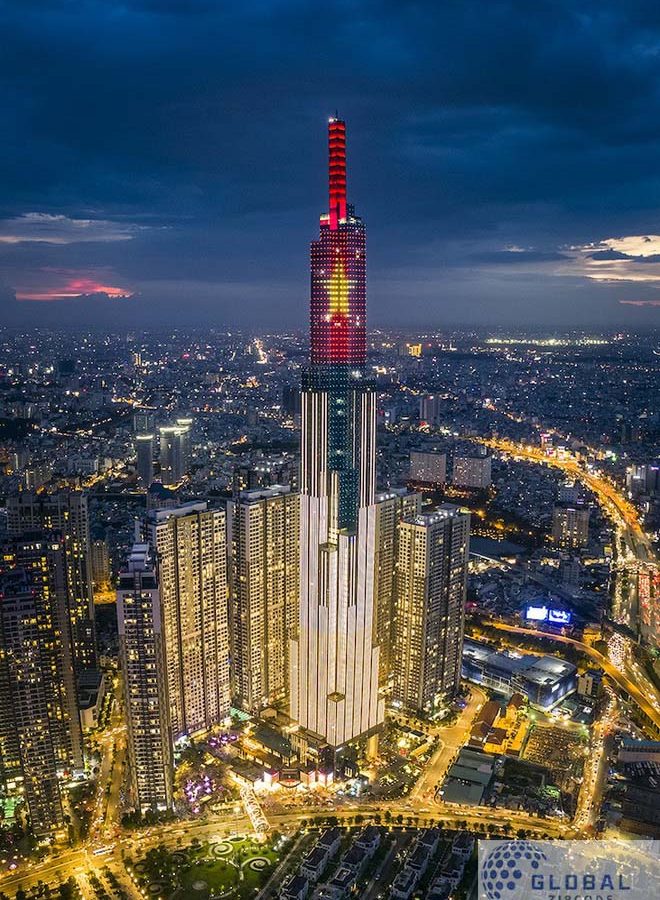 What does Landmark 81 building have?
Landmark 81 building is likened to the "playing paradise" of young people with all kinds of interesting and unique entertainment activities. Here you can discover:
Commercial center area with enough high-end brands and luxury restaurants to enjoy sightseeing, dining and shopping.
Discover Vincom Ice Rink – Vietnam's largest ice rink for all ages
Landmark Food Hall on the B1 floor converges all dishes from Thailand, Hong Kong, Japan…
Modern CGV cinema with the largest IMAX curved screen in Vietnam
On the first floor of the building is a great virtual living place with 2 unique decorated Vincom Landmark 81 entrances
Explore Blank Lounge on floors 75 & 76 – an impressive place to experience nightlife with shimmering lights covering the whole city.
Explore the Landmark 81 observatory at an altitude of nearly 400m at the top 3 floors 79, 80, 81 of the building.
From Skyview, you can admire the panoramic view of the city and experience the challenge of skydiving from the top, relaxing on a floating rattan chair, traveling with a mini hot air balloon, or discovering a floating book model "Vietnamese bamboo grows". High".
On the 81st floor, there is also a SkyTouch suspended bridge to admire the city below.
Skyview floor ticket price of Landmark 81 building?
The current Skyview ticket price is 810,000VND/ticket for adults, 405k/ticket for children from 1m-1.4m and free for children under 1m. Tickets are sold at basement B1 and can take a separate elevator to the 79th floor in just a few minutes.
Does Landmark 81 have a movie theater?
At this Landmark 81 building, there is an extremely hot hit CGV cinema cluster with the largest IMAX curved screen in Vietnam, with a width of 22m and a height of 12.4m, bringing a completely new and overwhelming feeling. Experience the most realistic and vivid images.
2. Keangnam Hanoi Landmark Tower
Address: 6E Pham Hung, Nam Tu Liem, Hanoi
Height 336 m
Number of floors: 72 floors (3 basements)
Overall area: 300,000 m2
Completed: December 2011
Investor: Korea Keangnam Group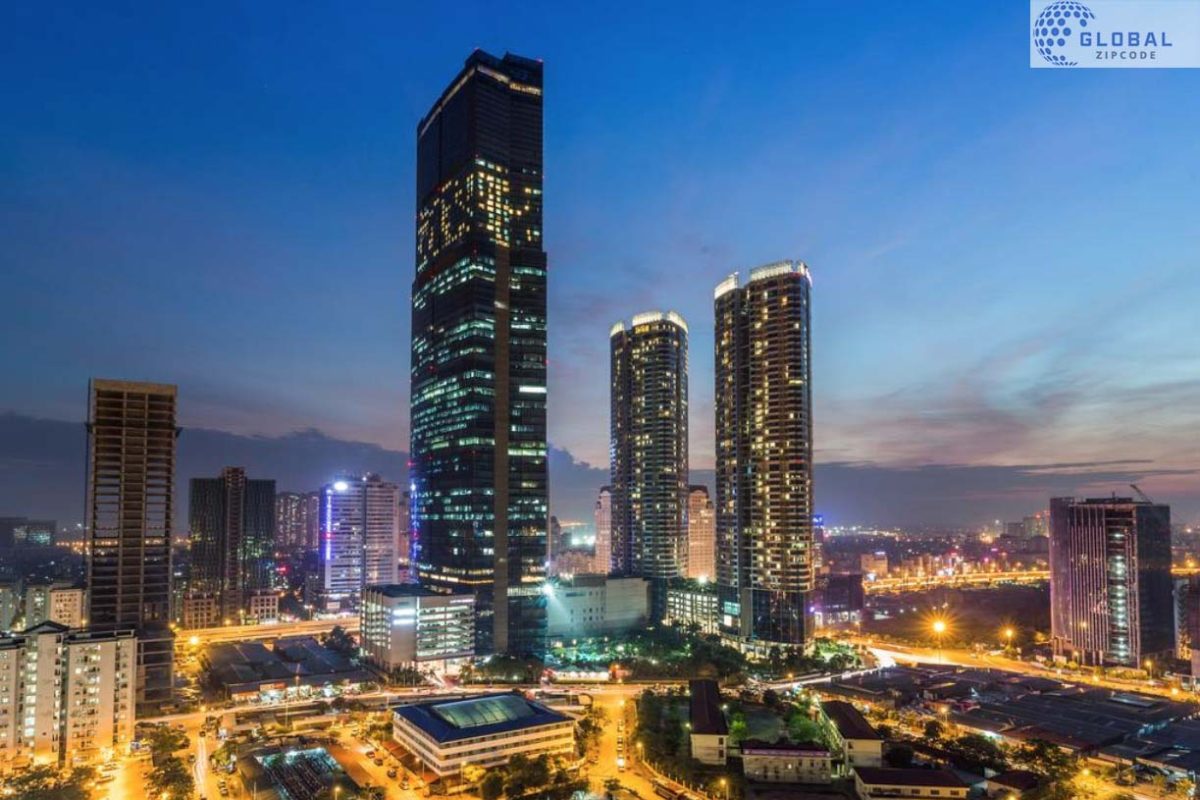 Holding the record for the tallest building in Vietnam continuously for 8 years, Keangnam Landmark Hanoi Tower has become a symbol for Hanoi city. The building is a complex of hotels – offices – apartments – commercial centers, invested with a capital of up to 1.05 billion USD by Korean Keangnam Group.
The complex includes two 48-storey apartment towers and 72-storey office, hotel, and entertainment center buildings.
Currently, this is the most prominent Grade A office building on the Hanoi office leasing market and is the destination of many large domestic and foreign enterprises and corporations.
What does Keangnam Hanoi Landmark Tower have to offer?
At KeangNam you will discover:
Sky observatory: From the top to the 72nd floor of the building, through the Sky observatory, you can see the whole scene of Hanoi.
Rich 3D Gallery: This is an area displaying an extremely rich and vivid collection of 3D paintings, creating a feeling of being exactly like the real thing.
5D Cinema: Enjoy 5D movies with a 360-degree viewing angle with a particularly interesting experience, each movie only lasts 15-20 minutes but will give you the most real feelings, full of surprises.
Artlink Gallery: Admire the works of fine art and fine art by Vietnamese painters and artisans, mainly oil paints, lacquers, and dó paper on themes of the country, people and the world. Vietnamese culture.
Wish Wall: This is an ideal and romantic place for young people and couples to keep their wishes and sweet words on colorful bricks.
How much is the ticket price for the 72nd floor of Keangnam Hanoi building?
To get to Sky72, there will be a special elevator to go up 72 floors in less than 1 minute. And you have to buy tickets to the elevator at the price of 100k for children, from 160k for adults and free for children under 80cm. The ticket price includes all services at Sky72. On Saturday and the owner, the price will increase a bit more and decrease for groups of more than 10 people.
Does Keangnam Building have a cinema?
Keangnam Building is Lotte Cinema's first facility in Hanoi with luxurious, modern space and quality service. In particular, the building also has an impressive 5D cinema for visitors to experience and discover the difference.
Customers wishing to find office space here, please refer to the price list and services at: Keangnam Building
3. Lotte Center Hanoi
Address: No. 14 Lieu Giai, Ba Dinh, Hanoi
Height: 272 m
Number of floors: 65 floors (5 basements)
Completion time: 2014
Investor: Lotte Corporation Korea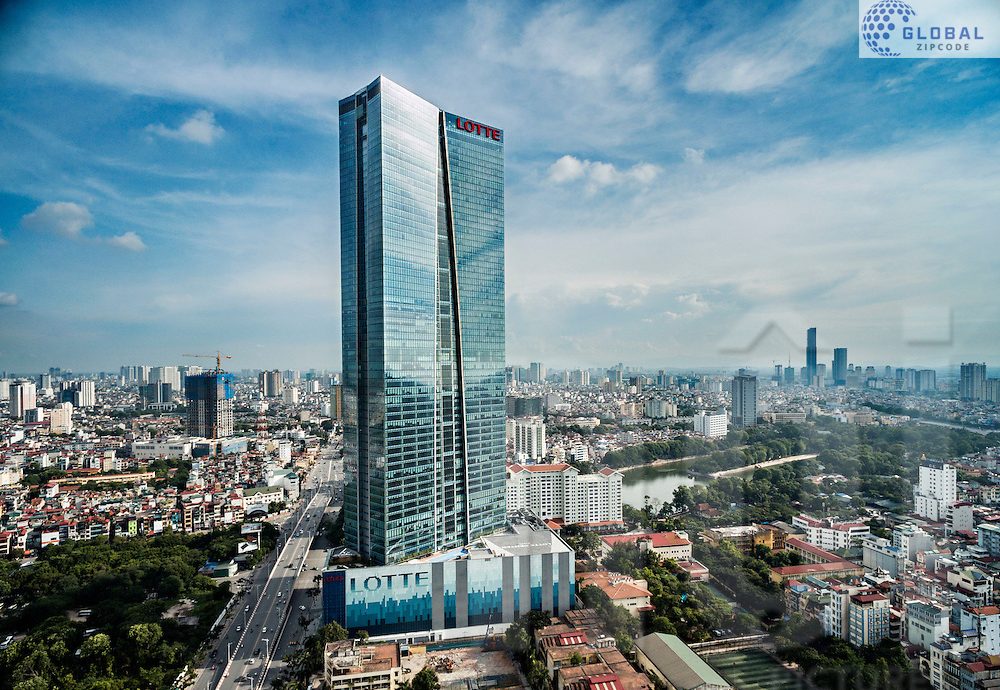 Officially put into operation in September 2014, Lotte Center Hanoi building is the second tallest building in Hanoi and occupies the top 3 tallest buildings in Vietnam. Inspired by the Vietnamese Ao Dai, the building possesses outstanding and impressive architecture. This is a complex building including hotel – a luxury apartment – office block – commercial center.
Lotte Center is being considered as a symbol of the entire Ba Dinh administrative-economic center and is the destination of many large domestic and foreign enterprises and corporations.
How many floors high is Lotte building?
Lotte Center building is built with 65 floors, including 5 basements. From the 65th floor at the roof of this high-rise building, you can zoom out to the north to see the whole 18km2 West Lake.
What does Lotte Hanoi building have to play?
Lotte Center Hanoi is a world-class luxury shopping and service center, the building offers a lot of top-notch entertainment services and becomes an attractive destination in Hanoi.
From the basement 1 of Lotte Center is the Lotte Mart trade center that converges all the products, brands in the world, a diverse food court … for visitors to freely explore.
On the 5th floor of the building is a children's play area exclusively for Kid's Playground with diverse and extremely interesting games for children.
In particular, at the 65th floor of the building, you can experience the unique sky Walk, watching the whole city, the whole space is surrounded by glass to create the feeling of walking in the air, all four sides are clouds. Besides, at the observatory, there are binoculars arranged so that you can enjoy the view of the whole city. With a luxurious and unique space, you can comfortably pose and take beautiful photos.
How much is the ticket price for the 65th floor of the lotte building?
To get to the 65th floor of Lotte Center building, you have to go from the basement. The basement is also a place to sell tickets to the observatory for about 180,000 VND/person from each batch. Sometimes the building also has a student discount program or special anniversaries.
Does Lotte building have a movie theater?
It is surprising that the central area is invested up to 400 million USD by Lotte Group and is considered a symbol of Lotte in Hanoi, but this building does not have a cinema.
4. Bitexco Financial Tower
Address: No. 02 Hai Trieu, District 1, Ho Chi Minh City
Number of floors 68 floors
Height: 262.2 m
Overall area: 119,000 m2
Completion time: October 31, 2010
Investor: Bitexco Group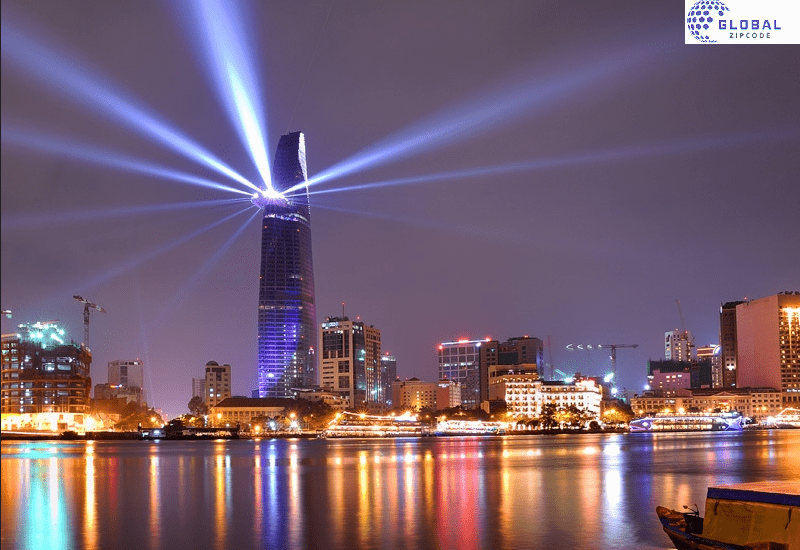 Bitexco Financial Tower, also known as Hoa Sen tower or Bitexco financial tower, is considered the symbol of Ho Chi Minh City. Inspired by the lotus bud, the highlight of the building is an elevated helipad with unique architecture on the Saigon River.
This is the tallest building in Ho Chi Minh City continuously for 9 years, and it is still the highlight of the whole city. This complex tower includes office blocks, commercial center and observatory. This is also one of the quality office buildings attracting the most tenants in the HCM market.
What does Bitexco Financial Tower have to offer?
The attraction of Bitexco building is owning a modern commercial center and many facilities, services, entertainment, visitors can freely shop, eat and explore.
Enjoy shopping and choosing famous fashion brands at Icon68 Shopping Center
Discover the unique garden cafe space ELLE Cafe on the ground floor of the building
Explore Food Creative food court
Enjoy the panoramic view of the city from the 178m Saigon Skydeck on the 49th floor of the building. Saigon Skydeck is fitted with glass to bring a 360 view, especially a clear binocular system, observing the entire distant location.
Enjoy the cloud cafe EON Cafe
Explore Strata Restaurant – Buffet on the sky
Ticket price for the 49th floor of Bitexco Financial Tower?
When visiting, playing or shopping inside the Bitexco Financial building, there is no charge for visitors. But if you want to visit the top floor of the building, Saigon Skydeck (observation deck) on the 49th floor, the current ticket price is 200,000 VND/adult and 130,000 VND/child.
Does Bitexco Financial Tower have a cinema?
Bitexco Financial Tower has a modern cinema right in the building to serve the entertainment needs of customers.
5. Discovery Complex 302 Cau Giay
Address: Located at #302 Cau Giay Streets, Cau Giay district, Hanoi city
Number of floors: 54 floating floors and 5 basements
Overall area: About 10,500m2
Completion time: 2018
Investor: Cau Giay Trading Service Investment Joint Stock Company
This is the 4th tallest tower in Hanoi, owning a prime location in the busiest and most bustling economic center of the Capital – Cau Giay district.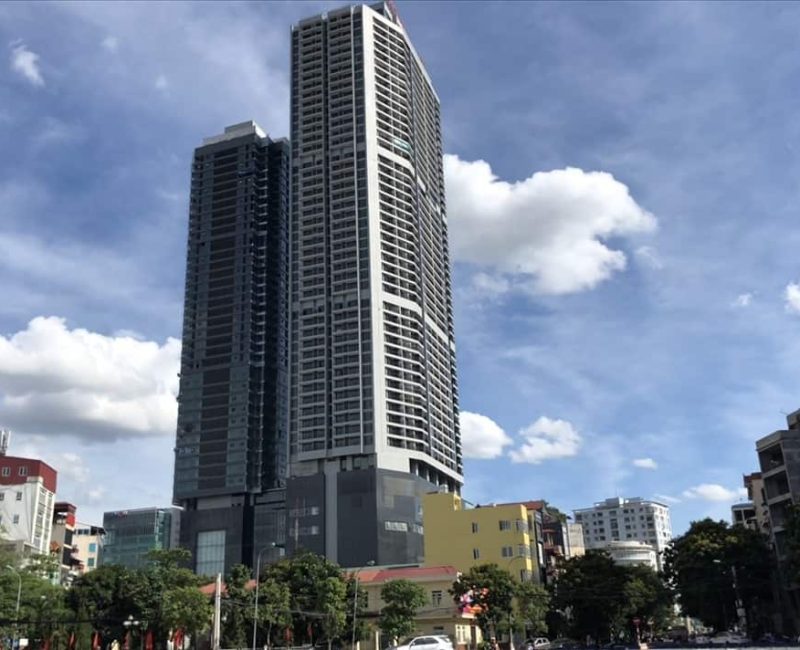 Perfect 5-star facilities right at home
Discovery complex 302 Cau Giay provides customers with the most advanced living facilities right in the building.
4-season swimming pool 400m2 using smart water filtration technology, Gym, Massage and Spa with international standards.
Supermarket at basement B1, BHD cinema on 7th floor, bank, restaurant, coffee shop, walking path, green tree floor, children's play area…
International kindergarten with an area of ​​518 m2 on the wooden floor
8 floors Trade center with thousands of high-class brands to serve the shopping and entertainment needs of residents
In addition, the project also has a modern parking lot and 24/24 security system, swipe card system from the elevator, fingerprint door lock, doorbell displaying images to ensure residents the Maximum comfort and class.
Professional building management unit CBRE ensures the building operates according to international standards and adds value to the apartment in the long term.
6. HPC Landmark 105
Project name: HPC LANDMARK 105 APARTMENT TOWER.
Project investor: Hai Phat Thu Do Investment Joint Stock Company.
Project location: To Huu street, La Khe ward, Ha Dong district – Hanoi city.
HPC Landmark 105 building: Includes 02 blocks of 35 and 50 floors, basements connected to the entire project.
Building High: 190 m
Land area: 10,779 m2.
Building density: 39.07%.
Area 2 basements: Commercial and residential parking.
Area 4 floors podium: Trade center, community services, swimming pool, …
Tower block from 5th floor and above: High-class apartment.
Construction progress: HPC 105 project is being handed over.
Operational management unit: CBRE Vietnam.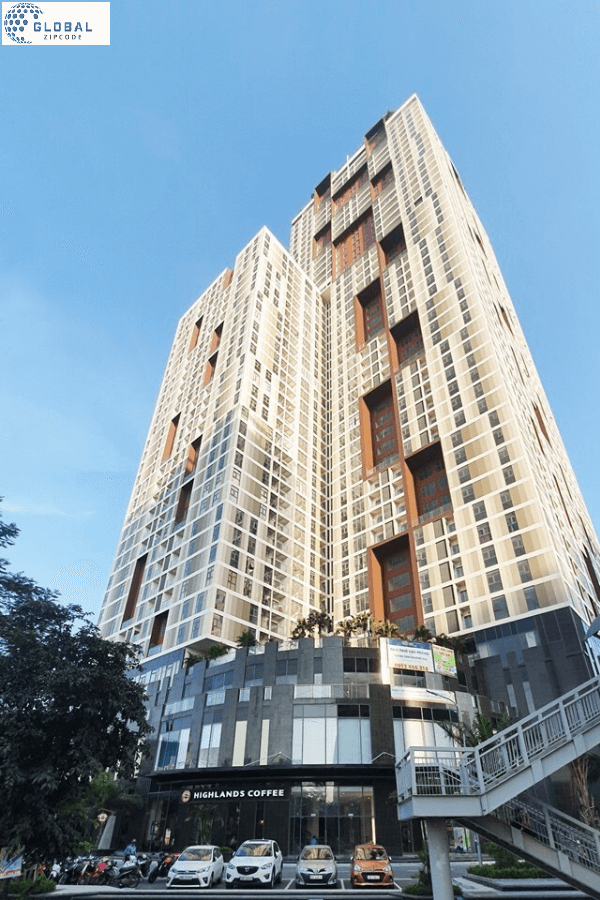 Primary Location of HPC Landmark
HPC Landmark 105 is located on To Huu street – connecting Le Van Luong street – the route narrowing the distance from Hanoi center to Ha Dong; facilitate circulation for socio-economic development for Ha Dong district in particular and Hanoi city in general.
This is the intersection of the arterial roads of the Capital: Le Van Luong, Le Trong Tan, Road 72, Thang Long Avenue, Ring 4; Where new urban areas are concentrated Van Khe, An Hung, Duong Noi, Geleximco…
HPC Landmark 105 is a tower designed as a soft and brilliant silk strip with 2 basements with a length of nearly 1km and aerial bridges through 13 buildings. This is the first enthusiastic and first high-class apartment project of the investor Hai Phat Thu Do – a member of the Hai Phat INVEST system – Hai Phat GROUP.
7. Saigon One Tower 1
Address: Ham Nghi Street, District 1, Ho Chi Minh City
Height: 195.3 m
Number of floors: 6 Basements and 45 High Floors
Overall area: 6,800 m2
Investor: Saigon Real Estate Company M&C
Status: Roughly built and being withdrawn
Main direction: Northeast direction
Total building area: 200,000 m2
Total office area: 10,430 m2
Typical floor: 1,060 m2/floor
Ceiling height: 2.75 m
Lifts: 16 passenger lifts, 3 cargo lifts and 2 parking lifts
Air conditioning: Modern central air conditioning system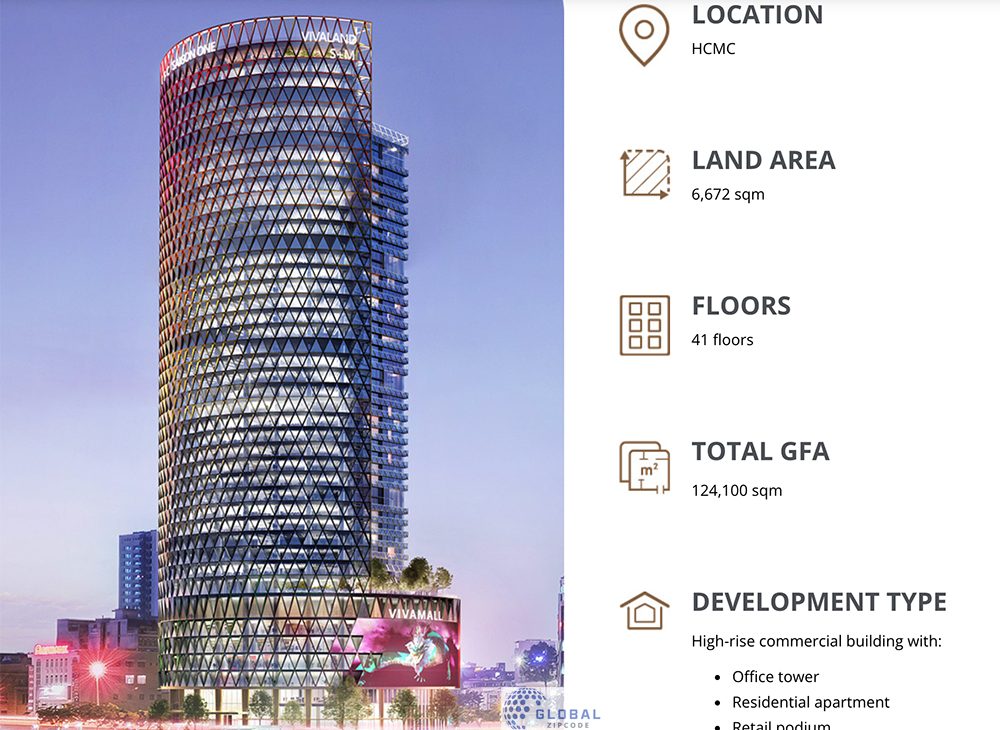 Location of Saigon Center Building
Saigon Center's address is 65 Le Loi, Ben Nghe Ward, District 1, Ho Chi Minh City. However, the exact location is located right on the 3 main street fronts: Le Loi, Pasteur, Nam Ky Khoi Nghia. The location "Diamond" is very beautiful, in the center of District 1. There is no current building in District 1 with such a VIP location.
It is this location that has elevated the building's position to the top of the top office buildings in Ho Chi Minh City. On the other hand, transportation is very convenient.
Moreover, District 1 also owns perfect technical infrastructure. Metro Line 1 is about to go into operation soon, where many multi-disciplinary administrative agencies, multinational corporations, diplomatic missions, … help businesses easily find potential customer partners.
8. Saigon Center 2
Address: Le Loi Avenue, District 1, Ho Chi Minh City
Height: 193.7 m
Number of floors: 43 floors (6 basements)
Overall area: 13,000 m2
Completion time: 2017
Investor: Keppel Land Watco Vietnam Company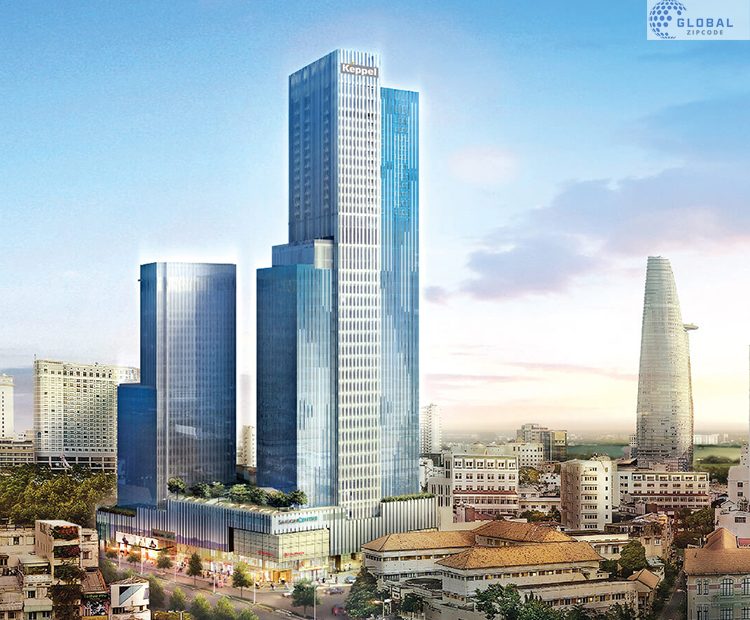 Location of Saigon Center 2
Saigon Center 2 is located in the "golden" position when it is adjacent to 3 main street frontages, namely Nam Ky Khoi Nghia, Le Loi, and Pasteur, helping to facilitate traffic.
This area is known as the "heart" of Ho Chi Minh City. This is the place where multi-disciplinary administrative agencies, multinational corporations, diplomatic missions, financial and banking institutions gather. Renting an office here will also help businesses easily find potential partners.
Moreover, District 1 has perfect technical infrastructure, is about to go into operation Metro No. 1. The building is close to Thu Thiem tunnel, East-West Highway (Vo Van Kiet) to help trade with neighboring districts. easier than ever.
Saigon Center Tower 2 is managed by the Singapore building operating company with many facilities as follows:
Meeting all standards of a high-class Grade A office building.
System of 16 passenger lifts, 3 cargo lifts and 2 car lifts.
Parking area with capacity of 2,500 motorbikes & 210 cars is specially arranged for car parking area and motorbike area.
Internet and phone lines/transmissions are arranged scientifically, with high transmission speed.
Professional, friendly and dedicated management, security, reception and cleaning staff are always ready to assist you.
CCTV 24/24 with more than 300 locations, helping to ensure safety, detect problems, as well as support customers when there is a problem that needs help.
Cleaning and garbage collection services are performed every day.
Periodic maintenance and maintenance of equipment according to international operating standards.
Above is the most detailed information about Saigon Center Tower 2 building in District 1. This place will be a desirable choice for businesses looking for high-class Grade A offices in District 1 and Ho Chi Minh City. Bright.
9. Vietcombank Tower
Project name: Vietcombank Tower
Investor: Vietcombank – Bondday – Benthanh Joint Venture Company Limited
Year of construction: 2015
Grade: A
Structure: 4 Basements – 1 Ground – 35 Floors
Ceiling height: 2.75m
Elevators: 15 Elevators
Floor area: 1,170 m2
Total usable area of office block: 55,000 m2
Lease area: 300 – 600 – 831 – 1,170 m2
Rent: 34$ /m2
Motorbike parking fee: 350,000 VND/month
Management fee: 7$/m2
Car parking fee: 3,500,000 VND/month
VAT: Not included 10%
Overtime fee: 0.1$ /m2 /h
Electricity bill: There is a separate meter. Air conditioning is provided free of charge during office hours
Office design fee: Free from 30-45 days, depending on the area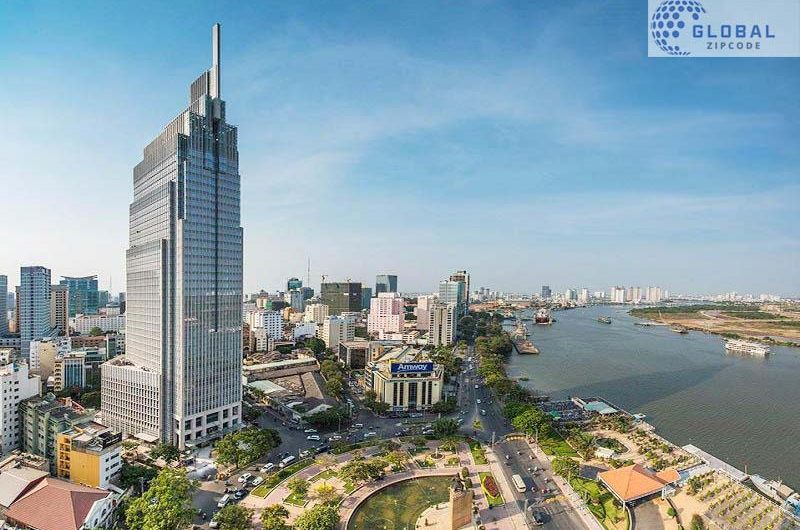 LOCATION OF VIETCOMBANK BUILDING DISTRICT 1
Vietcombank Tower is a Grade A office building for lease with a prime location at Cong Truong Me Linh Street, Ben Nghe Ward, District 1. With this location, the building is considered to be located on the most expensive street. The area is very close to Me Linh Square and easily connected to Hai Ba Trung, Ton Duc Thang, Phan Van Dat and Mac Thi Buoi streets. Although Me Linh Square is a one-way street, there is very little traffic jam even during rush hour. More specifically, in the near future, the subway system will come into operation, the traffic here will be extremely convenient. Moreover, with its position next to the Bach Dang river, Vietcombank Tower is one of the few buildings with a clear view as well as quick access to key traffic bridges such as Thu Thiem Bridge, Saigon Bridge. Saigon, Tan Thuan Bridge, Ong Lanh Bridge and Calmette Bridge. From there, convenient traffic to District 2, District 3, District 4, District 5, Phu Nhuan District and Binh Thanh District.