GLOBAL ZIP CODE IS DELIGHTED TO RECOMMEND THE LATEST
CHINA POSTAL CODES / ZIP CODES – UPDATE IN 2023
Latest Postal Code China
China Area Code is the Chinese Telephone Code Plan. Landlines and mobile phones follow different systems: landlines use area codes, while mobile phones do not. China's country code is 86. Each Chinese city has its own area code. Below is a list of the area code for major cities.
China Postal codes are a numeric six-digit system for the whole country. The first two digits indicate the province, province-equivalent municipality, or autonomous region; The third digit shows the postal zone; the fourth digit shows the prefectures or prefecture-level city; the last two digits indicates the delivery post office.
China Area Code Enquiry Phone Number: 114
China Postal Code Enquiry Phone Number: 11185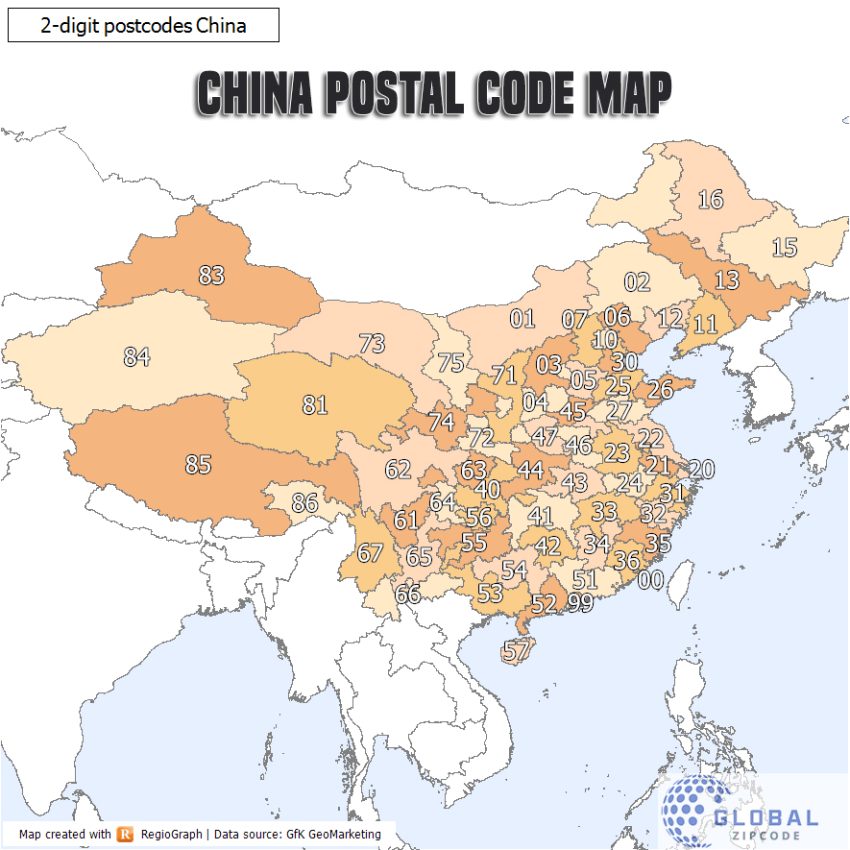 What is China address format?
P.R. China 528400
Beijing City, Dongcheng District, Mingdu Road, Hengda Garden, 7Th Building, Room 702
To: Mr. Xiaoming Zhang
What is China Zipcode Format?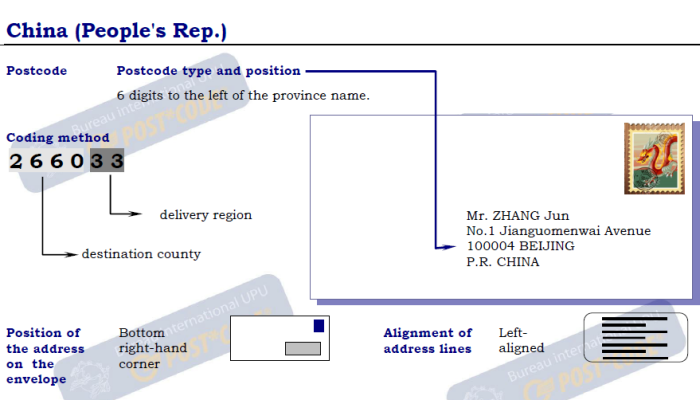 Address Format
An address written in Chinese will start with the biggest geographical component (the province)
and end with the smallest one (the addressee). However, the name of the country (P.R. CHINA)
must be written in an internationally known language.
For the same Chinese address written in the Roman (Latin) alphabet, the format will be used
from the smallest geographical component at the top to the biggest at the bottom.
WHY ARE POSTAL CODES (ZIP CODES) SO IMPORTANT IN CHINA?
China has become one of the giants" in terms of e-commerce and online sales. Three big brands from China, Alibaba, JD.com and Pinduoduo are currently among the top 10 retailers in the world. Not only big brands but even Chinese farmers have changed their lives thanks to e-commerce. Therefore, postal codes in China and above are very important in buying, selling and transporting to consumers.
Postal codes (ZIP codes) are not something Chineses often use. But postal codes are one of the most important parts to use when you are sending or receiving couriers. The postal codes help the mailmen to speed up the sorting and delivery process for your courier to the right address. For example, in a large city like Sai Gon, there might be a street with similar or identical names, and in those cases, without correct postal codes (ZIP codes) delivering a parcel could be difficult.
These days postal codes have become well-known or subject of curiosity among youths because of the increasing adoption of technology and growth in online shopping habits.
How do you use Postal Codes (ZIP Code) for China while online shopping on Ali-express, Taobao, JD, Pinduoduo, Amazon, or other Platforms?
Add
Postal Code
Area Code
Add
Postal Code
Area Code
Beijing ( 16 Districts and 2 Counties )
Dongcheng District
100010
010
XIcheng District
100032
010
Fengtai District
100071
010
Shijingshan District
100043
010
Tongzhou District
101149
010
Changping District
102200
010
Yanqing County
102100
010
Shunyi District
101300
010
Chaoyang District
100020
010
Haidian District
100089
010
Mentougou District
102300
010
Fangshan District
102488
010
Daxing District
102600
010
Miyun County
101500
010
Huairou District
101400
010
Pinggu District
101200
010
Shanghai ( 17 Districts and 1 Counties )
Huangpu District
200001
021
Luwan District
200020
021
Jingan District
200040
021
Putuo District
200333
021
Yangpu District
200082
021
Minhang District
201100
021
Jiading District
201800
021
Songjiang District
201600
021
Chongming County
202150
021
Jinshan District
200540
021
Xuhui District
200030
021
Changning District
200050
021
Zhabei District
200070
021
Hongkou District
200080
021
Baoshan District
201900
021
Pudongxin District
200135
021
Fengxian District
201400
021
Qingpu District
201700
021
Tianjin ( 13 Districts and 3 Counties )
Heping District
300041
022
Hexi District
300202
022
Hebei District
300143
022
Binhaixin District
300450
022
Xiqing District
300380
022
Beichen District
300400
022
Baodi District
301800
022
Jinghai County
301600
022
Hedong District
300171
022
Nankai District
300110
022
Hongqiao District
300131
022
Dongli District
300300
022
Jinnan District
300350
022
Ji County
301900
022
Wuqing District
301700
022
Ninghe County
301500
022
Chongqing ( 19 Districts and 17 Counties 4 Autonomous County )
Yuzhong District
400010
023
Dadukou District
400080
023
Nanan District
400046
023
Yubei District
401120
023
Beipei District
400700
023
Banan District
401320
023
Shizhu County
409100
023
Fengdu County
408200
023
Wuxi County
405800
023
Fengjie County
404600
023
Liangping County
405200
023
Kai County
405400
023
Bishan County
402760
023
Tongliang County
402560
023
Jiangjin City
402260
023
Shuangqiao District
400900
023
Jinjiang District
409700
023
Wulong County
408500
023
Shapingba District
400030
023
Jiulongpo District
400050
023
Wanzhou District
404000
023
Yongchuan City
402160
023
Jiangbei District
400020
023
Peiling District
408000
023
Nanchuan City
408400
023
Chengkou County
405900
023
Yunyang County
404500
023
Zhong County
404300
023
Dazu County
402360
023
Rongchang County
402460
023
Tongnan County
402660
023
Hechuan City
401520
023
Changshou District
401220
023
Zuanjiang County
401420
023
Dianjiang County
408300
023
Wushan County
404700
023
Shizhutujia
Autonomous County
409100
023
 Xiyangtujiamiaozu
Autonomous County
409800
023
Pengshuimiaozu
Autonomous County
409600
023
Xiushantujiamiaozu
Autonomous County
409900
023
Hebei Province ( 11 Prefecture-level cities )
Shijiazhuang City
050011
0311
Cangzhou City
061001
0317
Tangshan City
063006
0315
Qinhuangdao City
066000
0355
Xingtai City
054001
0319
Chengde City
067000
0314
Baoding City
071052
0312
Hengshui City
053000
0318
Langfang City
065000
0316
Zhangjiakou City
075061
0313
Handan City
056002
0310
Shanxi Province ( 11 Prefecture-level cities )
Taiyuan City
030082
0351
Xinzhou City
034000
0350
Yangquan City
045000
0353
Changzhi City
046000
0355
Linfen City
041000
0357
Yuncheng City
044000
0359
Suozhou City
038500
0349
Datong City
037008
0352
Puzhong City
030600
0354
Pucheng City
048000
0356
Lvliang City
033000
0358
Henan Province ( 17 Prefecture-level cities )
Zhengzhou City
450000
0371
Shangqiu City
476000
0370
Xuchang City
461000
0374
Pingdingshan City
467000
0375
Kaifeng City
475001
0378
Luoyang City
471000
0379
Puyang City
457000
0393
Zhoukou City
466000
0394
Sanmenxia City
472000
0398
Anyang City
455000
0372
Xinyang City
464000
0376
Nanyang City
473002
0377
Jiaozuo City
454002
0391
Hebi City
458030
0392
Luohe City
462000
0395
Zhumadian City
463000
0396
Xinxiang City
453000
0373
Liaoning Province ( 14 Prefecture-level cities )
Shenyang City
110013
024
Daliang City
116011
0411
Fushun City
113008
0413
Dandong City
118000
0415
Yingkou City
115003
0417
Liaoyang City
111000
0419
Panjin City
124010
0427
Anshan City
114001
0412
Tieling City
112000
0410
Jinzhou City
121000
0416
Benxi City
117000
0414
Chaoyang City
122000
0421
Zhuoxin City
123000
0418
Huludao City
125000
0429
Jilin Province ( 8 Prefecture-level cities 1 Autonomous Prefecture )
Jilin City
132011
0432
Siping City
136000
0434
Changchun City
130061
0431
Songyuan City
138000
0438
Baicheng City
137000
0436
Tonghua City
134001
0435
Liaoyuan City
136200
0437
Baishan City
134300
0439
 Yanbianchaoxianzu
Autonomous Region
133000
0433
Heilongjiang Province ( 8 Prefecture-level cities 1 Region )
Haerbin City
150010
0451
QIqihaer City
161005
0452
Yichun City
153000
0458
Hegang City
154100
0468
Mudanjiang City
157000
0453
Tuohua City
152000
0455
Jiamusi City
154002
0454
Shuangyashan City
155100
0469
Daqing City
163311
0459
QItaihe City
154600
0464
Heihe City
164300
0456
Jixi City
158100
0467
 Daxinganling
Region
165000
0457
Add
Postal Code
Area Code
Add
Postal Code
Area Code
Neimenggu Province ( 9 Prefecture-level cities 3 League )
Huhehaote
010000
0471
Xilinguole League
026000
0479
Wulancabu City
012000
0474
Baotou City
014025
0472
Bayanzuoer City
015001
0478
Chifeng City
024000
0476
Hulunbener City
021008
0470
Xingan League
137401
0482
Tongliao City
028000
0475
Wuhai City
016000
0473
Eerduosi City
017004
0477
Alashan League
750306
0483
Jiangsu Province ( 13 Prefecture-level cities )
Nanjing City
210008
025
Wuxi City
214001
0510
Nantong City
226001
0513
Yangzhou City
264010
0514
Huaian City
223001
0517
Lianyungang City
276001
0518
Suqian City
223800
0527
Zhenjiang City
277101
0511
Yancheng City
224005
0515
Xuzhou City
221003
0516
Changzhou City
213003
0519
Taizhou City
225300
0523
Suzhou City
215002
0512
Shandong Province ( 17 Prefecture-level cities )
Jinan City
250001
0531
Heze City
274020
0530
Dezhou City
253012
0534
Yantai City
264010
0535
Taian City
271000
0538
Linxing City
276001
0539
Weihai City
264200
0631
Zaozhuang City
277101
0632
Liaocheng City
252052
0635
Qingdao City
266001
0532
Binzhou City
256619
0543
Weifang City
261041
0536
Rizhao City
276800
0633
Naobo City
255039
0533
Dongying City
257093
0546
JiIning City
272119
0537
Laiqiang City
271100
0634
Anhui Province ( 17 Prefecture-level cities )
Hefei City
230001
0551
Chuzhou City
239000
0550
Huainan City
232001
0554
Maanshan City
243001
0555
Fuyang City
236033
0558
Haozhou City
236802
0558
Tongling City
244000
0562
Xuancheng City
242000
0563
Chizhou City
247100
0566
Bangbu City
233000
0552
Anqing City
246001
0556
Suzhou City
234000
0557
Huangshan City
245000
0559
Huaibei City
235000
0561
Liuan City
237006
0564
Chaohu City
238000
0565
Qianghu City
241000
0553
Zhejiang Province ( 11 Prefecture-level cities )
Hangzhou City
310026
0571
Huzhou City
313000
0572
Ningpo City
315000
0574
Taizhou City
318000
0576
Lishui City
323000
0578
Zhoushan City
316000
0580
Quzhou City
324002
0570
Jiaxing City
314000
0573
Shaoxing City
312000
0575
Wenzhou City
325000
0577
Jinhua City
321000
0579
Fujian Province ( 9 Prefecture-level cities )
Fuzhou City
350001
0591
Zhangzhou City
363000
0596
Quanzhou City
362000
0595
Ningde City
352100
0593
Nanping City
353000
0599
Longyan City
364000
0597
Xiamen City
361003
0592
Putian City
351100
0594
Sanming City
365000
0596
Hubei Province ( 12 Prefecture-level cities 1 Autonomous Prefecture )
Wuhan City
430014
027
Xiangfan City
441021
0710
Huanggang City
438000
0713
Huangshi City
435003
0714
Yichang City
443000
0717
Ezhou City
436000
0711
Xingmen City
448000
0724
Xianzhou City
437000
0715
Shiyan City
442000
0719
Xingzhou City
434000
0716
Xiaogan City
432100
0712
Suizhou City
441300
0722
Enshitujiamiaozu
Autonomous Prefecture
445000
0718
Hunan Province ( 12 Prefecture-level cities 1 Autonomous Prefecture )
Changsha City
410005
0731
Yongzhou City
425000
0746
Hengyang City
421001
0734
Xiangtan City
411100
0731
Loudi City
417000
0738
Changde City
415000
0736
Huaihua City
418000
0745
Zhuzhou City
416000
0731
Yueyang City
414000
0730
Yiyang City
412000
0737
Binzhou City
423000
0735
Zhangjiajie City
427000
0744
Shaoyang City
422000
0739
Xiangxitujiazu
Autonomous Prefecture
416000
0743
Guangdong Province ( 21 Prefecture-level cities )
Guangzhou City
510130
020
Yangjiang City
529525
0660
Maoming City
525000
0668
Shaoguan City
512000
0751
Meizhou City
514021
0753
Shenzhen City
518027
0755
Fushan City
528000
0757
Shenjiang City
524038
0759
Heyuan City
517001
0762
Yunfu City
527300
0766
Dongguan City
523003
0769
Xieyang City
522000
0663
Shanwei City
516601
0660
Huizhou City
516001
0752
Jiangmen City
529020
0750
Zhuhai City
519000
0756
Shantou City
515031
0754
Zhongshan City
528403
0760
Zhaoqing City
526040
0758
Chaozhou City
521000
0768
Qingyuan City
511500
0763
Guangxizhuangzu Autonomous Prefecture ( 14 Prefecture-level cities )
Nanning City
530012
0771
Guilin City
541002
0773
Laibin City
546100
0772
Guigang City
537100
0775
Yulin City
537000
0775
Beihai City
536000
0779
Hechi City
547000
0778
Chongzuo City
532200
0771
Fangchenggang City
538001
0770
Wuzhou City
543000
0774
Hezhou City
542800
0774
Baise City
533000
0776
Qinzhou City
535000
0777
Liuzhou City
545001
0772
Add
Postal Code
Area Code
Add
Postal Code
Area Code
Jiangxi Province ( 11 Prefecture-level cities )
Nanchang City
330008
0791
Laizhou City
341000
0797
Fuzhou City
344000
0794
Jingdezhen City
333000
0798
Xinyu City
338025
0790
Pingxiang City
337000
0799
Yichun City
336000
0795
Yingtan City
335000
0701
Jiujiang City
332000
0792
Shangrao City
334000
0793
Jian City
343000
0796
Sichuan Province ( 18 Prefecture-level cities )
Chengdu City
610015
028
Zigong City
643000
0813
Nanchong City
637000
0817
Suining City
629000
0825
Bazhong City
636000
0827
Yibin City
644000
0831
Neijiang City
641000
0832
Leshan City
614000
0833
Yaan City
625000
0835
Maerkang County
624000
0837
Guangyuan City
628000
0839
Mianyang City
621000
0816
Panzhihua City
617000
0812
Guangan City
638000
0826
Dazhou City
635000
0818
Ziyang City
641300
0832
Luzhou City
646000
0830
Xichang City
615000
0834
Meishan City
620020
0833
Deyangshi
618000
0838
Kangding County
626000
0836
Henan Province ( 2 Prefecture-level cities )
Haikou City
570000
0898
Sanya City
572000
0899
Guizhou Province ( 8 Prefecture-level cities 3 Autonomous Prefecture 2 Region )
Guiyang City
550001
0851
Tongren Region
564300
0856
Liupanshui City
553400
0858
Bijie Region
561700
0857
Zuiyi City
563000
0852
Qiandongnanmiaozu
Autonomous Prefecture
556000
0855
Anshui City
564300
0856
Qiannanbuyizumianzu
Autonomous Prefecture
558000
0854
Qianxibuyimiaozu
Autonomous Prefecture
562400
0859
Yunnan Province ( 9 Prefecture-level cities 7 Autonomous Prefecture )
Kunming City
650011
0871
Lincang City
677000
0883
Qujing City
655000
0874
Jinghong City
666100
0691
Shaotong City
657000
0870
Yuxi City
653100
0877
Baoshan City
678000
0875
Chuxiongyizu
Autonomous Prefecture
675000
0878
Puer City
665000
0879
Diqingcangzu
Autonomous Prefecture
674400
0887
Lijiang City
674100
0888
Dalibaizu
Autonomous Prefecture
671000
0872
Wenshanzhuangzu
Autonomous Prefecture
663000
0876
Nuhonglilizujingdianzu
Autonomous Prefecture
678400
0692
Honghehanizu
Autonomous Prefecture
661400
0873
Dehongtaizujingdianzu
Autonomous Prefecture
678400
0692
Xizang Autonomous Region ( 1 Prefecture-level cities 6 Region )
Lasa City
850000
0891
Shannan Region
856000
0893
Changdu Region
854000
0895
Ali Region
859000
0897
Rikeze Region
857000
0892
Linzhi Region
850400
0894
Naqu Region
852000
0896
Shanxi Province ( 10 Prefecture-level cities )
Xian City
710003
029
Baoji City
721000
0917
Weinan City
714000
0913
Yanan City
716000
0911
Tongchuan City
727100
0919
Ankang City
725000
0915
Xianyang City
712000
029
Yulin City
719000
0912
Shangluo City
726000
0914
Hanzhong City
723000
0916
Gansu Province ( 13 Prefecture-level cities 1 Autonomous Prefecture )
Lanzhou City
730030
0931
Dingxi City
743000
0932
Pingliang City
744000
0934
Jinchang City
737100
0935
Jiuquan City
735000
0937
Tianshui City
741000
0938
Linxia City
747000
0930
Qingyang City
745000
0934
Wuwei City
731100
0935
Zhangye City
734000
0936
Jiayuguan City
733000
0937
Longnan City
746000
0939
Baiyin City
735100
0943
Gannanzangzu
Autonomous Prefecture
747000
0941
Qinghai Province ( 1 Prefecture-level cities 7 Autonomous Prefecture 1 Region )
Xining City
810000
0971
Guoluozangzu
Autonomous Prefecture
814000
0975
Haidong Region
810600
0972
Yushuzangzu
Autonomous Prefecture
815000
0976
Hainanzangzu
Autonomous Prefecture
813000
0974
Huangnanzangzu
Autonomous Prefecture
811300
0973
Haiximengguzuzangzu
Autonomous Prefecture
816000
0979
Haiximengguzu
Autonomous Prefecture
817000
0977
Haibeizangzu
Autonomous Prefecture
812200
0970
Ningxiahuizu Autonomous Region ( 5 Prefecture-level cities )
Yinchuan City
750004
0951
Wuzhong City
751100
0953
Zhongwei City
755000
0955
Guyuan City
756000
0954
Shizuishan City
753000
0952
Xinjiangweiwuer Autonomous Region ( 2 Prefecture-level cities 7 Region 5 Autonomous Prefecture )
Wulumuqi City
830002
0991
Hetian Region
848000
0903
Kelamayi City
834000
0990
Aletai Region
836500
0906
Tacheng Region
834700
0901
Akesu Region
943000
0997
Hami Region
839000
0902
Kashi Region
844000
0998
Tulufan Region
838000
0995
Changjihuizu
Autonomous Prefecture
831100
0994
Kezilesukeerzi
Autonomous Prefecture
845350
0908
Bayinguolengmenggu
Autonomous Prefecture
841000
0996
Boertalamenggu
Autonomous Prefecture
833400
0909
Yilihasake
Autonomous Prefecture
835100
0999