Searching For The Latest Postal Codes (Zip Code) of Philippines 2023
The Philippine Postal Corporation (Philpost) uses the Philippine ZIP code to simplify mail distribution in the Philippines. While in the function it is similar to the ZIP code used in the United States, its form and its usage is quite different. The use of ZIP codes in the Philippines is not mandatory, however, it is highly recommended by Philpost that they be used. Also, unlike American ZIP codes, the Philippine code is a four-digit number representing two things: in Metro Manila, a barangay within a city or city district (as in the case of Manila), and outside Metro Manila, a town or city. Usually, more than one code is issued for areas within Metro Manila, and provincial areas are issued one code for every town and city.
For example, postal codes from 04xx to 17xx. And last 2 digits represent the City or locality area. The Philippines has more than 2k zipcodes and the highest number of zip codes allocated to the capital region of Manila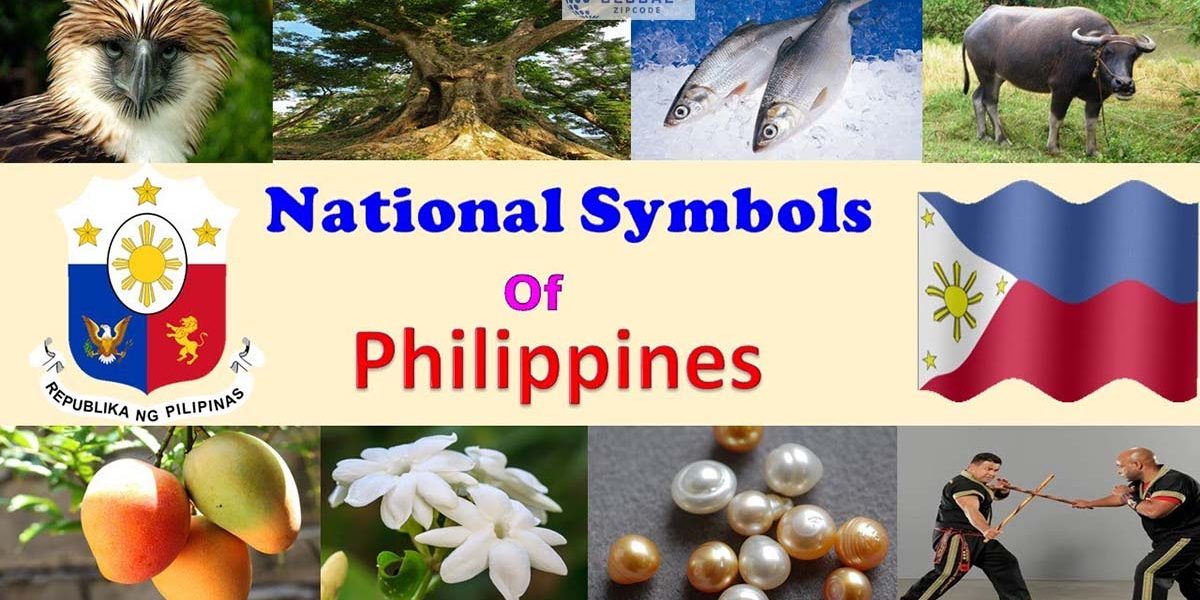 Philippines Quick ZIP Code Knowledge:
Manila region has lowest zip code 400 and having both 3-digit and 4digit zipcode.
Highest zipcode number is 9811 of Sen. Ninoy Aquino in Soccsksargen region
easiest zip code is 1234 of San Isidro Manila region
University of the Philippines Los Banos having two zipcode
These are the list of Zip codes that are used in the Philippines' regions:
Cotabato: 94xx
South Cotabato: 95xx
Maguindanao: 96xx
Lanao del Sur: 93xx + 97xx
What is Philippines address format?
Jeremiah Louis Racela
18 Spud St. East Fairview Park Subdivision
Barangay Fairview
1118 Quezon City
What is Philippines Zipcode format?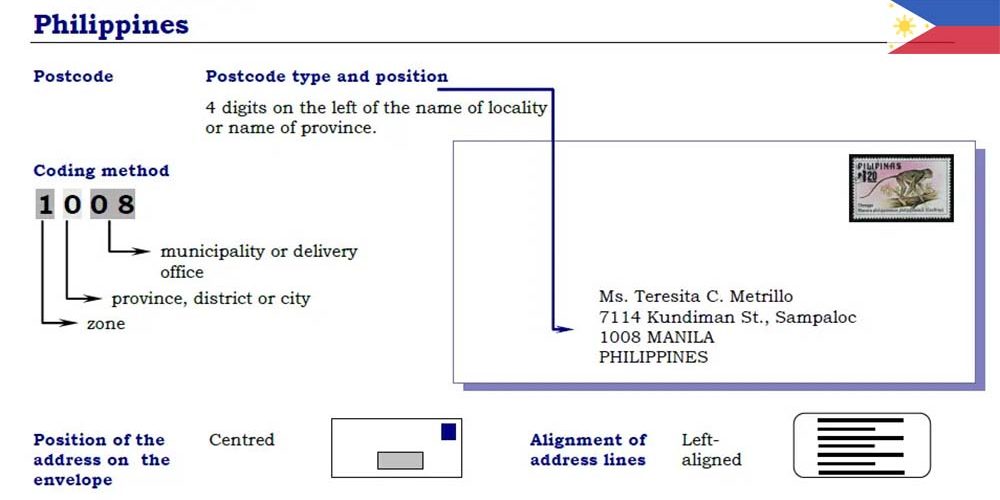 What is Addresses in the Philippines?
When writing addresses on letters and packages, the sender should include the recipient's name, unit or building number, street address, district (barangay), the city or municipality and the post code and province. It is not necessary to include the province within Metro Manila. Include the country name if sending mail from abroad
For example:
NAME: Jeremiah Louis Racela
18 Spud St. East Fairview Park Subdivision
Barangay Fairview
1118 Quezon City
00
Philippines
NAME: Jeremiah Louis Racela
18 Spud St. East Fairview Park Subdivision
Barangay Fairview
1118 Quezon City
Mail Services
Specific rates apply when sending domestic and international mail.
Calculate rates for sending mail in the Philippines
Receiving parcels and packages from abroad
All parcels and packages sent to the Philippines have to go through customs clearance. Once a package has arrived a notice is delivered to the receiver who must then go and collect it from the nearest Post office. Proof of identity is required when collecting the item, and a fee has to be paid.
What is Addresses format in the Philippines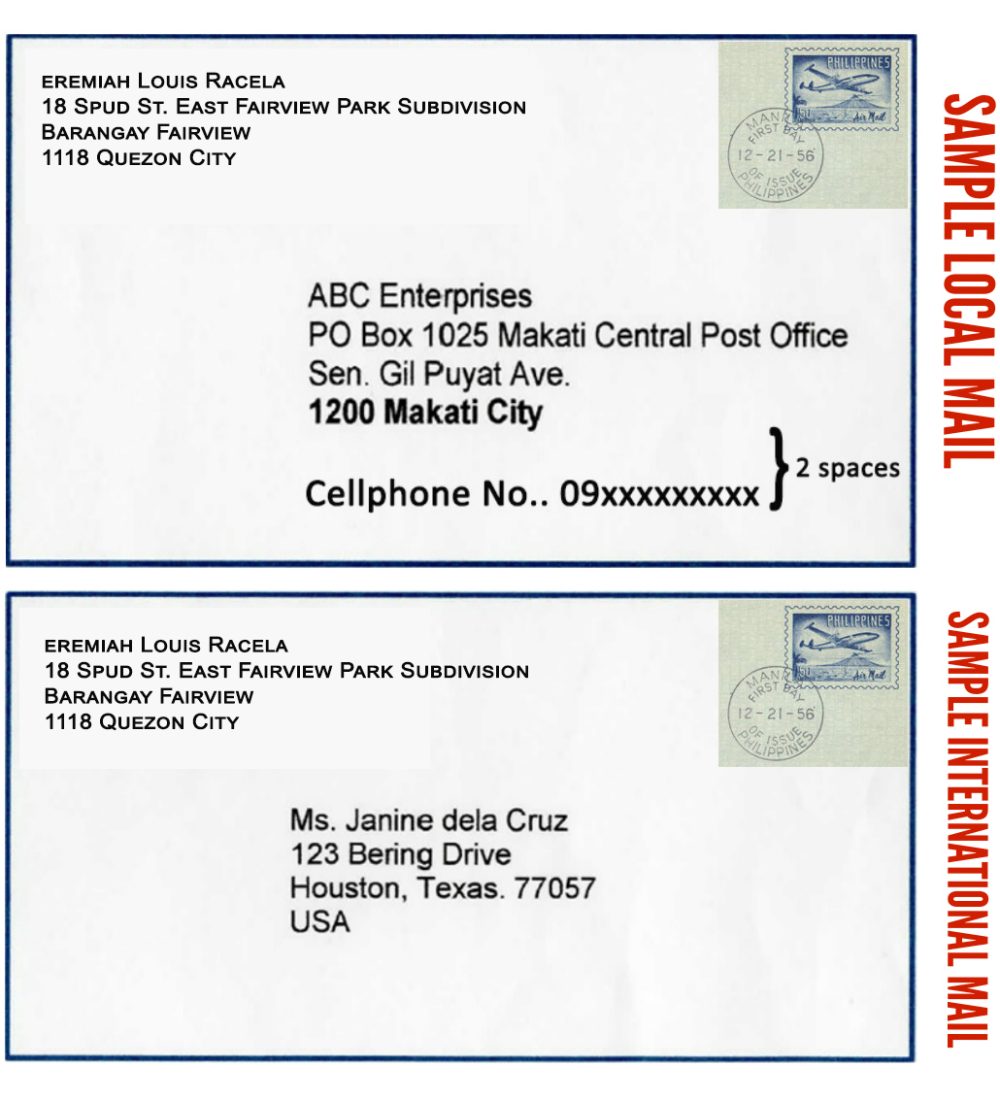 WHY ARE PHILIPPINES PIN CODES (ZIP CODES) SO IMPORTANT?
Postal codes (ZIP codes) are not something Philippines often use. But postal codes are one of the most important parts to use when you are sending or receiving couriers. The postal codes help the mailmen to speed up the sorting and delivery process for your courier to the right address. For example, in a large city like Manila, there might be a street with similar or identical names, and in those cases, without correct postal codes (ZIP codes) delivering a parcel could be difficult.
These days postal codes have become well-known or subject of curiosity among youths because of the increasing adoption of technology and growth in online shopping habits.
Especially after the covid pandemic, the online shopping trend is growing, technology companies grasp the shopping needs of customers, so more and more online shopping platforms are born. Many convenient international payment methods, when paying for international payment cards such as Visa Master, JCB Amex Card, G Pay, Paypal or Payoneer will be asked to enter the postal code in the payment information. Postal code will help the parcels from abroad to Philippines convenient and fast
The Philippines postal codes are also so that you can buy goods online from abroad like amazon, ebay, aliexpress…so on and pay Facebook Ads, Google Adwords, pinterest ads or register google my business…etc.
Here are the latest Zip Code of Philippines Region and Districts
Philippines ZIP Codes are important when you are sending mail letters or packages to the Philippines. Zipcodes are used to locate your address easily by a courier, which will hasten the delivery of your goods. With the proper zip code or postal code, your transaction for transferring your mail or goods will easily be identified and be dispatch as possible.
On this page, we have listed complete ZIP Codes for individual cities and provinces. We have included listing table for you to identify the area you might want to check the official ZIP code. Other information is included to help you see some information about a particular city in the Philippines.
| | | | |
| --- | --- | --- | --- |
| PHILIPPINES REGION | PROVINCES | DISTRICT | ZIP CODE |
| Region 1 (Ilocos Region) | Pangasinan | Alcala | 2425 |
| Region 1 (Ilocos Region) | Pangasinan | Alaminos | 2404 |
| Region 1 (Ilocos Region) | Pangasinan | Agno | 2408 |
| Region 1 (Ilocos Region) | Pangasinan | Anda | 2405 |
| Region 1 (Ilocos Region) | Pangasinan | Aguilar | 2415 |
| Region 1 (Ilocos Region) | La Union | Tubao | 2509 |
| Region 1 (Ilocos Region) | La Union | Sudipen | 2520 |
| Region 1 (Ilocos Region) | La Union | Santo Tomas | 2505 |
| Region 1 (Ilocos Region) | La Union | Santol | 2516 |
| Region 1 (Ilocos Region) | La Union | San Juan | 2514 |
| Region 1 (Ilocos Region) | La Union | San Gabriel | 2513 |
| Region 1 (Ilocos Region) | La Union | San Fernando City | 2500 |
| Region 1 (Ilocos Region) | La Union | Rosario | 2506 |
| Region 1 (Ilocos Region) | La Union | Pugo | 2508 |
| Region 1 (Ilocos Region) | La Union | Naguilian | 2511 |
| Region 1 (Ilocos Region) | La Union | Luna | 2518 |
| Region 1 (Ilocos Region) | La Union | Caba | 2502 |
| Region 1 (Ilocos Region) | La Union | Burgos | 2510 |
| Region 1 (Ilocos Region) | La Union | Bauang | 2501 |
| Region 1 (Ilocos Region) | La Union | Bangar | 2519 |
| Region 1 (Ilocos Region) | La Union | Balaoan | 2517 |
| Region 1 (Ilocos Region) | La Union | Bagulin | 2512 |
| Region 1 (Ilocos Region) | La Union | Bacnotan | 2515 |
| Region 1 (Ilocos Region) | La Union | Aringay | 2503 |
| Region 1 (Ilocos Region) | La Union | Agoo | 2504 |
| Region 1 (Ilocos Region) | Ilocos Sur | Vigan | 2700 |
| Region 1 (Ilocos Region) | Ilocos Sur | Tagudin | 2714 |
| Region 1 (Ilocos Region) | Ilocos Sur | Suyo | 2715 |
| Region 1 (Ilocos Region) | Ilocos Sur | Sugpon | 2717 |
| Region 1 (Ilocos Region) | Ilocos Sur | Sinait | 2733 |
| Region 1 (Ilocos Region) | Ilocos Sur | Sigay | 2719 |
| Region 1 (Ilocos Region) | Ilocos Sur | Santo Domingo | 2729 |
| Region 1 (Ilocos Region) | Ilocos Sur | Santiago | 2707 |
| Region 1 (Ilocos Region) | Ilocos Sur | Santa Maria | 2705 |
| Region 1 (Ilocos Region) | Ilocos Sur | Santa Lucia | 2712 |
| Region 1 (Ilocos Region) | Ilocos Sur | Santa Cruz | 2713 |
| Region 1 (Ilocos Region) | Ilocos Sur | Santa Catalina | 2701 |
| Region 1 (Ilocos Region) | Ilocos Sur | Santa | 2703 |
| Region 1 (Ilocos Region) | Ilocos Sur | San Vicente | 2726 |
| Region 1 (Ilocos Region) | Ilocos Sur | San Juan (Lapog) | 2731 |
| Region 1 (Ilocos Region) | Ilocos Sur | San Ildefonso | 2728 |
| Region 1 (Ilocos Region) | Ilocos Sur | San Esteban | 2706 |
| Region 1 (Ilocos Region) | Ilocos Sur | San Emilio | 2722 |
| Region 1 (Ilocos Region) | Ilocos Sur | Salcedo (Baugen) | 2711 |
| Region 1 (Ilocos Region) | Ilocos Sur | Quirino (Angkaki) | 2721 |
| Region 1 (Ilocos Region) | Ilocos Sur | Narvacan | 2704 |
| Region 1 (Ilocos Region) | Ilocos Sur | Nagbukel | 2725 |
| Region 1 (Ilocos Region) | Ilocos Sur | Magsingal | 2730 |
| Region 1 (Ilocos Region) | Ilocos Sur | Lidlidda | 2723 |
| Region 1 (Ilocos Region) | Ilocos Sur | Gregorio del Pilar (Concepcion) | 2720 |
| Region 1 (Ilocos Region) | Ilocos Sur | Galimuyod | 2709 |
| Region 1 (Ilocos Region) | Ilocos Sur | Cervantes | 2718 |
| Region 1 (Ilocos Region) | Ilocos Sur | Caoayan | 2702 |
| Region 1 (Ilocos Region) | Ilocos Sur | Candon | 2710 |
| Region 1 (Ilocos Region) | Ilocos Sur | Cabugao | 2732 |
| Region 1 (Ilocos Region) | Ilocos Sur | Burgos | 2724 |
| Region 1 (Ilocos Region) | Ilocos Sur | Bantay | 2727 |
| Region 1 (Ilocos Region) | Ilocos Sur | Banayoyo | 2708 |
| Region 1 (Ilocos Region) | Ilocos Sur | Alilem | 2716 |
| Region 1 (Ilocos Region) | Ilocos Norte | Vintar | 2915 |
| Region 1 (Ilocos Region) | Ilocos Norte | Solsona | 2910 |
| Region 1 (Ilocos Region) | Ilocos Norte | Sarrat | 2914 |
| Region 1 (Ilocos Region) | Ilocos Norte | San Nicolas | 2901 |
| Region 1 (Ilocos Region) | Ilocos Norte | Pinili | 2905 |
| Region 1 (Ilocos Region) | Ilocos Norte | Piddig | 2912 |
| Region 1 (Ilocos Region) | Ilocos Norte | Pasuquin | 2917 |
| Region 1 (Ilocos Region) | Ilocos Norte | Paoay | 2902 |
| Region 1 (Ilocos Region) | Ilocos Norte | Pagudpud | 2919 |
| Region 1 (Ilocos Region) | Ilocos Norte | Nueva Era | 2909 |
| Region 1 (Ilocos Region) | Ilocos Norte | Marcos | 2907 |
| Region 1 (Ilocos Region) | Ilocos Norte | Laoag City | 2900 |
| Region 1 (Ilocos Region) | Ilocos Norte | Banna (formerly Espiritu) | 2908 |
| Region 1 (Ilocos Region) | Ilocos Norte | Dumalneg | 2921 |
| Region 1 (Ilocos Region) | Ilocos Norte | Dingras | 2913 |
| Region 1 (Ilocos Region) | Ilocos Norte | Currimao | 2903 |
| Region 1 (Ilocos Region) | Ilocos Norte | Carasi | 2911 |
| Region 1 (Ilocos Region) | Ilocos Norte | Burgos | 2918 |
| Region 1 (Ilocos Region) | Ilocos Norte | Batac | 2906 |
| Region 1 (Ilocos Region) | Ilocos Norte | Bangui | 2920 |
| Region 1 (Ilocos Region) | Ilocos Norte | Badoc | 2904 |
| Region 1 (Ilocos Region) | Ilocos Norte | Bacarra | 2916 |
| Region 1 (Ilocos Region) | Ilocos Norte | Adams | 2922 |
| NCR (National Capital Region) | Metro Manila | Valenzuela P.O. Boxes | 1469 |
| NCR (National Capital Region) | Metro Manila | Malinta CPO | 1440 |
| NCR (National Capital Region) | Metro Manila | Mapulang Lupa | 1448 |
| NCR (National Capital Region) | Metro Manila | Lingunan | 1446 |
| NCR (National Capital Region) | Metro Manila | Karuhatan | 1441 |
| NCR (National Capital Region) | Metro Manila | Fortune Vil. – Paso De Blas – Gen. T. De Leon | 1442 |
| NCR (National Capital Region) | Metro Manila | East Canumay – Lawang Bato Pun | 1447 |
| NCR (National Capital Region) | Metro Manila | Dalandan – West Canumay | 1443 |
| NCR (National Capital Region) | Metro Manila | Balangkas-Caloong | 1445 |
| NCR (National Capital Region) | Metro Manila | Arkong Bato-Rincon-Pasolo-Malanday-Mabolo-Polo | 1444 |
| NCR (National Capital Region) | Metro Manila | Ususan | 1639 |
| NCR (National Capital Region) | Metro Manila | Tuktukan | 1637 |
| NCR (National Capital Region) | Metro Manila | Bonifacio Global City | 1635 |
| NCR (National Capital Region) | Metro Manila | Bicutan Western | 1630 |
| NCR (National Capital Region) | Metro Manila | Bicutan Upper | 1633 |
| NCR (National Capital Region) | Metro Manila | Bicutan Lower | 1632 |
| NCR (National Capital Region) | Metro Manila | Bicutan | 1631 |
| NCR (National Capital Region) | Metro Manila | Bay Breeze Exec. Village | 1636 |
| NCR (National Capital Region) | Metro Manila | San Juan CPO | 1500 |
| NCR (National Capital Region) | Metro Manila | Greenhills PO | 1502 |
| NCR (National Capital Region) | Metro Manila | Greenhills North | 1503 |
| NCR (National Capital Region) | Metro Manila | Eisenhower-Crame | 1504 |
| NCR (National Capital Region) | Metro Manila | Villa Maria Clara | 1109 |
| NCR (National Capital Region) | Metro Manila | Veterans Village | 1105 |
| NCR (National Capital Region) | Metro Manila | Vasra | 1128 |
| NCR (National Capital Region) | Metro Manila | Valencia | 1112 |
| NCR (National Capital Region) | Metro Manila | UP Village | 1101 |
| NCR (National Capital Region) | Metro Manila | Univ. of the Phils. PO | 1101 |
| NCR (National Capital Region) | Metro Manila | Unang Sigaw | 1106 |
| NCR (National Capital Region) | Metro Manila | Ugong Norte | 1110 |
| NCR (National Capital Region) | Metro Manila | Teachers Village | 1101 |
| NCR (National Capital Region) | Metro Manila | Tatalon | 1113 |
| NCR (National Capital Region) | Metro Manila | Tandang Sora | 1116 |
| NCR (National Capital Region) | Metro Manila | Talipapa | 1116 |
| NCR (National Capital Region) | Metro Manila | Talayan | 1104 |
| NCR (National Capital Region) | Metro Manila | Talampas | 1110 |
| NCR (National Capital Region) | Metro Manila | Tagumpay | 1109 |
| NCR (National Capital Region) | Metro Manila | Sto. Nino | 1113 |
| NCR (National Capital Region) | Metro Manila | Sto. Cristo | 1105 |
| NCR (National Capital Region) | Metro Manila | St. Peter | 1114 |
| NCR (National Capital Region) | Metro Manila | St. Martin De Porres | 1111 |
| NCR (National Capital Region) | Metro Manila | St. Ignatius | 1110 |
| NCR (National Capital Region) | Metro Manila | South Triangle | 1103 |
| NCR (National Capital Region) | Metro Manila | Socorro | 1109 |
| NCR (National Capital Region) | Metro Manila | Silangan | 1102 |
| NCR (National Capital Region) | Metro Manila | Sikatuna Village | 1101 |
| NCR (National Capital Region) | Metro Manila | Sienna | 1114 |
| NCR (National Capital Region) | Metro Manila | Sauyo | 1116 |
| NCR (National Capital Region) | Metro Manila | Santa Teresita | 1114 |
| NCR (National Capital Region) | Metro Manila | Santa Monica | 1117 |
| NCR (National Capital Region) | Metro Manila | Santa Lucia | 1117 |
| NCR (National Capital Region) | Metro Manila | Santa Cruz | 1104 |
| NCR (National Capital Region) | Metro Manila | Sangandaan | 1116 |
| NCR (National Capital Region) | Metro Manila | San Vicente | 1101 |
| NCR (National Capital Region) | Metro Manila | San Roque | 1109 |
| NCR (National Capital Region) | Metro Manila | San Jose | 1115 |
| NCR (National Capital Region) | Metro Manila | San Isidro Labrador | 1114 |
| NCR (National Capital Region) | Metro Manila | San Isidro | 1113 |
| NCR (National Capital Region) | Metro Manila | San Bartolome | 1116 |
| NCR (National Capital Region) | Metro Manila | San Antonio | 1105 |
| NCR (National Capital Region) | Metro Manila | San Agustin | 1117 |
| NCR (National Capital Region) | Metro Manila | Salvacion | 1114 |
| NCR (National Capital Region) | Metro Manila | Salumbato | 1106 |
| NCR (National Capital Region) | Metro Manila | Sacred Heart | 1103 |
| NCR (National Capital Region) | Metro Manila | Roxas District | 1103 |
| NCR (National Capital Region) | Metro Manila | Ramon Magsaysay | 1105 |
| NCR (National Capital Region) | Metro Manila | Quirino Dist. (Proj. 2 & 3) | 1102 |
| NCR (National Capital Region) | Metro Manila | Quezon City CPO | 1100 |
| NCR (National Capital Region) | Metro Manila | Project 8 | 1106 |
| NCR (National Capital Region) | Metro Manila | Project 7 | 1105 |
| NCR (National Capital Region) | Metro Manila | Project 6 | 1100 |
| NCR (National Capital Region) | Metro Manila | Project 4 | 1109 |
| NCR (National Capital Region) | Metro Manila | Piñahan | 1100 |
| NCR (National Capital Region) | Metro Manila | Pinagkaisahan | 1111 |
| NCR (National Capital Region) | Metro Manila | Phil-am | 1104 |
| NCR (National Capital Region) | Metro Manila | Payatas | 1119 |
| NCR (National Capital Region) | Metro Manila | Pasong Tamo | 1107 |
| NCR (National Capital Region) | Metro Manila | Pasong Putik | 1118 |
| NCR (National Capital Region) | Metro Manila | Paraiso | 1104 |
| NCR (National Capital Region) | Metro Manila | Pansol | 1108 |
| NCR (National Capital Region) | Metro Manila | Paltok | 1105 |
| NCR (National Capital Region) | Metro Manila | Paligsahan | 1103 |
| NCR (National Capital Region) | Metro Manila | Pag-ibig Sa Nayon | 1115 |
| NCR (National Capital Region) | Metro Manila | Paang Bundok | 1114 |
| NCR (National Capital Region) | Metro Manila | Old Capitol Site | 1101 |
| NCR (National Capital Region) | Metro Manila | Obrero | 1103 |
| NCR (National Capital Region) | Metro Manila | Novaliches Proper | 1121 |
| NCR (National Capital Region) | Metro Manila | New Era | 1107 |
| NCR (National Capital Region) | Metro Manila | Nayon Kaunlaran | 1104 |
| NCR (National Capital Region) | Metro Manila | Nagkaisang Nayon | 1125 |
| NCR (National Capital Region) | Metro Manila | Milagrosa | 1109 |
| NCR (National Capital Region) | Metro Manila | Matandang Balara | 1119 |
| NCR (National Capital Region) | Metro Manila | Matalahib | 1114 |
| NCR (National Capital Region) | Metro Manila | Masambong | 1115 |
| NCR (National Capital Region) | Metro Manila | Masagana | 1109 |
| NCR (National Capital Region) | Metro Manila | Marilag | 1109 |
| NCR (National Capital Region) | Metro Manila | Mariblo | 1104 |
| NCR (National Capital Region) | Metro Manila | Mariana | 1112 |
| NCR (National Capital Region) | Metro Manila | Manresa | 1115 |
| NCR (National Capital Region) | Metro Manila | Mangga | 1109 |
| NCR (National Capital Region) | Metro Manila | Malaya | 1101 |
| NCR (National Capital Region) | Metro Manila | Maharlika | 1114 |
| NCR (National Capital Region) | Metro Manila | Loyola Heights | 1108 |
| NCR (National Capital Region) | Metro Manila | Lourdes | 1114 |
| NCR (National Capital Region) | Metro Manila | Libis | 1110 |
| NCR (National Capital Region) | Metro Manila | Langing Handa | 1103 |
| NCR (National Capital Region) | Metro Manila | La Loma | 1114 |
| NCR (National Capital Region) | Metro Manila | Krus Na Ligas | 1101 |
| NCR (National Capital Region) | Metro Manila | Kristong Hari | 1112 |
| NCR (National Capital Region) | Metro Manila | Kaunlaran | 1111 |
| NCR (National Capital Region) | Metro Manila | Katipunan | 1105 |
| NCR (National Capital Region) | Metro Manila | Kamuning | 1103 |
| NCR (National Capital Region) | Metro Manila | Kamias | 1102 |
| NCR (National Capital Region) | Metro Manila | Kalusugan | 1112 |
| NCR (National Capital Region) | Metro Manila | Immaculate Concepcion | 1111 |
| NCR (National Capital Region) | Metro Manila | Horseshoe | 1112 |
| NCR (National Capital Region) | Metro Manila | Holy Spirit | 1127 |
| NCR (National Capital Region) | Metro Manila | Gulod | 1117 |
| NCR (National Capital Region) | Metro Manila | Gintong Silahis | 1114 |
| NCR (National Capital Region) | Metro Manila | Santol | 1113 |
| NCR (National Capital Region) | Metro Manila | Fairview (South) | 1122 |
| NCR (National Capital Region) | Metro Manila | Fairview (North) | 1121 |
| NCR (National Capital Region) | Metro Manila | Fairview | 1118 |
| NCR (National Capital Region) | Metro Manila | Escopa | 1109 |
| NCR (National Capital Region) | Metro Manila | E. Rodriguez | 1102 |
| NCR (National Capital Region) | Metro Manila | Duyan-duyan | 1102 |
| NCR (National Capital Region) | Metro Manila | Doña Josefa | 1113 |
| NCR (National Capital Region) | Metro Manila | Doña Faustina Subd. | 1125 |
| NCR (National Capital Region) | Metro Manila | Doña Aurora | 1113 |
| NCR (National Capital Region) | Metro Manila | Don Manuel | 1113 |
| NCR (National Capital Region) | Metro Manila | Doña Imelda | 1113 |
| NCR (National Capital Region) | Metro Manila | Dioquino Zobel | 1109 |
| NCR (National Capital Region) | Metro Manila | Diliman | 1101 |
| NCR (National Capital Region) | Metro Manila | Del Monte | 1105 |
| NCR (National Capital Region) | Metro Manila | Damong Maliit | 1123 |
| NCR (National Capital Region) | Metro Manila | Damayan Lagi | 1112 |
| NCR (National Capital Region) | Metro Manila | Damayan | 1104 |
| NCR (National Capital Region) | Metro Manila | Damar | 1115 |
| NCR (National Capital Region) | Metro Manila | Culiat | 1128 |
| NCR (National Capital Region) | Metro Manila | Cubao | 1109 |
| NCR (National Capital Region) | Metro Manila | Crame | 1111 |
| NCR (National Capital Region) | Metro Manila | Commonwealth | 1121 |
| NCR (National Capital Region) | Metro Manila | Claro | 1102 |
| NCR (National Capital Region) | Metro Manila | Quezon City | 1100 |
| NCR (National Capital Region) | Metro Manila | Capri | 1117 |
| NCR (National Capital Region) | Metro Manila | Bungad | 1105 |
| NCR (National Capital Region) | Metro Manila | Camp. Aguinaldo | 1110 |
| NCR (National Capital Region) | Metro Manila | Capitol Hills/Park | 1126 |
| NCR (National Capital Region) | Metro Manila | Botocan | 1101 |
| NCR (National Capital Region) | Metro Manila | Blue Ridge | 1109 |
| NCR (National Capital Region) | Metro Manila | BF Homes | 1120 |
| NCR (National Capital Region) | Metro Manila | Bayanihan | 1109 |
| NCR (National Capital Region) | Metro Manila | Batasan Hills | 1126 |
| NCR (National Capital Region) | Metro Manila | Balumbato | 1106 |
| NCR (National Capital Region) | Metro Manila | Balingasa | 1115 |
| NCR (National Capital Region) | Metro Manila | Bahay Toro | 1106 |
| NCR (National Capital Region) | Metro Manila | Bagong Silangan | 1119 |
| NCR (National Capital Region) | Metro Manila | Bagong Pag-asa | 1105 |
| NCR (National Capital Region) | Metro Manila | Bagong Lipunan | 1111 |
| NCR (National Capital Region) | Metro Manila | Bagong Buhay | 1109 |
| NCR (National Capital Region) | Metro Manila | Bagong Bayan | 1110 |
| NCR (National Capital Region) | Metro Manila | Bagbag | 1116 |
| NCR (National Capital Region) | Metro Manila | Baesa | 1106 |
| NCR (National Capital Region) | Metro Manila | Apolonio Samson | 1106 |
| NCR (National Capital Region) | Metro Manila | Amihan | 1102 |
| NCR (National Capital Region) | Metro Manila | Alicia | 1105 |
| NCR (National Capital Region) | Metro Manila | Sta. Ana | 1621 |
| NCR (National Capital Region) | Metro Manila | Aguho | 1620 |
| NCR (National Capital Region) | Metro Manila | Ugong | 1604 |
| NCR (National Capital Region) | Metro Manila | Sta. Lucia | 1608 |
| NCR (National Capital Region) | Metro Manila | Santolan | 1610 |
| NCR (National Capital Region) | Metro Manila | San Joaquin | 1601 |
| NCR (National Capital Region) | Metro Manila | Rosario | 1609 |
| NCR (National Capital Region) | Metro Manila | Pinagbuhatan | 1602 |
| NCR (National Capital Region) | Metro Manila | Pasig CPO | 1600 |
| NCR (National Capital Region) | Metro Manila | Ortigas PO | 1605 |
| NCR (National Capital Region) | Metro Manila | Maybunga | 1607 |
| NCR (National Capital Region) | Metro Manila | Manggahan | 1611 |
| NCR (National Capital Region) | Metro Manila | Kapitolyo | 1603 |
| NCR (National Capital Region) | Metro Manila | Green Park | 1612 |
| NCR (National Capital Region) | Metro Manila | Caniogan | 1606 |
| NCR (National Capital Region) | Metro Manila | Villamor Airbase | 1309 |
| NCR (National Capital Region) | Metro Manila | Santa Clara | 1304 |
| NCR (National Capital Region) | Metro Manila | San Roque | 1303 |
| NCR (National Capital Region) | Metro Manila | San Rafael | 1302 |
| NCR (National Capital Region) | Metro Manila | San Jose | 1305 |
| NCR (National Capital Region) | Metro Manila | San Isidro | 1306 |
| NCR (National Capital Region) | Metro Manila | PICC (Reclamation Area) | 1307 |
| NCR (National Capital Region) | Metro Manila | Pasay City CPO Malibay | 1300 |
| NCR (National Capital Region) | Metro Manila | Manila Bay (Reclamation) | 1308 |
| NCR (National Capital Region) | Metro Manila | Domestic Airport PO | 1301 |
| NCR (National Capital Region) | Metro Manila | United Subd. | 1713 |
| NCR (National Capital Region) | Metro Manila | Tambo | 1701 |
| NCR (National Capital Region) | Metro Manila | Sto. Nino | 1704 |
| NCR (National Capital Region) | Metro Manila | South Admiral Village | 1709 |
| NCR (National Capital Region) | Metro Manila | San Antonio Valley I | 1715 |
| NCR (National Capital Region) | Metro Manila | San Antonio Valley 11 & 12 | 1707 |
| NCR (National Capital Region) | Metro Manila | Pulo | 1706 |
| NCR (National Capital Region) | Metro Manila | Parañaque CPO | 1700 |
| NCR (National Capital Region) | Metro Manila | Ninoy Aquino Int'l. Airport | 1705 |
| NCR (National Capital Region) | Metro Manila | Multinational Village | 1708 |
| NCR (National Capital Region) | Metro Manila | Moonwalk | 1709 |
| NCR (National Capital Region) | Metro Manila | Miramar Subdivision | 1712 |
| NCR (National Capital Region) | Metro Manila | Merville Park | 1709 |
| NCR (National Capital Region) | Metro Manila | Maywood Village Ii | 1716 |
| NCR (National Capital Region) | Metro Manila | Maywood I | 1719 |
| NCR (National Capital Region) | Metro Manila | Marina Subd. (Reclamation) | 1703 |
| NCR (National Capital Region) | Metro Manila | Manila Memorial Park | 1717 |
| NCR (National Capital Region) | Metro Manila | Ireneville Subdivision I & Ii | 1719 |
| NCR (National Capital Region) | Metro Manila | Ireneville Ii | 1714 |
| NCR (National Capital Region) | Metro Manila | Executive Heights Subd. | 1710 |
| NCR (National Capital Region) | Metro Manila | Bf Homes 2 | 1718 |
| NCR (National Capital Region) | Metro Manila | Bf Homes 1 | 1720 |
| NCR (National Capital Region) | Metro Manila | Better Living Subdivision | 1711 |
| NCR (National Capital Region) | Metro Manila | Baclaran | 1702 |
| NCR (National Capital Region) | Metro Manila | Aeropark Subdivision | 1714 |
| NCR (National Capital Region) | Metro Manila | Tanza | 1490 |
| NCR (National Capital Region) | Metro Manila | Tangos | 1489 |
| NCR (National Capital Region) | Metro Manila | Navotas | 1485 |
| NCR (National Capital Region) | Metro Manila | Kaunlaran Village | 1409 |
| NCR (National Capital Region) | Metro Manila | Kapitbahayan (East) | 1413 |
| NCR (National Capital Region) | Metro Manila | Isla De Cocomo | 1412 |
| NCR (National Capital Region) | Metro Manila | Fish Market | 1411 |
| NCR (National Capital Region) | Metro Manila | Tunasan | 1773 |
| NCR (National Capital Region) | Metro Manila | Susana Heights | 1774 |
| NCR (National Capital Region) | Metro Manila | Poblacion | 1776 |
| NCR (National Capital Region) | Metro Manila | Pleasant Village | 1777 |
| NCR (National Capital Region) | Metro Manila | Pearl Heights | 1775 |
| NCR (National Capital Region) | Metro Manila | Muntinlupa CPO | 1770 |
| NCR (National Capital Region) | Metro Manila | Filinvest Corp. City | 1781 |
| NCR (National Capital Region) | Metro Manila | Bule/Cupang | 1771 |
| NCR (National Capital Region) | Metro Manila | Bayanan/Putatan | 1772 |
| NCR (National Capital Region) | Metro Manila | Ayala Alabang Subdivision | 1780 |
| NCR (National Capital Region) | Metro Manila | Ayala Alabang P.O. Boxes | 1799 |
| NCR (National Capital Region) | Metro Manila | Tañong | 1803 |
| NCR (National Capital Region) | Metro Manila | San Roque – Calumpang | 1801 |
| NCR (National Capital Region) | Metro Manila | Parang | 1809 |
| NCR (National Capital Region) | Metro Manila | Tumana | 1806 |
| NCR (National Capital Region) | Metro Manila | Nangka | 1808 |
| NCR (National Capital Region) | Metro Manila | Marikina Heights | 1810 |
| NCR (National Capital Region) | Metro Manila | Marikina CPO – Sta. Elena – Sto. Niño | 1800 |
| NCR (National Capital Region) | Metro Manila | Malanday | 1805 |
| NCR (National Capital Region) | Metro Manila | Industrial Valley | 1802 |
| NCR (National Capital Region) | Metro Manila | J. De La Peña | 1804 |
| NCR (National Capital Region) | Metro Manila | Fortune | 1812 |
| NCR (National Capital Region) | Metro Manila | Concepcion 2 | 1811 |
| NCR (National Capital Region) | Metro Manila | Concepcion 1 | 1807 |
| NCR (National Capital Region) | Metro Manila | Barangka | 1803 |
| NCR (National Capital Region) | Metro Manila | Wack Wack Golf | 1555 |
| NCR (National Capital Region) | Metro Manila | Vergara | 1551 |
| NCR (National Capital Region) | Metro Manila | Shaw Boulevard | 1552 |
| NCR (National Capital Region) | Metro Manila | Phil. Natl. Mental Hospital | 1553 |
| NCR (National Capital Region) | Metro Manila | Mandaluyong CPO | 1550 |
| NCR (National Capital Region) | Metro Manila | Greenhills South | 1556 |
| NCR (National Capital Region) | Metro Manila | East Edsa | 1554 |
| NCR (National Capital Region) | Metro Manila | Tonsuya | 1473 |
| NCR (National Capital Region) | Metro Manila | Santolan | 1478 |
| NCR (National Capital Region) | Metro Manila | Potrero | 1475 |
| NCR (National Capital Region) | Metro Manila | Muzon | 1479 |
| NCR (National Capital Region) | Metro Manila | Maysilo | 1477 |
| NCR (National Capital Region) | Metro Manila | Malabon | 1470 |
| NCR (National Capital Region) | Metro Manila | Longos | 1472 |
| NCR (National Capital Region) | Metro Manila | Kaunlaran Village | 1409 |
| NCR (National Capital Region) | Metro Manila | Flores | 1471 |
| NCR (National Capital Region) | Metro Manila | Dampalit | 1480 |
| NCR (National Capital Region) | Metro Manila | Araneta Subdivision | 1476 |
| NCR (National Capital Region) | Metro Manila | Acacia | 1474 |
| NCR (National Capital Region) | Metro Manila | Valenzuela (Inc. Santiago, San Miguel & Rizal Vill.) | 1208 |
| NCR (National Capital Region) | Metro Manila | Urdaneta Village | 1225 |
| NCR (National Capital Region) | Metro Manila | Sta. Cruz | 1205 |
| NCR (National Capital Region) | Metro Manila | San Lorenzo Village | 1223 |
| NCR (National Capital Region) | Metro Manila | San Isidro | 1234 |
| NCR (National Capital Region) | Metro Manila | San Antonio Village (Inc. Malu) | 1203 |
| NCR (National Capital Region) | Metro Manila | Salcedo Village | 1227 |
| NCR (National Capital Region) | Metro Manila | Rembo (West) | 1215 |
| NCR (National Capital Region) | Metro Manila | Rembo (East) & Malapad Na Bato | 1216 |
| NCR (National Capital Region) | Metro Manila | Poblacion | 1210 |
| NCR (National Capital Region) | Metro Manila | Pio Del Pilar | 1230 |
| NCR (National Capital Region) | Metro Manila | Pinagkaisahan-pitogo | 1213 |
| NCR (National Capital Region) | Metro Manila | Pembo | 1218 |
| NCR (National Capital Region) | Metro Manila | Pasong Tamo 2000 Up, Ecology V | 1231 |
| NCR (National Capital Region) | Metro Manila | Palanan | 1235 |
| NCR (National Capital Region) | Metro Manila | Olympia And Carmona | 1207 |
| NCR (National Capital Region) | Metro Manila | Makati CPO (Inc, Buendia Up To) | 1200 |
| NCR (National Capital Region) | Metro Manila | Commercial Center | 1224 |
| NCR (National Capital Region) | Metro Manila | Magallanes Village | 1232 |
| NCR (National Capital Region) | Metro Manila | Legaspi Village | 1229 |
| NCR (National Capital Region) | Metro Manila | La Paz-Singkamas-Tejeros | 1204 |
| NCR (National Capital Region) | Metro Manila | Kasilawan | 1206 |
| NCR (National Capital Region) | Metro Manila | Guadalupe Viejo (Inc. Palm Vil) | 1211 |
| NCR (National Capital Region) | Metro Manila | Guadalupe Nuevo (Inc. Visayan) | 1212 |
| NCR (National Capital Region) | Metro Manila | Greenbelt | 1228 |
| NCR (National Capital Region) | Metro Manila | Fort Bonifacio Naval Stn. | 1202 |
| NCR (National Capital Region) | Metro Manila | Forbes Park (South) | 1220 |
| NCR (National Capital Region) | Metro Manila | Forbes Park (North) | 1219 |
| NCR (National Capital Region) | Metro Manila | Dasmarinas Village (South) | 1222 |
| NCR (National Capital Region) | Metro Manila | Dasmarinas Village (North) | 1221 |
| NCR (National Capital Region) | Metro Manila | Comembo | 1217 |
| NCR (National Capital Region) | Metro Manila | Cembo | 1214 |
| NCR (National Capital Region) | Metro Manila | Bel-air | 1209 |
| NCR (National Capital Region) | Metro Manila | Bangkal | 1233 |
| NCR (National Capital Region) | Metro Manila | Ayala – Paseo De Roxas | 1226 |
| NCR (National Capital Region) | Metro Manila | Zapote | 1742 |
| NCR (National Capital Region) | Metro Manila | Verdant Acres Subdivision | 1746 |
| NCR (National Capital Region) | Metro Manila | Talon, Moonwalk | 1747 |
| NCR (National Capital Region) | Metro Manila | T. S. Cruz Subdivision | 1751 |
| NCR (National Capital Region) | Metro Manila | Soldiers Hills Subdivision | 1752 |
| NCR (National Capital Region) | Metro Manila | Remarville Subdivision | 1741 |
| NCR (National Capital Region) | Metro Manila | Pulang Lupa | 1742 |
| NCR (National Capital Region) | Metro Manila | Manuyo | 1744 |
| NCR (National Capital Region) | Metro Manila | Manila Doctors Village | 1748 |
| NCR (National Capital Region) | Metro Manila | Las Piñas CPO | 1740 |
| NCR (National Capital Region) | Metro Manila | Gatchalian Subdivision | 1745 |
| NCR (National Capital Region) | Metro Manila | Cut-cut | 1743 |
| NCR (National Capital Region) | Metro Manila | Angela Village | 1749 |
| NCR (National Capital Region) | Metro Manila | Almanza | 1750 |
| NCR (National Capital Region) | Metro Manila | University Hills | 1407 |
| NCR (National Capital Region) | Metro Manila | Sta. Quiteria | 1402 |
| NCR (National Capital Region) | Metro Manila | Sangandaan | 1408 |
| NCR (National Capital Region) | Metro Manila | San Jose | 1404 |
| NCR (National Capital Region) | Metro Manila | Maypajo | 1410 |
| NCR (National Capital Region) | Metro Manila | Kaunlaran Village | 1409 |
| NCR (National Capital Region) | Metro Manila | Kapitbahayan (East) | 1413 |
| NCR (National Capital Region) | Metro Manila | Caloocan City CPO | 1400 |
| NCR (National Capital Region) | Metro Manila | Isla de Cocomo | 1412 |
| NCR (National Capital Region) | Metro Manila | Grace Park (West) | 1406 |
| NCR (National Capital Region) | Metro Manila | Grace Park (East) | 1403 |
| NCR (National Capital Region) | Metro Manila | Fish Market | 1411 |
| NCR (National Capital Region) | Metro Manila | Baesa | 1401 |
| NCR (National Capital Region) | Metro Manila | 1st Ave. to 7th Ave. – West | 1405 |
| NCR (National Capital Region) | Metro Manila | Victory Heights | 1427 |
| NCR (National Capital Region) | Metro Manila | Tala Leprosarium | 1427 |
| NCR (National Capital Region) | Metro Manila | Novaliches North (Camarin North) | 1422 |
| NCR (National Capital Region) | Metro Manila | Lilles Ville Subdivision | 1423 |
| NCR (National Capital Region) | Metro Manila | Kaybiga/Deparo | 1420 |
| NCR (National Capital Region) | Metro Manila | Capitol Parkland Subdivision | 1424 |
| NCR (National Capital Region) | Metro Manila | Bankers Village | 1426 |
| NCR (National Capital Region) | Metro Manila | Bagumbong/Pag-asa | 1421 |
| NCR (National Capital Region) | Metro Manila | Bagong Silang | 1428 |
| NCR (National Capital Region) | Metro Manila | Amparo Subdivision | 1425 |
| NCR (National Capital Region) | Metro Manila | Tondo (South) | 1012 |
| NCR (National Capital Region) | Metro Manila | Tondo (North) | 1013 |
| NCR (National Capital Region) | Metro Manila | Sta. Mesa | 1016 |
| NCR (National Capital Region) | Metro Manila | Sta. Cruz (North) | 1014 |
| NCR (National Capital Region) | Metro Manila | Sta. Ana | 1009 |
| NCR (National Capital Region) | Metro Manila | San Nicolas | 1010 |
| NCR (National Capital Region) | Metro Manila | San Andres Bukid | 1017 |
| NCR (National Capital Region) | Metro Manila | Sampaloc (West) | 1015 |
| NCR (National Capital Region) | Metro Manila | Port Area (South) | 1018 |
| NCR (National Capital Region) | Metro Manila | Pandacan | 1011 |
| NCR (National Capital Region) | Metro Manila | Paco | 1007 |
| NCR (National Capital Region) | Metro Manila | Ermita | 1000 |
| NCR (National Capital Region) | Metro Manila | Quiapo | 1001 |
| NCR (National Capital Region) | Metro Manila | Malate | 1004 |
| NCR (National Capital Region) | Metro Manila | Sta. Cruz (South) | 1003 |
| NCR (National Capital Region) | Metro Manila | Sampaloc (East) | 1008 |
| NCR (National Capital Region) | Metro Manila | Pandacan | 1011 |
| NCR (National Capital Region) | Metro Manila | Intramuros | 1002 |
| CAR (Cordillera Administrative Region) | Apayao | Santa Marcela | 3811 |
| CAR (Cordillera Administrative Region) | Kalinga | Tabuk City | 3800 |
| CAR (Cordillera Administrative Region) | Kalinga | Tanudan | 3805 |
| CAR (Cordillera Administrative Region) | Kalinga | Tinglayan | 3804 |
| CAR (Cordillera Administrative Region) | Kalinga | Balbalan | 3801 |
| CAR (Cordillera Administrative Region) | Apayao | Calanasan | 3814 |
| CAR (Cordillera Administrative Region) | Apayao | Conner | 3807 |
| CAR (Cordillera Administrative Region) | Apayao | Flora | 3810 |
| CAR (Cordillera Administrative Region) | Apayao | Kabugao | 3809 |
| CAR (Cordillera Administrative Region) | Apayao | Luna | 3813 |
| CAR (Cordillera Administrative Region) | Kalinga | Lubuagan | 3802 |
| CAR (Cordillera Administrative Region) | Kalinga | Pasil | 3803 |
| CAR (Cordillera Administrative Region) | Kalinga | Pinukpok | 3806 |
| CAR (Cordillera Administrative Region) | Apayao | Pudtol | 3812 |
| CAR (Cordillera Administrative Region) | Kalinga | Rizal | 3808 |
| CAR (Cordillera Administrative Region) | Ifugao | Aguinaldo | 3606 |
| CAR (Cordillera Administrative Region) | Ifugao | Asipulo | 3610 |
| CAR (Cordillera Administrative Region) | Ifugao | Hingyon | 3607 |
| CAR (Cordillera Administrative Region) | Ifugao | Banaue | 3601 |
| CAR (Cordillera Administrative Region) | Ifugao | Hungduan | 3603 |
| CAR (Cordillera Administrative Region) | Ifugao | Kiangan | 3604 |
| CAR (Cordillera Administrative Region) | Ifugao | Lagawe | 3600 |
| CAR (Cordillera Administrative Region) | Ifugao | Lamut | 3605 |
| CAR (Cordillera Administrative Region) | Ifugao | Mayoyao | 3602 |
| CAR (Cordillera Administrative Region) | Ifugao | Tinoc | 3609 |
| CAR (Cordillera Administrative Region) | Ifugao | Alfonso Lista (formerly Potia) | 3608 |
| CAR (Cordillera Administrative Region) | Benguet | Tublay | 2615 |
| CAR (Cordillera Administrative Region) | Benguet | Sablan | 2614 |
| CAR (Cordillera Administrative Region) | Benguet | Tuba | 2603 |
| CAR (Cordillera Administrative Region) | Benguet | Philippine Military Academy (PMA) | 2602 |
| CAR (Cordillera Administrative Region) | Benguet | Atok | 2612 |
| CAR (Cordillera Administrative Region) | Benguet | Baguio City | 2600 |
| CAR (Cordillera Administrative Region) | Benguet | Bakun | 2610 |
| CAR (Cordillera Administrative Region) | Benguet | Bokod | 2605 |
| CAR (Cordillera Administrative Region) | Benguet | Buguias | 2607 |
| CAR (Cordillera Administrative Region) | Benguet | Itogon | 2604 |
| CAR (Cordillera Administrative Region) | Benguet | Kabayan | 2606 |
| CAR (Cordillera Administrative Region) | Benguet | Kapangan | 2613 |
| CAR (Cordillera Administrative Region) | Benguet | Kibungan | 2611 |
| CAR (Cordillera Administrative Region) | Benguet | La Trinidad | 2601 |
| CAR (Cordillera Administrative Region) | Benguet | Mankayan | 2608 |
| CAR (Cordillera Administrative Region) | Abra | Peñarrubia | 2804 |
| CAR (Cordillera Administrative Region) | Abra | Pidigan | 2806 |
| CAR (Cordillera Administrative Region) | Abra | Pilar | 2812 |
| CAR (Cordillera Administrative Region) | Abra | Sallapadan | 2818 |
| CAR (Cordillera Administrative Region) | Abra | San Isidro | 2809 |
| CAR (Cordillera Administrative Region) | Abra | San Juan | 2823 |
| CAR (Cordillera Administrative Region) | Abra | San Quintin | 2808 |
| CAR (Cordillera Administrative Region) | Abra | Tayum | 2803 |
| CAR (Cordillera Administrative Region) | Abra | Tineg | 2822 |
| CAR (Cordillera Administrative Region) | Abra | Tubo | 2814 |
| CAR (Cordillera Administrative Region) | Abra | Villaviciosa | 2811 |
| CAR (Cordillera Administrative Region) | Abra | La Paz | 2826 |
| CAR (Cordillera Administrative Region) | Abra | Lacub | 2821 |
| CAR (Cordillera Administrative Region) | Abra | Lagangilang | 2802 |
| CAR (Cordillera Administrative Region) | Abra | Lagayan | 2824 |
| CAR (Cordillera Administrative Region) | Abra | Langiden | 2807 |
| CAR (Cordillera Administrative Region) | Abra | Licuan-Baay | 2819 |
| CAR (Cordillera Administrative Region) | Abra | Luba | 2813 |
| CAR (Cordillera Administrative Region) | Abra | Malibcong | 2820 |
| CAR (Cordillera Administrative Region) | Abra | Manabo | 2810 |
| CAR (Cordillera Administrative Region) | Abra | Bangued | 2800 |
| CAR (Cordillera Administrative Region) | Abra | Boliney | 2815 |
| CAR (Cordillera Administrative Region) | Abra | Bucay | 2805 |
| CAR (Cordillera Administrative Region) | Abra | Bucloc | 2817 |
| CAR (Cordillera Administrative Region) | Abra | Daguioman | 2816 |
| CAR (Cordillera Administrative Region) | Abra | Danglas | 2825 |
| CAR (Cordillera Administrative Region) | Abra | Dolores | 2801 |
| Region 5 (Bicol Region) | Sorsogon | Irosin | 4707 |
| Region 5 (Bicol Region) | Sorsogon | Juban | 4703 |
| Region 5 (Bicol Region) | Sorsogon | Magallanes | 4705 |
| Region 5 (Bicol Region) | Sorsogon | Matnog | 4708 |
| Region 5 (Bicol Region) | Sorsogon | Pilar | 4714 |
| Region 5 (Bicol Region) | Sorsogon | Prieto Diaz | 4711 |
| Region 5 (Bicol Region) | Sorsogon | Sorsogon | 4700 |
| Region 5 (Bicol Region) | Sorsogon | Sta. Magdalena | 4709 |
| Region 5 (Bicol Region) | Sorsogon | Bacon | 4701 |
| Region 5 (Bicol Region) | Sorsogon | Barcelona | 4712 |
| Region 5 (Bicol Region) | Sorsogon | Bulan | 4706 |
| Region 5 (Bicol Region) | Sorsogon | Bulusan | 4704 |
| Region 5 (Bicol Region) | Sorsogon | Casiguran | 4702 |
| Region 5 (Bicol Region) | Sorsogon | Castilla | 4713 |
| Region 5 (Bicol Region) | Sorsogon | Donsol | 4715 |
| Region 5 (Bicol Region) | Sorsogon | Gubat | 4710 |
| Region 5 (Bicol Region) | Masbate | Mandaon | 5411 |
| Region 5 (Bicol Region) | Masbate | Masbate | 5400 |
| Region 5 (Bicol Region) | Masbate | Milagros | 5410 |
| Region 5 (Bicol Region) | Masbate | Mobo | 5401 |
| Region 5 (Bicol Region) | Masbate | Monreal | 5418 |
| Region 5 (Bicol Region) | Masbate | Palanas | 5404 |
| Region 5 (Bicol Region) | Masbate | Pio V. Corpuz | 5406 |
| Region 5 (Bicol Region) | Masbate | Placer | 5408 |
| Region 5 (Bicol Region) | Masbate | San Fernando | 5416 |
| Region 5 (Bicol Region) | Masbate | San Jacinto | 5417 |
| Region 5 (Bicol Region) | Masbate | San Pascual | 5420 |
| Region 5 (Bicol Region) | Masbate | Uson | 5402 |
| Region 5 (Bicol Region) | Masbate | Claveria | 5419 |
| Region 5 (Bicol Region) | Masbate | Aroroy | 5414 |
| Region 5 (Bicol Region) | Masbate | Baleno | 5413 |
| Region 5 (Bicol Region) | Masbate | Balud | 5412 |
| Region 5 (Bicol Region) | Masbate | Batuan | 5415 |
| Region 5 (Bicol Region) | Masbate | Cataingan | 5405 |
| Region 5 (Bicol Region) | Masbate | Cawayan | 5409 |
| Region 5 (Bicol Region) | Masbate | Dimasalang | 5403 |
| Region 5 (Bicol Region) | Masbate | Esperanza | 5407 |
| Region 5 (Bicol Region) | Catanduanes | Bagamanoc | 4807 |
| Region 5 (Bicol Region) | Catanduanes | Baras | 4803 |
| Region 5 (Bicol Region) | Catanduanes | Bato | 4801 |
| Region 5 (Bicol Region) | Catanduanes | Caramoran | 4808 |
| Region 5 (Bicol Region) | Catanduanes | Gigmoto | 4804 |
| Region 5 (Bicol Region) | Catanduanes | Pandan | 4809 |
| Region 5 (Bicol Region) | Catanduanes | Panganiban | 4806 |
| Region 5 (Bicol Region) | Catanduanes | San Andres | 4810 |
| Region 5 (Bicol Region) | Catanduanes | San Miguel | 4802 |
| Region 5 (Bicol Region) | Catanduanes | Viga | 4805 |
| Region 5 (Bicol Region) | Catanduanes | Virac | 4800 |
| Region 5 (Bicol Region) | Camarines Sur (Camsur) | Siruma | 4427 |
| Region 5 (Bicol Region) | Camarines Sur (Camsur) | Tigaon | 4420 |
| Region 5 (Bicol Region) | Camarines Sur (Camsur) | Tinambac | 4426 |
| Region 5 (Bicol Region) | Camarines Sur (Camsur) | Sagnay | 4421 |
| Region 5 (Bicol Region) | Camarines Sur (Camsur) | San Fernando | 4415 |
| Region 5 (Bicol Region) | Camarines Sur (Camsur) | San Jose | 4423 |
| Region 5 (Bicol Region) | Camarines Sur (Camsur) | Sipocot | 4408 |
| Region 5 (Bicol Region) | Camarines Sur (Camsur) | Minalabac | 4414 |
| Region 5 (Bicol Region) | Camarines Sur (Camsur) | Nabua | 4434 |
| Region 5 (Bicol Region) | Camarines Sur (Camsur) | Naga City | 4400 |
| Region 5 (Bicol Region) | Camarines Sur (Camsur) | Ocampo | 4419 |
| Region 5 (Bicol Region) | Camarines Sur (Camsur) | Pamplona | 4416 |
| Region 5 (Bicol Region) | Camarines Sur (Camsur) | Pasacao | 4417 |
| Region 5 (Bicol Region) | Camarines Sur (Camsur) | Pili | 4418 |
| Region 5 (Bicol Region) | Camarines Sur (Camsur) | Presentacion | 4424 |
| Region 5 (Bicol Region) | Camarines Sur (Camsur) | Ragay | 4410 |
| Region 5 (Bicol Region) | Camarines Sur (Camsur) | Caramoan | 4429 |
| Region 5 (Bicol Region) | Camarines Sur (Camsur) | Del Gallego | 4411 |
| Region 5 (Bicol Region) | Camarines Sur (Camsur) | Gainza | 4412 |
| Region 5 (Bicol Region) | Camarines Sur (Camsur) | Garchitorena | 4428 |
| Region 5 (Bicol Region) | Camarines Sur (Camsur) | Goa | 4422 |
| Region 5 (Bicol Region) | Camarines Sur (Camsur) | Iriga City | 4431 |
| Region 5 (Bicol Region) | Camarines Sur (Camsur) | Lagonoy | 4425 |
| Region 5 (Bicol Region) | Camarines Sur (Camsur) | Libmanan | 4407 |
| Region 5 (Bicol Region) | Camarines Sur (Camsur) | Lupi | 4409 |
| Region 5 (Bicol Region) | Camarines Sur (Camsur) | Magarao | 4403 |
| Region 5 (Bicol Region) | Camarines Sur (Camsur) | Milaor | 4413 |
| Region 5 (Bicol Region) | Camarines Sur (Camsur) | Baao | 4432 |
| Region 5 (Bicol Region) | Camarines Sur (Camsur) | Balatan | 4436 |
| Region 5 (Bicol Region) | Camarines Sur (Camsur) | Bato | 4435 |
| Region 5 (Bicol Region) | Camarines Sur (Camsur) | Bombon | 4404 |
| Region 5 (Bicol Region) | Camarines Sur (Camsur) | Buhi | 4433 |
| Region 5 (Bicol Region) | Camarines Sur (Camsur) | Bula | 4430 |
| Region 5 (Bicol Region) | Camarines Sur (Camsur) | Cabusao | 4406 |
| Region 5 (Bicol Region) | Camarines Sur (Camsur) | Calabanga | 4405 |
| Region 5 (Bicol Region) | Camarines Sur (Camsur) | Camaligan | 4401 |
| Region 5 (Bicol Region) | Camarines Sur (Camsur) | Canaman | 4402 |
| Region 5 (Bicol Region) | Camarines Norte | Basud | 4608 |
| Region 5 (Bicol Region) | Camarines Norte | Capalonga | 4607 |
| Region 5 (Bicol Region) | Camarines Norte | Daet | 4600 |
| Region 5 (Bicol Region) | Camarines Norte | Jose Panganiban | 4606 |
| Region 5 (Bicol Region) | Camarines Norte | Labo | 4604 |
| Region 5 (Bicol Region) | Camarines Norte | Mercedes | 4601 |
| Region 5 (Bicol Region) | Camarines Norte | Paracale | 4605 |
| Region 5 (Bicol Region) | Camarines Norte | San Lorenzo Ruiz (formerly Imelda) | 4610 |
| Region 5 (Bicol Region) | Camarines Norte | San Vicente | 4609 |
| Region 5 (Bicol Region) | Camarines Norte | Sta. Elena | 4611 |
| Region 5 (Bicol Region) | Camarines Norte | Talisay | 4602 |
| Region 5 (Bicol Region) | Camarines Norte | Vinzons | 4603 |
| Region 5 (Bicol Region) | Camarines Norte | Tulay na Lupa | 4612 |
| Region 5 (Bicol Region) | Albay | Oas | 4505 |
| Region 5 (Bicol Region) | Albay | Pio Duran (Malacbalac) | 4516 |
| Region 5 (Bicol Region) | Albay | Polangui | 4506 |
| Region 5 (Bicol Region) | Albay | Rapu-Rapu | 4517 |
| Region 5 (Bicol Region) | Albay | Sto. Domingo | 4508 |
| Region 5 (Bicol Region) | Albay | Tabaco | 4511 |
| Region 5 (Bicol Region) | Albay | Tiwi | 4513 |
| Region 5 (Bicol Region) | Albay | Bacacay | 4509 |
| Region 5 (Bicol Region) | Albay | Camalig | 4502 |
| Region 5 (Bicol Region) | Albay | Daraga (Locsin) | 4501 |
| Region 5 (Bicol Region) | Albay | Guinobatan | 4503 |
| Region 5 (Bicol Region) | Albay | Jovellar | 4515 |
| Region 5 (Bicol Region) | Albay | Legazpi City | 4500 |
| Region 5 (Bicol Region) | Albay | Libon | 4507 |
| Region 5 (Bicol Region) | Albay | Ligao | 4504 |
| Region 5 (Bicol Region) | Albay | Malilipot | 4510 |
| Region 5 (Bicol Region) | Albay | Malinao | 4512 |
| Region 5 (Bicol Region) | Albay | Manito | 4514 |
| Region 4B (MIMAROPA) | Romblon | Sta. Maria (formerly Imelda) | 5502 |
| Region 4B (MIMAROPA) | Romblon | Alcantara | 5509 |
| Region 4B (MIMAROPA) | Romblon | Banton (Jones) | 5515 |
| Region 4B (MIMAROPA) | Romblon | Calatrava | 5503 |
| Region 4B (MIMAROPA) | Romblon | Concepcion | 5516 |
| Region 4B (MIMAROPA) | Romblon | Corcuera | 5514 |
| Region 4B (MIMAROPA) | Romblon | Ferrol | 5506 |
| Region 4B (MIMAROPA) | Romblon | Looc | 5507 |
| Region 4B (MIMAROPA) | Romblon | Magdiwang | 5511 |
| Region 4B (MIMAROPA) | Romblon | Odiongan | 5505 |
| Region 4B (MIMAROPA) | Romblon | Romblon | 5500 |
| Region 4B (MIMAROPA) | Romblon | San Agustin | 5501 |
| Region 4B (MIMAROPA) | Romblon | San Andres | 5504 |
| Region 4B (MIMAROPA) | Romblon | San fernando | 5513 |
| Region 4B (MIMAROPA) | Romblon | San Jose | 5510 |
| Region 4B (MIMAROPA) | Romblon | Sta. Fe | 5508 |
| Region 4B (MIMAROPA) | Palawan | Kalayaan | 5322 |
| Region 4B (MIMAROPA) | Palawan | Linapacan | 5314 |
| Region 4B (MIMAROPA) | Palawan | Magsaysay | 5319 |
| Region 4B (MIMAROPA) | Palawan | Narra (Panacan) | 5303 |
| Region 4B (MIMAROPA) | Palawan | Puerto Princesa City | 5300 |
| Region 4B (MIMAROPA) | Palawan | Quezon | 5304 |
| Region 4B (MIMAROPA) | Palawan | Rizal (Marcos) | 5323 |
| Region 4B (MIMAROPA) | Palawan | Roxas | 5308 |
| Region 4B (MIMAROPA) | Palawan | San Vicente | 5309 |
| Region 4B (MIMAROPA) | Palawan | Sofronio Española | 5324 |
| Region 4B (MIMAROPA) | Palawan | Taytay | 5312 |
| Region 4B (MIMAROPA) | Palawan | Iwahig Penal Colony | 5301 |
| Region 4B (MIMAROPA) | Palawan | Aborlan | 5302 |
| Region 4B (MIMAROPA) | Palawan | Agutaya | 5320 |
| Region 4B (MIMAROPA) | Palawan | Araceli | 5311 |
| Region 4B (MIMAROPA) | Palawan | Balabac | 5307 |
| Region 4B (MIMAROPA) | Palawan | Batazara | 5306 |
| Region 4B (MIMAROPA) | Palawan | Brooke's Point | 5305 |
| Region 4B (MIMAROPA) | Palawan | Busuanga | 5317 |
| Region 4B (MIMAROPA) | Palawan | Cagayancillo | 5321 |
| Region 4B (MIMAROPA) | Palawan | Coron | 5316 |
| Region 4B (MIMAROPA) | Palawan | Culion | 5315 |
| Region 4B (MIMAROPA) | Palawan | Cuyo | 5318 |
| Region 4B (MIMAROPA) | Palawan | Dumaran | 5310 |
| Region 4B (MIMAROPA) | Palawan | El Nido (Baquit) | 5313 |
| Region 4B (MIMAROPA) | Oriental Mindoro | Calapan | 5200 |
| Region 4B (MIMAROPA) | Oriental Mindoro | Baco | 5201 |
| Region 4B (MIMAROPA) | Oriental Mindoro | Bansud | 5210 |
| Region 4B (MIMAROPA) | Oriental Mindoro | Bongabong | 5211 |
| Region 4B (MIMAROPA) | Oriental Mindoro | Bulalacao | 5214 |
| Region 4B (MIMAROPA) | Oriental Mindoro | Gloria | 5209 |
| Region 4B (MIMAROPA) | Oriental Mindoro | Mansalay | 5213 |
| Region 4B (MIMAROPA) | Oriental Mindoro | Naujan | 5204 |
| Region 4B (MIMAROPA) | Oriental Mindoro | Pinamalayan | 5208 |
| Region 4B (MIMAROPA) | Oriental Mindoro | Pola | 5206 |
| Region 4B (MIMAROPA) | Oriental Mindoro | Puerto Galera | 5203 |
| Region 4B (MIMAROPA) | Oriental Mindoro | Roxas | 5212 |
| Region 4B (MIMAROPA) | Oriental Mindoro | San Teodoro | 5202 |
| Region 4B (MIMAROPA) | Oriental Mindoro | Socorro | 5207 |
| Region 4B (MIMAROPA) | Oriental Mindoro | Victoria | 5205 |
| Region 4B (MIMAROPA) | Occidental Mindoro | Tilik | 5110 |
| Region 4B (MIMAROPA) | Occidental Mindoro | Abra de Ilog | 5108 |
| Region 4B (MIMAROPA) | Occidental Mindoro | Calintaan | 5102 |
| Region 4B (MIMAROPA) | Occidental Mindoro | Looc | 5111 |
| Region 4B (MIMAROPA) | Occidental Mindoro | Lubang | 5109 |
| Region 4B (MIMAROPA) | Occidental Mindoro | Magsaysay | 5101 |
| Region 4B (MIMAROPA) | Occidental Mindoro | Mamburao | 5106 |
| Region 4B (MIMAROPA) | Occidental Mindoro | Palauan | 5107 |
| Region 4B (MIMAROPA) | Occidental Mindoro | Rizal | 5103 |
| Region 4B (MIMAROPA) | Occidental Mindoro | Sablayan | 5104 |
| Region 4B (MIMAROPA) | Occidental Mindoro | San Jose | 5100 |
| Region 4B (MIMAROPA) | Occidental Mindoro | Sta. Cruz | 5105 |
| Region 4B (MIMAROPA) | Marinduque | Boac | 4900 |
| Region 4B (MIMAROPA) | Marinduque | Buenavista | 4904 |
| Region 4B (MIMAROPA) | Marinduque | Gasan | 4905 |
| Region 4B (MIMAROPA) | Marinduque | Mogpog | 4901 |
| Region 4B (MIMAROPA) | Marinduque | Sta. Cruz | 4902 |
| Region 4B (MIMAROPA) | Marinduque | Torrijos | 4903 |
| Region 4A (CALABARZON) | Rizal | Bagong Nayon (Cogeo) | 1872 |
| Region 4A (CALABARZON) | Rizal | Langhaya | 1874 |
| Region 4A (CALABARZON) | Rizal | Mambagat | 1875 |
| Region 4A (CALABARZON) | Rizal | Mayamot | 1871 |
| Region 4A (CALABARZON) | Rizal | Angono | 1930 |
| Region 4A (CALABARZON) | Rizal | Antipolo | 1870 |
| Region 4A (CALABARZON) | Rizal | Baras | 1970 |
| Region 4A (CALABARZON) | Rizal | Binangonan | 1940 |
| Region 4A (CALABARZON) | Rizal | Cainta | 1900 |
| Region 4A (CALABARZON) | Rizal | Cardona | 1950 |
| Region 4A (CALABARZON) | Rizal | Jalajala | 1990 |
| Region 4A (CALABARZON) | Rizal | Morong | 1960 |
| Region 4A (CALABARZON) | Rizal | Pililla | 1910 |
| Region 4A (CALABARZON) | Rizal | Rodriguez (Montalban) | 1860 |
| Region 4A (CALABARZON) | Rizal | San Mateo | 1850 |
| Region 4A (CALABARZON) | Rizal | Tanay | 1980 |
| Region 4A (CALABARZON) | Rizal | Teresa | 1880 |
| Region 4A (CALABARZON) | Rizal | Taytay | 1920 |
| Region 4A (CALABARZON) | Quezon | Quezon Capitol | 4300 |
| Region 4A (CALABARZON) | Quezon | San Narciso | 4313 |
| Region 8 (Eastern Visayas) | Samar | Zumarraga | 6725 |
| Region 4A (CALABARZON) | Quezon | Pitogo | 4308 |
| Region 4A (CALABARZON) | Quezon | Plaridel | 4306 |
| Region 4A (CALABARZON) | Quezon | Polilio | 4339 |
| Region 4A (CALABARZON) | Quezon | Quezon | 4332 |
| Region 4A (CALABARZON) | Quezon | Real | 4335 |
| Region 4A (CALABARZON) | Quezon | Sampaloc | 4329 |
| Region 4A (CALABARZON) | Quezon | San Andres | 4314 |
| Region 4A (CALABARZON) | Quezon | San Antonio | 4324 |
| Region 4A (CALABARZON) | Quezon | San Francisco | 4315 |
| Region 4A (CALABARZON) | Quezon | Sariaya | 4322 |
| Region 4A (CALABARZON) | Quezon | Tagkawayan | 4321 |
| Region 4A (CALABARZON) | Quezon | Tayabas | 4327 |
| Region 4A (CALABARZON) | Quezon | Tiaong | 4325 |
| Region 4A (CALABARZON) | Quezon | Unisan | 4305 |
| Region 8 (Eastern Visayas) | Samar | Wright | 6703 |
| Region 8 (Eastern Visayas) | Samar | Villareal | 6717 |
| Region 8 (Eastern Visayas) | Samar | Tarangnan | 6704 |
| Region 8 (Eastern Visayas) | Samar | Talalora | 6719 |
| Region 8 (Eastern Visayas) | Samar | Tagapul-an | 6712 |
| Region 8 (Eastern Visayas) | Samar | Sto. Niño | 6711 |
| Region 8 (Eastern Visayas) | Samar | Sta. Rita | 6718 |
| Region 8 (Eastern Visayas) | Samar | Sta. Margarita | 6709 |
| Region 8 (Eastern Visayas) | Samar | San Sebastian | 6714 |
| Region 8 (Eastern Visayas) | Samar | San Jose de Buan | 6723 |
| Region 8 (Eastern Visayas) | Samar | San Jorge | 6707 |
| Region 8 (Eastern Visayas) | Samar | Pinabacdao | 6716 |
| Region 8 (Eastern Visayas) | Samar | Pagsanghan | 6705 |
| Region 4A (CALABARZON) | Quezon | Hondagua | 4317 |
| Region 8 (Eastern Visayas) | Samar | Motiong | 6702 |
| Region 8 (Eastern Visayas) | Samar | Matuguinao | 6708 |
| Region 8 (Eastern Visayas) | Samar | Marabut | 6721 |
| Region 4A (CALABARZON) | Quezon | Panukulan | 4337 |
| Region 4A (CALABARZON) | Quezon | Gumaca | 4307 |
| Region 4A (CALABARZON) | Quezon | Infanta | 4336 |
| Region 4A (CALABARZON) | Quezon | Jomalig | 4342 |
| Region 4A (CALABARZON) | Quezon | Lopez | 4316 |
| Region 4A (CALABARZON) | Quezon | Lucban | 4328 |
| Region 4A (CALABARZON) | Quezon | Lucena City | 4301 |
| Region 4A (CALABARZON) | Quezon | Macalelon | 4309 |
| Region 4A (CALABARZON) | Quezon | Mauban | 4330 |
| Region 4A (CALABARZON) | Quezon | Mulanay | 4312 |
| Region 4A (CALABARZON) | Quezon | Padre Burgos | 4303 |
| Region 4A (CALABARZON) | Quezon | Pagbilao | 4302 |
| Region 4A (CALABARZON) | Quezon | Patnanungan | 4341 |
| Region 4A (CALABARZON) | Quezon | Perez | 4334 |
| Region 8 (Eastern Visayas) | Samar | Jiabong | 6701 |
| Region 8 (Eastern Visayas) | Samar | Hinabangan | 6713 |
| Region 8 (Eastern Visayas) | Samar | Gandara | 6706 |
| Region 8 (Eastern Visayas) | Samar | Daram | 6722 |
| Region 8 (Eastern Visayas) | Samar | Catbalogan | 6700 |
| Region 8 (Eastern Visayas) | Samar | Calbiga | 6715 |
| Region 8 (Eastern Visayas) | Samar | Calbayog City | 6710 |
| Region 8 (Eastern Visayas) | Samar | Basey | 6720 |
| Region 8 (Eastern Visayas) | Samar | Almagro | 6724 |
| Region 4A (CALABARZON) | Quezon | Agdangan | 4304 |
| Region 4A (CALABARZON) | Quezon | Alabat | 4333 |
| Region 4A (CALABARZON) | Quezon | Atimonan | 4331 |
| Region 4A (CALABARZON) | Quezon | Buenavista | 4320 |
| Region 4A (CALABARZON) | Quezon | Burdeos | 4340 |
| Region 4A (CALABARZON) | Quezon | Calauag | 4318 |
| Region 4A (CALABARZON) | Quezon | Candelaria | 4323 |
| Region 4A (CALABARZON) | Quezon | Catanauan | 4311 |
| Region 4A (CALABARZON) | Quezon | Dolores | 4326 |
| Region 4A (CALABARZON) | Quezon | General Nakar | 4338 |
| Region 4A (CALABARZON) | Quezon | General Luna | 4310 |
| Region 4A (CALABARZON) | Quezon | Guinayangan | 4319 |
| Region 13 (Caraga Region) | Surigao Del Sur | Tandag | 8300 |
| Region 13 (Caraga Region) | Surigao Del Sur | Tago | 8302 |
| Region 13 (Caraga Region) | Surigao Del Sur | Tagbina | 8308 |
| Region 4A (CALABARZON) | Laguna | Paete | 4016 |
| Region 4A (CALABARZON) | Laguna | Pagsanjan | 4008 |
| Region 4A (CALABARZON) | Laguna | Pakil | 4017 |
| Region 4A (CALABARZON) | Laguna | Pangil | 4018 |
| Region 4A (CALABARZON) | Laguna | Pila | 4010 |
| Region 4A (CALABARZON) | Laguna | Rizal | 4003 |
| Region 4A (CALABARZON) | Laguna | San Pablo City | 4000 |
| Region 4A (CALABARZON) | Laguna | San Pedro | 4023 |
| Region 4A (CALABARZON) | Laguna | Sta. Cruz | 4009 |
| Region 13 (Caraga Region) | Surigao Del Sur | San Miguel | 8301 |
| Region 4A (CALABARZON) | Laguna | Sta. Maria | 4022 |
| Region 4A (CALABARZON) | Laguna | Victoria | 4011 |
| Region 4A (CALABARZON) | Laguna | Sta. Rosa | 4026 |
| Region 13 (Caraga Region) | Surigao Del Sur | San Agustin | 8305 |
| Region 13 (Caraga Region) | Surigao Del Sur | Marihatag | 8306 |
| Region 4A (CALABARZON) | Laguna | Siniloan | 4019 |
| Region 13 (Caraga Region) | Surigao Del Sur | Malixi | 8319 |
| Region 13 (Caraga Region) | Surigao Del Sur | Madrid | 8316 |
| Region 13 (Caraga Region) | Surigao Del Sur | Lingig | 8312 |
| Region 13 (Caraga Region) | Surigao Del Sur | Lianga | 8307 |
| Region 13 (Caraga Region) | Surigao Del Sur | Lanuza | 8314 |
| Region 13 (Caraga Region) | Surigao Del Sur | Hinatuan | 8310 |
| Region 13 (Caraga Region) | Surigao Del Sur | Cortez | 8313 |
| Region 4A (CALABARZON) | Laguna | College Los Baños | 4031 |
| Region 4A (CALABARZON) | Laguna | Laguna Technopark | 4034 |
| Region 13 (Caraga Region) | Surigao Del Sur | Carrascal | 8318 |
| Region 4A (CALABARZON) | Laguna | Alaminos | 4001 |
| Region 4A (CALABARZON) | Laguna | Bay | 4033 |
| Region 4A (CALABARZON) | Laguna | Biñan | 4024 |
| Region 4A (CALABARZON) | Laguna | Cabuyao | 4025 |
| Region 4A (CALABARZON) | Laguna | Calamba | 4027 |
| Region 13 (Caraga Region) | Surigao del Norte | Carmen | 8315 |
| Region 4A (CALABARZON) | Laguna | Caluan | 4012 |
| Region 4A (CALABARZON) | Laguna | Cavinti | 4013 |
| Region 4A (CALABARZON) | Laguna | Famy | 4021 |
| Region 4A (CALABARZON) | Laguna | Kalayaan | 4015 |
| Region 4A (CALABARZON) | Laguna | Liliw | 4004 |
| Region 4A (CALABARZON) | Laguna | Los Baños | 4030 |
| Region 4A (CALABARZON) | Laguna | Lumban | 4014 |
| Region 4A (CALABARZON) | Laguna | Luisiana | 4032 |
| Region 4A (CALABARZON) | Laguna | Mabitac | 4020 |
| Region 4A (CALABARZON) | Laguna | Magdalena | 4007 |
| Region 4A (CALABARZON) | Laguna | Majayjay | 4005 |
| Region 4A (CALABARZON) | Laguna | Nagcarlan | 4002 |
| Region 13 (Caraga Region) | Surigao Del Sur | Cantilan | 8317 |
| Region 13 (Caraga Region) | Surigao Del Sur | Cagwait | 8304 |
| Region 13 (Caraga Region) | Surigao Del Sur | Bislig | 8311 |
| Region 13 (Caraga Region) | Surigao Del Sur | Bayabas | 8303 |
| Region 13 (Caraga Region) | Surigao Del Sur | Barobo | 8309 |
| Region 13 (Caraga Region) | Dinagat Islands | Tubajon | 8426 |
| Region 13 (Caraga Region) | Dinagat Islands | San Jose | 8427 |
| Region 13 (Caraga Region) | Dinagat Islands | Loreto | 8415 |
| Region 13 (Caraga Region) | Dinagat Islands | Libjo (formerly Albor | 8414 |
| Region 13 (Caraga Region) | Dinagat Islands | Dinagat | 8412 |
| Region 13 (Caraga Region) | Dinagat Islands | Cagdianao | 8411 |
| Region 13 (Caraga Region) | Dinagat Islands | Basilisa (formerly Rizal) | 8413 |
| Region 4A (CALABARZON) | Laguna | Botocan | 4006 |
| Region 3 (Central Luzon) | Zambales | Botolan | 2202 |
| Region 3 (Central Luzon) | Zambales | Cabangan | 2203 |
| Region 3 (Central Luzon) | Zambales | Candelaria | 2212 |
| Region 3 (Central Luzon) | Zambales | Castillejos | 2208 |
| Region 3 (Central Luzon) | Zambales | Iba | 2201 |
| Region 3 (Central Luzon) | Zambales | Olongapo City | 2200 |
| Region 3 (Central Luzon) | Zambales | Palauig | 2210 |
| Region 3 (Central Luzon) | Zambales | San Antonio | 2206 |
| Region 3 (Central Luzon) | Zambales | San Felipe | 2204 |
| Region 3 (Central Luzon) | Zambales | San Marcelino | 2207 |
| Region 13 (Caraga Region) | Surigao del Norte | Tagana-an | 8403 |
| Region 13 (Caraga Region) | Surigao del Norte | Tubod | 8406 |
| Region 13 (Caraga Region) | Surigao del Norte | Surigao City | 8400 |
| Region 13 (Caraga Region) | Surigao del Norte | Sta. Monica | 8422 |
| Region 13 (Caraga Region) | Surigao del Norte | Socorro | 8416 |
| Region 13 (Caraga Region) | Surigao del Norte | Sison | 8404 |
| Region 13 (Caraga Region) | Surigao del Norte | San Isidro | 8421 |
| Region 13 (Caraga Region) | Surigao del Norte | San Francisco | 8401 |
| Region 13 (Caraga Region) | Surigao del Norte | San Benito | 8423 |
| Region 13 (Caraga Region) | Surigao del Norte | Placer | 8405 |
| Region 13 (Caraga Region) | Surigao del Norte | Pilar | 8420 |
| Region 13 (Caraga Region) | Surigao del Norte | Malimono | 8402 |
| Region 13 (Caraga Region) | Surigao del Norte | Mainit | 8407 |
| Region 13 (Caraga Region) | Surigao del Norte | Gigaquit | 8409 |
| Region 13 (Caraga Region) | Surigao del Norte | Gen. Luna | 8419 |
| Region 13 (Caraga Region) | Surigao del Norte | Del Carmen | 8418 |
| Region 13 (Caraga Region) | Surigao del Norte | Dapa | 8417 |
| Region 13 (Caraga Region) | Surigao del Norte | Claver | 8410 |
| Region 13 (Caraga Region) | Surigao del Norte | Burgos | 8424 |
| Region 13 (Caraga Region) | Surigao del Norte | Bacuag | 8408 |
| Region 13 (Caraga Region) | Surigao del Norte | Alegria | 8425 |
| Region 13 (Caraga Region) | Agusan del Sur | Veruela | 8509 |
| Region 13 (Caraga Region) | Agusan del Sur | Trento | 8505 |
| Region 13 (Caraga Region) | Agusan del Sur | Talacogon | 8510 |
| Region 13 (Caraga Region) | Agusan del Sur | Sta. Josefa | 8512 |
| Region 13 (Caraga Region) | Agusan del Sur | Sibagat | 8503 |
| Region 13 (Caraga Region) | Agusan del Sur | San Luis | 8511 |
| Region 13 (Caraga Region) | Agusan del Sur | San Francisco | 8501 |
| Region 13 (Caraga Region) | Agusan del Sur | Rosario | 8504 |
| Region 13 (Caraga Region) | Agusan del Sur | Prosperidad | 8500 |
| Region 13 (Caraga Region) | Agusan del Sur | Loreto | 8507 |
| Region 13 (Caraga Region) | Agusan del Sur | La Paz | 8508 |
| Region 13 (Caraga Region) | Agusan del Sur | Esperanza | 8513 |
| Region 13 (Caraga Region) | Agusan del Sur | Bunawan | 8506 |
| Region 13 (Caraga Region) | Agusan del Sur | Bayugan | 8502 |
| Region 13 (Caraga Region) | Agusan del Norte | Tubay | 8606 |
| Region 13 (Caraga Region) | Agusan del Norte | Santiago | 8608 |
| Region 13 (Caraga Region) | Agusan del Norte | Remedios T. Romualdez | 8611 |
| Region 13 (Caraga Region) | Agusan del Norte | Nasipit | 8602 |
| Region 13 (Caraga Region) | Agusan del Norte | Magallanes | 8604 |
| Region 13 (Caraga Region) | Agusan del Norte | Las Nieves | 8610 |
| Region 13 (Caraga Region) | Agusan del Norte | Kitcharao | 8609 |
| Region 13 (Caraga Region) | Agusan del Norte | Jabonga | 8607 |
| Region 13 (Caraga Region) | Agusan del Norte | Carmen | 8603 |
| Region 13 (Caraga Region) | Agusan del Norte | Cabadbaran | 8605 |
| Region 13 (Caraga Region) | Agusan del Norte | Butuan City | 8600 |
| Region 13 (Caraga Region) | Agusan del Norte | Buenavista | 8601 |
| Region 12 (SOCCSKSARGEN) | Sultan Kudarat | Tacurong | 9800 |
| Region 12 (SOCCSKSARGEN) | Sultan Kudarat | Sen. Ninoy Aquino | 9811 |
| Region 3 (Central Luzon) | Tarlac | Victoria | 2313 |
| Region 3 (Central Luzon) | Tarlac | Tarlac | 2300 |
| Region 3 (Central Luzon) | Tarlac | Sta. Ignacia | 2303 |
| Region 3 (Central Luzon) | Tarlac | San Manuel | 2309 |
| Region 3 (Central Luzon) | Tarlac | San Jose | 2318 |
| Region 3 (Central Luzon) | Tarlac | San Clemente | 2305 |
| Region 3 (Central Luzon) | Tarlac | Ramos | 2311 |
| Region 3 (Central Luzon) | Tarlac | Pura | 2312 |
| Region 3 (Central Luzon) | Tarlac | Paniqui | 2307 |
| Region 12 (SOCCSKSARGEN) | Sultan Kudarat | Pres. Quirino | 9804 |
| Region 12 (SOCCSKSARGEN) | Sultan Kudarat | Palimbang | 9809 |
| Region 12 (SOCCSKSARGEN) | Sultan Kudarat | Mariano Marcos | 9802 |
| Region 12 (SOCCSKSARGEN) | Sultan Kudarat | Lutayan | 9803 |
| Region 3 (Central Luzon) | Tarlac | Bamban | 2317 |
| Region 3 (Central Luzon) | Tarlac | Moncada | 2308 |
| Region 3 (Central Luzon) | Tarlac | Mayantoc | 2304 |
| Region 3 (Central Luzon) | Tarlac | La Paz | 2314 |
| Region 12 (SOCCSKSARGEN) | Sultan Kudarat | Lebak (Salaman) | 9807 |
| Region 3 (Central Luzon) | Tarlac | Gerona | 2302 |
| Region 3 (Central Luzon) | Tarlac | Concepcion | 2316 |
| Region 3 (Central Luzon) | Tarlac | Capas | 2315 |
| Region 3 (Central Luzon) | Tarlac | Camiling | 2306 |
| Region 3 (Central Luzon) | Tarlac | Anao | 2310 |
| Region 12 (SOCCSKSARGEN) | Sultan Kudarat | Kalamansig | 9808 |
| Region 12 (SOCCSKSARGEN) | Sultan Kudarat | Isulan | 9805 |
| Region 12 (SOCCSKSARGEN) | Sultan Kudarat | Esperanza (Ampatuan) | 9806 |
| Region 12 (SOCCSKSARGEN) | Sultan Kudarat | Columbio | 9801 |
| Region 12 (SOCCSKSARGEN) | Sultan Kudarat | Bagumbayan | 9810 |
| Region 3 (Central Luzon) | Pampanga | Santa Cruz, Lubao | 2025 |
| Region 3 (Central Luzon) | Pampanga | Sasmuan | 2004 |
| Region 3 (Central Luzon) | Pampanga | Santo Tomas | 2020 |
| Region 3 (Central Luzon) | Pampanga | Santa Rita | 2002 |
| Region 3 (Central Luzon) | Pampanga | Santa Ana | 2022 |
| Region 3 (Central Luzon) | Pampanga | San Simon | 2015 |
| Region 3 (Central Luzon) | Pampanga | San Luis | 2014 |
| Region 3 (Central Luzon) | Pampanga | San Fernando | 2000 |
| Region 3 (Central Luzon) | Pampanga | Porac | 2008 |
| Region 3 (Central Luzon) | Pampanga | Dau, Mabalacat | 2026 |
| Region 3 (Central Luzon) | Pampanga | CSEZ, Clark | 2023 |
| Region 3 (Central Luzon) | Pampanga | Basa airbase | 2007 |
| Region 3 (Central Luzon) | Pampanga | Minalin | 2019 |
| Region 3 (Central Luzon) | Pampanga | Masantol | 2017 |
| Region 3 (Central Luzon) | Pampanga | Mexico | 2021 |
| Region 3 (Central Luzon) | Pampanga | Magalang | 2011 |
| Region 3 (Central Luzon) | Pampanga | Macabebe | 2018 |
| Region 3 (Central Luzon) | Pampanga | Mabalacat | 2010 |
| Region 3 (Central Luzon) | Pampanga | Lubao | 2005 |
| Region 3 (Central Luzon) | Pampanga | Guagua | 2003 |
| Region 3 (Central Luzon) | Pampanga | Floridablanca | 2006 |
| Region 3 (Central Luzon) | Pampanga | Candaba | 2013 |
| Region 3 (Central Luzon) | Pampanga | Bacolor | 2001 |
| Region 3 (Central Luzon) | Pampanga | Arayat | 2012 |
| Region 3 (Central Luzon) | Pampanga | Apalit | 2016 |
| Region 3 (Central Luzon) | Pampanga | Angeles City | 2009 |
| Region 3 (Central Luzon) | Nueva Ecija | Fort Magsaysay | 3130 |
| Region 3 (Central Luzon) | Nueva Ecija | Sta. Rosa | 3101 |
| Region 3 (Central Luzon) | Nueva Ecija | Sto. Domingo | 3133 |
| Region 3 (Central Luzon) | Nueva Ecija | Talavera | 3114 |
| Region 3 (Central Luzon) | Nueva Ecija | Talugtog | 3118 |
| Region 3 (Central Luzon) | Nueva Ecija | Zaragoza | 3110 |
| Region 3 (Central Luzon) | Nueva Ecija | San Leonardo | 3102 |
| Region 3 (Central Luzon) | Nueva Ecija | San Jose City | 3121 |
| Region 3 (Central Luzon) | Nueva Ecija | San Isidro | 3106 |
| Region 3 (Central Luzon) | Nueva Ecija | Rizal | 3127 |
| Region 3 (Central Luzon) | Nueva Ecija | San Antonio | 3108 |
| Region 3 (Central Luzon) | Nueva Ecija | Quezon | 3113 |
| Region 3 (Central Luzon) | Nueva Ecija | Peñaranda | 3103 |
| Region 3 (Central Luzon) | Nueva Ecija | Pantabangan | 3124 |
| Region 3 (Central Luzon) | Nueva Ecija | Palayan City | 3132 |
| Region 3 (Central Luzon) | Nueva Ecija | Nampicuan | 3116 |
| Region 3 (Central Luzon) | Nueva Ecija | Muñoz | 3119 |
| Region 3 (Central Luzon) | Nueva Ecija | Lupao | 3122 |
| Region 3 (Central Luzon) | Nueva Ecija | Llanera | 3126 |
| Region 3 (Central Luzon) | Nueva Ecija | Licab | 3112 |
| Region 3 (Central Luzon) | Nueva Ecija | Central Luzon State University | 3120 |
| Region 3 (Central Luzon) | Nueva Ecija | Jaen | 3109 |
| Region 3 (Central Luzon) | Nueva Ecija | Laur | 3129 |
| Region 3 (Central Luzon) | Nueva Ecija | Guimba | 3115 |
| Region 3 (Central Luzon) | Nueva Ecija | Gen. Tinio | 3104 |
| Region 3 (Central Luzon) | Nueva Ecija | Gen. M. Natividad | 3125 |
| Region 3 (Central Luzon) | Nueva Ecija | Gapan City | 3105 |
| Region 3 (Central Luzon) | Nueva Ecija | Gabaldon | 3131 |
| Region 3 (Central Luzon) | Nueva Ecija | Cuyapo | 3117 |
| Region 3 (Central Luzon) | Nueva Ecija | Carrangalan | 3123 |
| Region 3 (Central Luzon) | Nueva Ecija | Cabiao | 3107 |
| Region 3 (Central Luzon) | Nueva Ecija | Cabanatuan City | 3100 |
| Region 3 (Central Luzon) | Nueva Ecija | Bongabon | 3128 |
| Region 3 (Central Luzon) | Nueva Ecija | Aliaga | 3111 |
| Region 12 (SOCCSKSARGEN) | South Cotabato | Tupi | 9505 |
| Region 3 (Central Luzon) | Bulacan | Sapang Palay | 3024 |
| Region 3 (Central Luzon) | Bulacan | Sta. Maria | 3022 |
| Region 3 (Central Luzon) | Bulacan | San Rafael | 3008 |
| Region 3 (Central Luzon) | Bulacan | San Miguel | 3011 |
| Region 12 (SOCCSKSARGEN) | Agusan del Norte | T'boli | 9513 |
| Region 12 (SOCCSKSARGEN) | South Cotabato | Tantangan | 9510 |
| Region 12 (SOCCSKSARGEN) | South Cotabato | Tampakan | 9507 |
| Region 12 (SOCCSKSARGEN) | South Cotabato | Surallah | 9512 |
| Region 12 (SOCCSKSARGEN) | South Cotabato | Sto. Niño | 9509 |
| Region 3 (Central Luzon) | Bulacan | Doña Remedios Trinidad | 3009 |
| Region 3 (Central Luzon) | Bulacan | Guiguinto | 3015 |
| Region 12 (SOCCSKSARGEN) | South Cotabato | Polomolok | 9504 |
| Region 3 (Central Luzon) | Bulacan | Hagonoy | 3002 |
| Region 3 (Central Luzon) | Bulacan | Malolos | 3000 |
| Region 3 (Central Luzon) | Bulacan | Marilao | 3019 |
| Region 3 (Central Luzon) | Bulacan | Meycauayan | 3020 |
| Region 3 (Central Luzon) | Bulacan | Norzagaray | 3013 |
| Region 3 (Central Luzon) | Bulacan | Obando | 3021 |
| Region 3 (Central Luzon) | Bulacan | Pandi | 3014 |
| Region 3 (Central Luzon) | Bulacan | Paombong | 3001 |
| Region 3 (Central Luzon) | Bulacan | Plaridel | 3004 |
| Region 3 (Central Luzon) | Bulacan | Pulilan | 3005 |
| Region 3 (Central Luzon) | Bulacan | San Ildefonso | 3010 |
| Region 3 (Central Luzon) | Bulacan | San Jose Del Monte | 3023 |
| Region 12 (SOCCSKSARGEN) | South Cotabato | Norala | 9508 |
| Region 12 (SOCCSKSARGEN) | South Cotabato | Lake Sebu | 9518 |
| Region 12 (SOCCSKSARGEN) | South Cotabato | Koronadal | 9506 |
| Region 12 (SOCCSKSARGEN) | South Cotabato | Gen. Santos City | 9500 |
| Region 12 (SOCCSKSARGEN) | South Cotabato | Banga | 9511 |
| Region 12 (SOCCSKSARGEN) | Sarangani | Malungon | 9503 |
| Region 12 (SOCCSKSARGEN) | Sarangani | Malapatan | 9516 |
| Region 12 (SOCCSKSARGEN) | Sarangani | Maitum | 9515 |
| Region 12 (SOCCSKSARGEN) | Sarangani | Maasim | 9502 |
| Region 12 (SOCCSKSARGEN) | Agusan del Norte | Kiamba | 9514 |
| Region 3 (Central Luzon) | Bulacan | Cruz Na Daan | 3025 |
| Region 12 (SOCCSKSARGEN) | Sarangani | Glan | 9517 |
| Region 12 (SOCCSKSARGEN) | Sarangani | Alabel | 9501 |
| Region 12 (SOCCSKSARGEN) | Cotabato (North) | Tulunan | 9403 |
| Region 12 (SOCCSKSARGEN) | Cotabato (North) | Pre. Roxas | 9405 |
| Region 3 (Central Luzon) | Bulacan | Bulacan | 3017 |
| Region 3 (Central Luzon) | Bulacan | Bustos | 3007 |
| Region 3 (Central Luzon) | Bulacan | Calumpit | 3003 |
| Region 12 (SOCCSKSARGEN) | Cotabato (North) | Pikit | 9409 |
| Region 3 (Central Luzon) | Bulacan | Bocaue | 3018 |
| Region 3 (Central Luzon) | Bulacan | Baliuag | 3006 |
| Region 3 (Central Luzon) | Bulacan | Balagtas | 3016 |
| Region 3 (Central Luzon) | Bulacan | Angat | 3012 |
| Region 12 (SOCCSKSARGEN) | Cotabato (North) | Pigkawayan | 9412 |
| Region 12 (SOCCSKSARGEN) | Cotabato (North) | M'lang | 9402 |
| Region 12 (SOCCSKSARGEN) | Cotabato (North) | Midsayap | 9410 |
| Region 12 (SOCCSKSARGEN) | Cotabato (North) | Matalam | 9406 |
| Region 12 (SOCCSKSARGEN) | Cotabato (North) | Makilala | 9401 |
| Region 12 (SOCCSKSARGEN) | Cotabato (North) | Magpet | 9404 |
| Region 12 (SOCCSKSARGEN) | Cotabato (North) | Libungan | 9411 |
| Region 12 (SOCCSKSARGEN) | Cotabato (North) | Kidapawan | 9400 |
| Region 12 (SOCCSKSARGEN) | Cotabato (North) | Kabacan | 9407 |
| Region 12 (SOCCSKSARGEN) | Cotabato (North) | Carmen | 9408 |
| Region 4A (CALABARZON) | Cavite | Silang | 4118 |
| Region 4A (CALABARZON) | Cavite | Tagaytay | 4120 |
| Region 4A (CALABARZON) | Cavite | Tanza | 4108 |
| Region 4A (CALABARZON) | Cavite | Ternate | 4111 |
| Region 4A (CALABARZON) | Cavite | Trece Martirez City | 4109 |
| Region 4A (CALABARZON) | Cavite | Magallanes | 4113 |
| Region 4A (CALABARZON) | Cavite | Maragondon | 4112 |
| Region 4A (CALABARZON) | Cavite | Mendez | 4121 |
| Region 4A (CALABARZON) | Cavite | Noveleta | 4105 |
| Region 4A (CALABARZON) | Cavite | Naic | 4110 |
| Region 4A (CALABARZON) | Cavite | Rosario | 4106 |
| Region 12 (SOCCSKSARGEN) | Cotabato (North) | Banisilan | 9416 |
| Region 12 (SOCCSKSARGEN) | Cotabato (North) | Arakan | 9417 |
| Region 12 (SOCCSKSARGEN) | Cotabato (North) | Antipas | 9414 |
| Region 4A (CALABARZON) | Cavite | Molino | 4135 |
| Region 12 (SOCCSKSARGEN) | Cotabato (North) | Aleosan | 9415 |
| Region 12 (SOCCSKSARGEN) | Cotabato (North) | Alamada | 9413 |
| Region 4A (CALABARZON) | Cavite | Gen. Trias | 4107 |
| Region 4A (CALABARZON) | Cavite | Gen. Mariano Alvarez | 4117 |
| Region 4A (CALABARZON) | Cavite | Imus | 4103 |
| Region 4A (CALABARZON) | Cavite | Indang | 4122 |
| Region 4A (CALABARZON) | Cavite | Kawit | 4104 |
| Region 11 (Davao Region) | Davao Oriental | Tarragona | 8201 |
| Region 4A (CALABARZON) | Cavite | Dasmariñas Resettlement Area | 4115 |
| Region 11 (Davao Region) | Davao Oriental | San Isidro | 8209 |
| Region 4A (CALABARZON) | Cavite | Gen. Aguinaldo (Bailen) | 4124 |
| Region 11 (Davao Region) | Davao Oriental | Mati | 8200 |
| Region 11 (Davao Region) | Davao Oriental | Manay | 8202 |
| Region 11 (Davao Region) | Davao Oriental | Lupon | 8207 |
| Region 11 (Davao Region) | Davao Oriental | Gov. Generoso | 8210 |
| Region 11 (Davao Region) | Davao Oriental | Cateel | 8205 |
| Region 11 (Davao Region) | Davao Oriental | Caraga | 8203 |
| Region 11 (Davao Region) | Davao Oriental | Boston | 8206 |
| Region 11 (Davao Region) | Davao Oriental | Banaybanay | 8208 |
| Region 11 (Davao Region) | Davao Oriental | Baganga | 8204 |
| Region 11 (Davao Region) | Davao Occidental | Sarangani | 8015 |
| Region 11 (Davao Region) | Davao Occidental | Santa Maria | 8011 |
| Region 11 (Davao Region) | Davao Occidental | Malita | 8012 |
| Region 11 (Davao Region) | Davao Occidental | Jose Abad Santos | 8014 |
| Region 11 (Davao Region) | Davao Occidental | Don Marcelino | 8013 |
| Region 4A (CALABARZON) | Cavite | Alfonso | 4123 |
| Region 4A (CALABARZON) | Cavite | Amadeo | 4119 |
| Region 4A (CALABARZON) | Cavite | Bacoor | 4102 |
| Region 4A (CALABARZON) | Cavite | Carmona | 4116 |
| Region 4A (CALABARZON) | Cavite | Cavite City | 4100 |
| Region 4A (CALABARZON) | Cavite | Dasmariñas | 4114 |
| Region 11 (Davao Region) | Davao del Sur | University of Mindanao | 8026 |
| Region 11 (Davao Region) | Davao del Sur | Toril | 8025 |
| Region 11 (Davao Region) | Davao del Sur | Tibungco | 8024 |
| Region 11 (Davao Region) | Davao del Sur | Talomo | 8023 |
| Region 11 (Davao Region) | Davao del Sur | Sulop | 8009 |
| Region 11 (Davao Region) | Davao del Sur | Santa Cruz | 8001 |
| Region 11 (Davao Region) | Davao del Sur | Padada | 8007 |
| Region 11 (Davao Region) | Davao del Sur | Mintal | 8022 |
| Region 4A (CALABARZON) | Batangas | San Nicolas | 4207 |
| Region 11 (Davao Region) | Davao del Sur | Matina | 8021 |
| Region 4A (CALABARZON) | Batangas | San Pascual | 4204 |
| Region 4A (CALABARZON) | Batangas | Sta. Teresita | 4206 |
| Region 4A (CALABARZON) | Batangas | Sto. Tomas | 4234 |
| Region 4A (CALABARZON) | Batangas | Taal | 4208 |
| Region 4A (CALABARZON) | Batangas | Talisay | 4220 |
| Region 4A (CALABARZON) | Batangas | Tanauan | 4232 |
| Region 4A (CALABARZON) | Batangas | Taysan | 4228 |
| Region 4A (CALABARZON) | Batangas | Tingloy | 4203 |
| Region 11 (Davao Region) | Davao del Sur | Matanao | 8003 |
| Region 4A (CALABARZON) | Batangas | Tuy | 4214 |
| Region 11 (Davao Region) | Davao del Sur | Mandug | 8020 |
| Region 11 (Davao Region) | Davao del Sur | Malalag | 8010 |
| Region 11 (Davao Region) | Davao del Sur | Magsaysay | 8004 |
| Region 11 (Davao Region) | Davao del Sur | Kiblawan | 8008 |
| Region 11 (Davao Region) | Davao del Sur | Hagonoy | 8006 |
| Region 11 (Davao Region) | Davao del Sur | Digos | 8002 |
| Region 11 (Davao Region) | Davao del Sur | Davao International Airport | 8019 |
| Region 11 (Davao Region) | Davao del Sur | Davao City | 8000 |
| Region 4A (CALABARZON) | Batangas | Lipa City | 4217 |
| Region 4A (CALABARZON) | Batangas | Lobo | 4229 |
| Region 11 (Davao Region) | Davao del Sur | Calinan | 8018 |
| Region 4A (CALABARZON) | Batangas | Mabini | 4202 |
| Region 4A (CALABARZON) | Batangas | Malvar | 4233 |
| Region 4A (CALABARZON) | Batangas | Mataas na Kahoy | 4223 |
| Region 4A (CALABARZON) | Batangas | Nasugbu | 4231 |
| Region 4A (CALABARZON) | Batangas | Padre Garcia | 4224 |
| Region 4A (CALABARZON) | Batangas | Rosario | 4225 |
| Region 4A (CALABARZON) | Batangas | San Jose | 4227 |
| Region 4A (CALABARZON) | Batangas | San Juan | 4226 |
| Region 4A (CALABARZON) | Batangas | San Luis | 4210 |
| Region 11 (Davao Region) | Davao del Sur | Bunawan | 8017 |
| Region 11 (Davao Region) | Davao del Sur | Bansalan | 8005 |
| Region 11 (Davao Region) | Davao del Sur | Ateneo | 8016 |
| Region 11 (Davao Region) | Davao Del Norte | Talaingod | 8107 |
| Region 11 (Davao Region) | Davao Del Norte | Tagum | 8100 |
| Region 11 (Davao Region) | Davao Del Norte | Santo Tomas | 8112 |
| Region 4A (CALABARZON) | Batangas | Fernando Airbase | 4218 |
| Region 11 (Davao Region) | Davao Del Norte | San Isidro | 8121 |
| Region 4A (CALABARZON) | Batangas | Agoncillo | 4211 |
| Region 11 (Davao Region) | Davao Del Norte | Samal | 8119 |
| Region 4A (CALABARZON) | Batangas | Alitagtag | 4205 |
| Region 4A (CALABARZON) | Batangas | Balayan | 4213 |
| Region 4A (CALABARZON) | Batangas | Balete | 4219 |
| Region 4A (CALABARZON) | Batangas | Batangas City | 4200 |
| Region 4A (CALABARZON) | Batangas | Bauan | 4201 |
| Region 4A (CALABARZON) | Batangas | Calaca | 4212 |
| Region 4A (CALABARZON) | Batangas | Calatagan | 4215 |
| Region 11 (Davao Region) | Davao Del Norte | Panabo | 8105 |
| Region 4A (CALABARZON) | Batangas | Cuenca | 4222 |
| Region 4A (CALABARZON) | Batangas | Ibaan | 4230 |
| Region 4A (CALABARZON) | Batangas | Laurel | 4221 |
| Region 4A (CALABARZON) | Batangas | Lemery | 4209 |
| Region 4A (CALABARZON) | Batangas | Lian | 4216 |
| Region 11 (Davao Region) | Davao Del Norte | New Corella | 8104 |
| Region 11 (Davao Region) | Davao Del Norte | Kaputian | 8120 |
| Region 11 (Davao Region) | Davao Del Norte | Kapalong | 8113 |
| Region 11 (Davao Region) | Davao Del Norte | Carmen | 8101 |
| Region 11 (Davao Region) | Davao Del Norte | Braulio E. Dujali | 8106 |
| Region 11 (Davao Region) | Davao Del Norte | Babak | 8118 |
| Region 11 (Davao Region) | Davao Del Norte | Asuncion (formerly Saug) | 8102 |
| Region 11 (Davao Region) | Davao De Oro (Formerly Compostela Valley) | Pantukan | 8809 |
| Region 3 (Central Luzon) | Zambales | San Narciso | 2205 |
| Region 3 (Central Luzon) | Zambales | Subic | 2209 |
| Region 3 (Central Luzon) | Zambales | Sta. Cruz | 2213 |
| Region 11 (Davao Region) | Davao De Oro (Formerly Compostela Valley) | New Bataan | 8804 |
| Region 11 (Davao Region) | Davao De Oro (Formerly Compostela Valley) | Nabunturan | 8800 |
| Region 11 (Davao Region) | Davao De Oro (Formerly Compostela Valley) | Montevista | 8801 |
| Region 11 (Davao Region) | Davao De Oro (Formerly Compostela Valley) | Monkayo | 8805 |
| Region 3 (Central Luzon) | Bataan | Lamao | 2104 |
| Region 11 (Davao Region) | Davao De Oro (Formerly Compostela Valley) | Mawab | 8802 |
| Region 11 (Davao Region) | Davao De Oro (Formerly Compostela Valley) | Maragusan (formerly San Mariano) | 8808 |
| Region 3 (Central Luzon) | Bataan | FAB (Freefort Area of Bataan) | 2106 |
| Region 11 (Davao Region) | Davao De Oro (Formerly Compostela Valley) | Maco | 8806 |
| Region 11 (Davao Region) | Davao De Oro (Formerly Compostela Valley) | Mabini | 8807 |
| Region 11 (Davao Region) | Davao De Oro (Formerly Compostela Valley) | Laak (formerly San Vicente) | 8810 |
| Region 3 (Central Luzon) | Bataan | Cabcaben | 2109 |
| Region 11 (Davao Region) | Davao De Oro (Formerly Compostela Valley) | Compostela | 8803 |
| Region 3 (Central Luzon) | Bataan | Limay | 2103 |
| Region 3 (Central Luzon) | Bataan | Hermosa | 2111 |
| Region 3 (Central Luzon) | Bataan | Dinalupihan | 2110 |
| Region 3 (Central Luzon) | Bataan | Balanga | 2100 |
| Region 3 (Central Luzon) | Bataan | Bagac | 2107 |
| Region 10 (Northern Mindanao) | Misamis Oriental | Villanueva | 9002 |
| Region 3 (Central Luzon) | Bataan | Abucay | 2114 |
| Region 10 (Northern Mindanao) | Misamis Oriental | Talisayan | 9012 |
| Region 10 (Northern Mindanao) | Aurora | Tagoloan | 9001 |
| Region 10 (Northern Mindanao) | Misamis Oriental | Sugbongcogon | 9009 |
| Region 10 (Northern Mindanao) | Misamis Oriental | Salay | 9007 |
| Region 10 (Northern Mindanao) | Misamis Oriental | Opol | 9016 |
| Region 10 (Northern Mindanao) | Misamis Oriental | Naawan | 9023 |
| Region 3 (Central Luzon) | Aurora | Casiguran | 3204 |
| Region 3 (Central Luzon) | Aurora | Dilasag | 3205 |
| Region 3 (Central Luzon) | Aurora | Dinalungan | 3206 |
| Region 3 (Central Luzon) | Aurora | Dingalan | 3207 |
| Region 10 (Northern Mindanao) | Misamis Oriental | Medina | 9013 |
| Region 3 (Central Luzon) | Aurora | Dipaculao | 3203 |
| Region 3 (Central Luzon) | Aurora | Maria Aurora | 3202 |
| Region 3 (Central Luzon) | Aurora | San Luis | 3201 |
| Region 10 (Northern Mindanao) | Misamis Oriental | Manticao | 9024 |
| Region 10 (Northern Mindanao) | Misamis Oriental | Magsaysay | 9015 |
| Region 10 (Northern Mindanao) | Misamis Oriental | Lugait | 9025 |
| Region 10 (Northern Mindanao) | Misamis Oriental | Libertad | 9021 |
| Region 2 (Cagayan Valley) | Quirino | Aglipay | 3403 |
| Region 2 (Cagayan Valley) | Quirino | Cabarroguis | 3400 |
| Region 2 (Cagayan Valley) | Quirino | Diffun | 3401 |
| Region 10 (Northern Mindanao) | Misamis Oriental | Lagonglong | 9006 |
| Region 2 (Cagayan Valley) | Quirino | Maddela | 3404 |
| Region 2 (Cagayan Valley) | Quirino | Nagtipunan | 3405 |
| Region 2 (Cagayan Valley) | Quirino | Saguday | 3402 |
| Region 10 (Northern Mindanao) | Misamis Oriental | Laguindingan | 9019 |
| Region 10 (Northern Mindanao) | Misamis Oriental | Kinoguitan | 9010 |
| Region 10 (Northern Mindanao) | Misamis Oriental | Jasaan | 9003 |
| Region 10 (Northern Mindanao) | Misamis Oriental | Initao | 9022 |
| Region 3 (Central Luzon) | Aurora | Baler | 3200 |
| Region 10 (Northern Mindanao) | Misamis Oriental | Gitagum | 9020 |
| Region 10 (Northern Mindanao) | Misamis Oriental | Gingoog City | 9014 |
| Region 2 (Cagayan Valley) | Nueva Vizcaya | Solano | 3709 |
| Region 2 (Cagayan Valley) | Nueva Vizcaya | Sta. Fe | 3705 |
| Region 2 (Cagayan Valley) | Nueva Vizcaya | Quezon | 3713 |
| Region 2 (Cagayan Valley) | Nueva Vizcaya | Kayapa | 3708 |
| Region 2 (Cagayan Valley) | Nueva Vizcaya | Kasibu | 3703 |
| Region 10 (Northern Mindanao) | Misamis Oriental | El Salvador | 9017 |
| Region 2 (Cagayan Valley) | Nueva Vizcaya | Dupax del Sur | 3707 |
| Region 2 (Cagayan Valley) | Nueva Vizcaya | Dupax del Norte | 3706 |
| Region 2 (Cagayan Valley) | Nueva Vizcaya | Diadi | 3712 |
| Region 2 (Cagayan Valley) | Nueva Vizcaya | Bayombong | 3700 |
| Region 2 (Cagayan Valley) | Nueva Vizcaya | Bambang | 3702 |
| Region 2 (Cagayan Valley) | Nueva Vizcaya | Bagabag | 3711 |
| Region 2 (Cagayan Valley) | Nueva Vizcaya | Aritao | 3704 |
| Region 2 (Cagayan Valley) | Nueva Vizcaya | Ambaguio | 3701 |
| Region 2 (Cagayan Valley) | Nueva Vizcaya | Alfonso Castañeda | 3714 |
| Region 10 (Northern Mindanao) | Misamis Oriental | Claveria | 9004 |
| Region 10 (Northern Mindanao) | Misamis Oriental | Cagayan de Oro City | 9000 |
| Region 10 (Northern Mindanao) | Misamis Oriental | Binuangan | 9008 |
| Region 10 (Northern Mindanao) | Misamis Oriental | Balingoan | 9011 |
| Region 10 (Northern Mindanao) | Misamis Oriental | Balingoan | 9011 |
| Region 10 (Northern Mindanao) | Misamis Oriental | Balingasag | 9005 |
| Region 2 (Cagayan Valley) | Isabela | San Guillermo | 3308 |
| Region 2 (Cagayan Valley) | Isabela | San Isidro | 3310 |
| Region 2 (Cagayan Valley) | Isabela | San Manuel | 3317 |
| Region 2 (Cagayan Valley) | Isabela | San Mariano | 3332 |
| Region 2 (Cagayan Valley) | Isabela | San Mateo | 3318 |
| Region 2 (Cagayan Valley) | Isabela | San Pablo | 3329 |
| Region 2 (Cagayan Valley) | Isabela | Sta. Maria | 3330 |
| Region 2 (Cagayan Valley) | Isabela | Santiago CIty | 3311 |
| Region 2 (Cagayan Valley) | Isabela | Sto. Tomas | 3327 |
| Region 2 (Cagayan Valley) | Isabela | Tumauini | 3325 |
| Region 10 (Northern Mindanao) | Misamis Oriental | Alubijid | 9018 |
| Region 10 (Northern Mindanao) | Misamis Occidental | Tudela | 7202 |
| Region 10 (Northern Mindanao) | Misamis Occidental | Tangub City | 7214 |
| Region 10 (Northern Mindanao) | Misamis Occidental | Sinacaban | 7203 |
| Region 10 (Northern Mindanao) | Aurora | Sapang dalaga | 7212 |
| Region 10 (Northern Mindanao) | Misamis Occidental | Plaridel | 7209 |
| Region 10 (Northern Mindanao) | Misamis Occidental | Panaon | 7205 |
| Region 10 (Northern Mindanao) | Misamis Occidental | Ozamis City | 7200 |
| Region 2 (Cagayan Valley) | Isabela | Quirino | 3321 |
| Region 2 (Cagayan Valley) | Isabela | Ramon | 3319 |
| Region 2 (Cagayan Valley) | Isabela | Reina Mercedes | 3303 |
| Region 2 (Cagayan Valley) | Isabela | Roxas | 3320 |
| Region 2 (Cagayan Valley) | Isabela | San Agustin | 3314 |
| Region 10 (Northern Mindanao) | Misamis Occidental | Oroquieta City | 7207 |
| Region 10 (Northern Mindanao) | Misamis Occidental | Lopez Jaena | 7208 |
| Region 10 (Northern Mindanao) | Misamis Occidental | Jimenez | 7204 |
| Region 10 (Northern Mindanao) | Misamis Occidental | Don Victoriano Chiongbian | 7216 |
| Region 10 (Northern Mindanao) | Misamis Occidental | Concepcion | 7213 |
| Region 2 (Cagayan Valley) | Isabela | Gamu | 3301 |
| Region 2 (Cagayan Valley) | Isabela | Jones | 3313 |
| Region 2 (Cagayan Valley) | Isabela | Luna | 3304 |
| Region 2 (Cagayan Valley) | Isabela | Maconacon | 3333 |
| Region 10 (Northern Mindanao) | Misamis Occidental | Clarin | 7201 |
| Region 2 (Cagayan Valley) | Isabela | Mallig | 3323 |
| Region 2 (Cagayan Valley) | Isabela | Naguillan | 3302 |
| Region 2 (Cagayan Valley) | Isabela | Palanan | 3334 |
| Region 2 (Cagayan Valley) | Isabela | Quezon | 3324 |
| Region 10 (Northern Mindanao) | Misamis Occidental | Calamba | 7210 |
| Region 10 (Northern Mindanao) | Misamis Occidental | Bonifacio | 7215 |
| Region 10 (Northern Mindanao) | Misamis Occidental | Baliangao | 7211 |
| Region 10 (Northern Mindanao) | Misamis Occidental | Aloran | 7206 |
| Region 2 (Cagayan Valley) | Isabela | Cordon | 3312 |
| Region 2 (Cagayan Valley) | Isabela | Delfin Albano | 3326 |
| Region 2 (Cagayan Valley) | Isabela | Dinapigue | 3336 |
| Region 2 (Cagayan Valley) | Isabela | Divilacan | 3335 |
| Region 2 (Cagayan Valley) | Isabela | Echague | 3309 |
| Region 10 (Northern Mindanao) | Lanao del Norte | Tubod | 9209 |
| Region 2 (Cagayan Valley) | Isabela | City of Ilagan | 3300 |
| Region 2 (Cagayan Valley) | Isabela | Alicia | 3306 |
| Region 2 (Cagayan Valley) | Isabela | Angadanan | 3307 |
| Region 2 (Cagayan Valley) | Isabela | Aurora | 3316 |
| Region 2 (Cagayan Valley) | Isabela | Benito Soliven | 3331 |
| Region 2 (Cagayan Valley) | Isabela | Burgos | 3322 |
| Region 2 (Cagayan Valley) | Isabela | Cabagan | 3328 |
| Region 2 (Cagayan Valley) | Isabela | Cabatuan | 3315 |
| Region 2 (Cagayan Valley) | Isabela | City of Cauayan | 3305 |
| Region 10 (Northern Mindanao) | Lanao del Norte | Tangcal | 9220 |
| Region 10 (Northern Mindanao) | Lanao del Norte | Tagoloan | 9222 |
| Region 10 (Northern Mindanao) | Lanao del Norte | Sultan Naga Dimaporo (formerly Karomatan) | 9215 |
| Region 10 (Northern Mindanao) | Lanao del Norte | Sapad | 9213 |
| Region 10 (Northern Mindanao) | Lanao del Norte | Salvador | 9212 |
| Region 10 (Northern Mindanao) | Lanao del Norte | Poona Piagapo | 9204 |
| Region 10 (Northern Mindanao) | Lanao del Norte | Pantar | 9218 |
| Region 2 (Cagayan Valley) | Cagayan | Sta. Teresita | 3512 |
| Region 2 (Cagayan Valley) | Cagayan | Santo Niño | 3525 |
| Region 2 (Cagayan Valley) | Cagayan | Tuao | 3528 |
| Region 2 (Cagayan Valley) | Cagayan | Tuguegarao City | 3500 |
| Region 10 (Northern Mindanao) | Lanao del Norte | Pantao Ragat | 9208 |
| Region 10 (Northern Mindanao) | Lanao del Norte | Nunungan | 9216 |
| Region 2 (Cagayan Valley) | Cagayan | Santa Praxedes | 3521 |
| Region 2 (Cagayan Valley) | Cagayan | Sta. Ana | 3514 |
| Region 10 (Northern Mindanao) | Lanao del Norte | Munai | 9219 |
| Region 10 (Northern Mindanao) | Lanao del Norte | Matungao | 9203 |
| Region 2 (Cagayan Valley) | Cagayan | Solana | 3503 |
| Region 10 (Northern Mindanao) | Lanao del Norte | Maigo | 9206 |
| Region 10 (Northern Mindanao) | Lanao del Norte | Magsaysay | 9221 |
| Region 10 (Northern Mindanao) | Lanao del Norte | Linamon | 9201 |
| Region 10 (Northern Mindanao) | Lanao del Norte | Lala | 9211 |
| Region 10 (Northern Mindanao) | Lanao del Norte | Kolambugan | 9207 |
| Region 2 (Cagayan Valley) | Cagayan | Claveria | 3519 |
| Region 2 (Cagayan Valley) | Cagayan | Enrile | 3501 |
| Region 2 (Cagayan Valley) | Cagayan | Gattaran | 3508 |
| Region 2 (Cagayan Valley) | Cagayan | Gonzaga | 3513 |
| Region 2 (Cagayan Valley) | Cagayan | Iguig | 3504 |
| Region 2 (Cagayan Valley) | Cagayan | Lal-lo | 3509 |
| Region 2 (Cagayan Valley) | Cagayan | Lasam | 3524 |
| Region 2 (Cagayan Valley) | Cagayan | Pamplona | 3522 |
| Region 2 (Cagayan Valley) | Cagayan | Peñablanca | 3502 |
| Region 2 (Cagayan Valley) | Cagayan | Piat | 3527 |
| Region 2 (Cagayan Valley) | Cagayan | Rizal | 3526 |
| Region 2 (Cagayan Valley) | Cagayan | Sanchez-Mira | 3518 |
| Region 10 (Northern Mindanao) | Lanao del Norte | Kauswagan | 9202 |
| Region 10 (Northern Mindanao) | Lanao del Norte | Kapatagan | 9214 |
| Region 10 (Northern Mindanao) | Lanao del Norte | Iligan City | 9200 |
| Region 10 (Northern Mindanao) | Lanao del Norte | Baroy | 9210 |
| Region 10 (Northern Mindanao) | Lanao del Norte | Baloi | 9217 |
| Region 10 (Northern Mindanao) | Lanao del Norte | Bacolod | 9205 |
| Region 10 (Northern Mindanao) | Camiguin | Sagay | 9103 |
| Region 10 (Northern Mindanao) | Camiguin | Mambajao | 9100 |
| Region 2 (Cagayan Valley) | Cagayan | Abulug | 3517 |
| Region 2 (Cagayan Valley) | Cagayan | Alcala | 3507 |
| Region 2 (Cagayan Valley) | Cagayan | Allacapan | 3523 |
| Region 2 (Cagayan Valley) | Cagayan | Amulung | 3505 |
| Region 2 (Cagayan Valley) | Cagayan | Aparri | 3515 |
| Region 2 (Cagayan Valley) | Cagayan | Baggao | 3506 |
| Region 2 (Cagayan Valley) | Cagayan | Ballesteros | 3516 |
| Region 2 (Cagayan Valley) | Cagayan | Buguey | 3511 |
| Region 2 (Cagayan Valley) | Cagayan | Calayan | 3520 |
| Region 2 (Cagayan Valley) | Cagayan | Camalaniugan | 3510 |
| Region 10 (Northern Mindanao) | Camiguin | Mahinog | 9101 |
| Region 10 (Northern Mindanao) | Camiguin | Guinsiliban | 9102 |
| Region 10 (Northern Mindanao) | Camiguin | Catarman | 9104 |
| Region 10 (Northern Mindanao) | Bukidnon | Valencia | 8709 |
| Region 10 (Northern Mindanao) | Bukidnon | Talakag | 8708 |
| Region 2 (Cagayan Valley) | Batanes | Itbayat | 3905 |
| Region 2 (Cagayan Valley) | Batanes | Basco | 3900 |
| Region 2 (Cagayan Valley) | Batanes | Ivana | 3902 |
| Region 2 (Cagayan Valley) | Batanes | Mahatao | 3901 |
| Region 10 (Northern Mindanao) | Bukidnon | Sumilao | 8701 |
| Region 2 (Cagayan Valley) | Batanes | Sabtang | 3904 |
| Region 2 (Cagayan Valley) | Batanes | Uyugan | 3903 |
| Region 10 (Northern Mindanao) | Bukidnon | San Fernando | 8711 |
| Region 10 (Northern Mindanao) | Bukidnon | Quezon | 8715 |
| Region 1 (Ilocos Region) | Pangasinan | Sual | 2403 |
| Region 1 (Ilocos Region) | Pangasinan | Tayug | 2445 |
| Region 1 (Ilocos Region) | Pangasinan | Umingan | 2443 |
| Region 1 (Ilocos Region) | Pangasinan | Urbiztondo | 2414 |
| Region 1 (Ilocos Region) | Pangasinan | Urdaneta | 2428 |
| Region 1 (Ilocos Region) | Pangasinan | Villasis | 2427 |
| Region 10 (Northern Mindanao) | Bukidnon | Phillips | 8705 |
| Region 10 (Northern Mindanao) | Bukidnon | Pangantucan | 8717 |
| Region 10 (Northern Mindanao) | Bukidnon | Musuan | 8710 |
| Region 1 (Ilocos Region) | Pangasinan | Santa Barbara | 2419 |
| Region 1 (Ilocos Region) | Pangasinan | Santa Maria | 2440 |
| Region 1 (Ilocos Region) | Pangasinan | Santo Tomas | 2426 |
| Region 1 (Ilocos Region) | Pangasinan | San Quintin | 2444 |
| Region 1 (Ilocos Region) | Pangasinan | San Nicolas | 2447 |
| Region 1 (Ilocos Region) | Pangasinan | Sison | 2434 |
| Region 10 (Northern Mindanao) | Bukidnon | Maramag | 8714 |
| Region 10 (Northern Mindanao) | Bukidnon | Manolo Fortich | 8703 |
| Region 1 (Ilocos Region) | Pangasinan | San Manuel | 2438 |
| Region 1 (Ilocos Region) | Pangasinan | San Jacinto | 2431 |
| Region 1 (Ilocos Region) | Pangasinan | San Fabian | 2433 |
| Region 1 (Ilocos Region) | Pangasinan | San Carlos City | 2420 |
| Region 10 (Northern Mindanao) | Bukidnon | Malitbog | 8704 |
| Region 10 (Northern Mindanao) | Bukidnon | Malaybalay | 8700 |
| Region 10 (Northern Mindanao) | Bukidnon | Libona | 8706 |
| Region 10 (Northern Mindanao) | Agusan del Norte | Lantapan | 8722 |
| Region 1 (Ilocos Region) | Pangasinan | Rosales | 2441 |
| Region 1 (Ilocos Region) | Pangasinan | Pozorrubio | 2435 |
| Region 1 (Ilocos Region) | Pangasinan | Natividad | 2446 |
| Region 1 (Ilocos Region) | Pangasinan | Mapandan | 2429 |
| Region 1 (Ilocos Region) | Pangasinan | Mangatarem | 2413 |
| Region 1 (Ilocos Region) | Pangasinan | Mangaldan | 2432 |
| Region 10 (Northern Mindanao) | Agusan del Norte | Kitaotao | 8716 |