THE LATEST MALAYSIA POSTAL CODES (ZIP CODES) IN 2023
Malaysia, a nation of Southeast Asia, lying only north of the Equator, is made out of two noncontiguous areas: Peninsular Malaysia (Semenanjung Malaysia), likewise called West Malaysia (Malaysia Barat), which is on the Malay Promontory, and East Malaysia (Malaysia Timur), which is on the island of Borneo. The Malaysian capital, Kuala Lumpur, lies in the western piece of the promontory, around 25 miles (40 km) from the coast; the managerial focus, Putrajaya, is situated around 16 miles (25 km) south of the capital.
Postal Codes in Malaysia
A Malaysian postcode is a five-digit numeric code, often referred to as a postcode (Malay: poskod). The first two digits of the code refer to the state or administrative area: for example, 50XXX or 60XXX is for Kuala Lumpur. Postcode area boundaries, on the other hand, may straddle state borders. Since locations adjacent to state borders may be serviced by post offices situated in another state. and so use the assigned post offices' postcodes.
Postal Code History in Malaysia
Malaysia's current postcode system was initiated by M. Rajasingam, director-general of Pos Malaysia from 1976 to 1986. In 1976, only addresses in Kuala Lumpur had postcodes. Wanting to expand the postcode system to the whole country, Rajasingam enlisted the help of the French postal authorities. The postcode system made the process of sorting out mail smoother, as it was easier for machines to recognise the numbers. In 2014, Rajasingam was honoured with the Darjah Panglima Jasa Negara (PJN), which carries the title of "Datuk", for his contributions to the postal service.
M. Rajasingam, who served as director-general of Pos Malaysia from 1976 to 1986, developed Malaysia's current postcode system. In 1976, postcodes were assigned to only addresses in Kuala Lumpur. Rajasingam requested the assistance of the French postal authority in order to spread the postcode system across the nation. The postcode system streamlined the postal sorting process by making it simpler for computers to recognize the digits.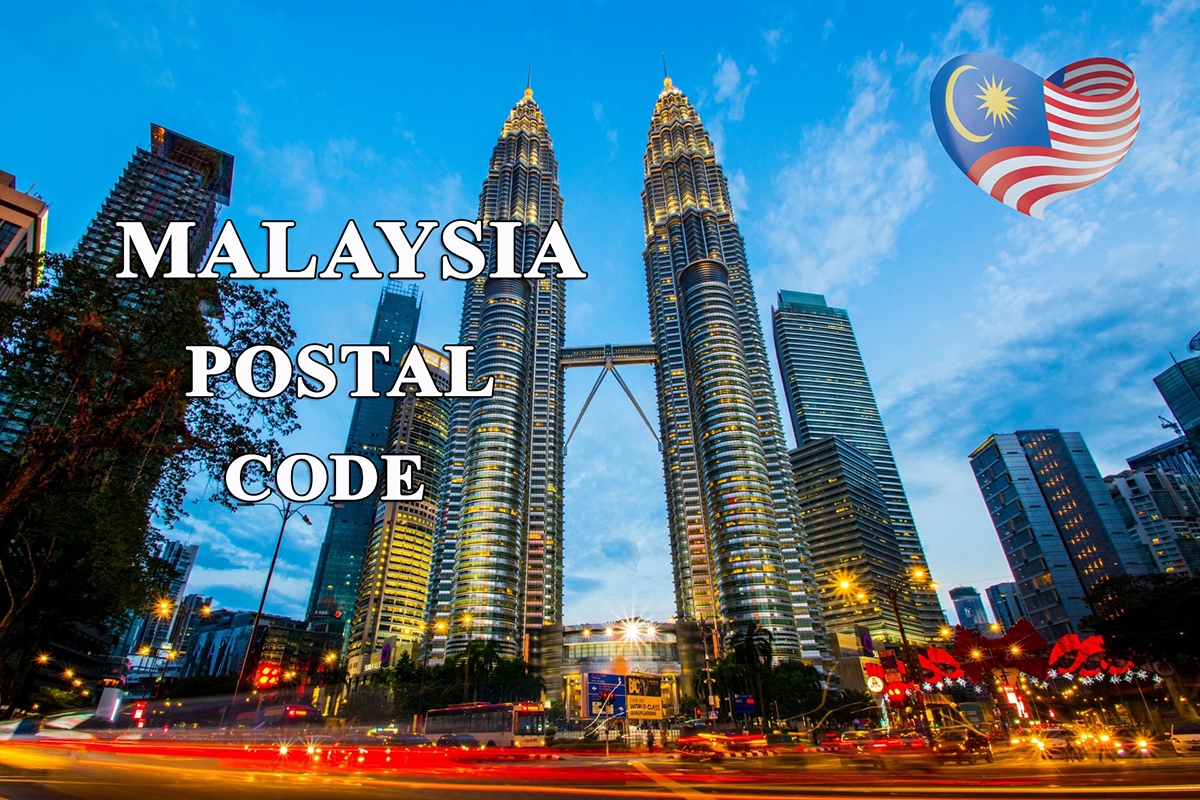 Postal Format
Areas with a two-digit postal code Peninsular Malaysia (defined through the first two postcode digits)
The first two digits of the codes allotted to each state and federal territory are listed below. Each state's capital is listed in brackets.
Federal Territories
Kuala Lumpur uses codes from 50000 to 60000 (Including a few areas such as Cheras, Taman Melawati, Bukit Lanjan, Bandar Sri Damansara, Pandan Indah which are actually in Selangor), and 68100 (Taman Wahyu and Kuala Lumpur Wholesale Market under the Kuala Lumpur jurisdiction)
Putrajaya uses codes from 62300 to 62988
Labuan uses codes from 87xxx to 8703
Postal Code Malaysia States
Selangor (Shah Alam) uses codes from 40xxx to 48300, 63xxx to 68100
Terengganu (Kuala Terengganu) uses codes from 20xxx to 24300
Sarawak (Kuching) uses codes from 93xxx to 98859
Sabah (Kota Kinabalu) uses codes from 88xxx to 91309 (Including Layang-Layang Island)
Kedah (Alor Setar) uses codes from 05xxx to 09810
Kelantan (Kota Bharu) uses codes from 15xxx to 18500
Negeri Sembilan (Seremban) uses codes from 70xxx to 73509
Pulau Pinang (George Town) uses codes from 10xxx to 14400
Johor (Johor Bahru) uses codes from 79xxx to 86900
Melaka (Melaka) uses codes from 75xxx to 78309
Perlis (Kangar) uses codes from 01xxxto 02xxx
Perak (Ipoh) uses codes from 30xxx to 36810
Pahang (Kuantan) uses codes from 25xxx to 28800, 390xx to 39200 for Cameron Highlands, 49000 for Fraser's Hill and 69000 for Genting Highlands, 28xxx to 28350 for Temerloh district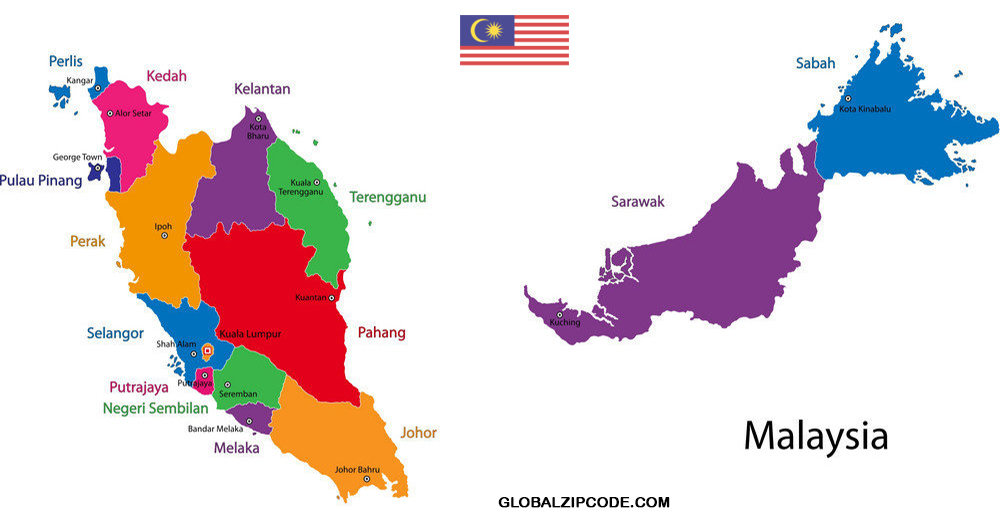 The latest Postal Codes of Malaysia – Upgrated with 5 digits
| | |
| --- | --- |
| | |
| | |
| | |
| | |
| | |
| Negeri Sembilan (Seremban) | |
| | |
| | |
| | |
| Pulau Pinang (Georgetown) | |
| | |
| | |
| | |
| | 40xxx - 48xxx - 62xxx - 64xxx |
| Terengganu (Kuala Terengganu) | |
| | |
| | |
| | |
Region1
Region2
ZIP CODES
Johor
Simpang Ampat
14100
Kulai
81000
Skudai
81300
UTM Skudai
81310
Senai
81400
Bandar Tenggara
81440
Gugusan Taib Andak
81450
Pekan Nenas
81500
Gelang Patah
81550
Pengerang
81600
Pasir Gudang
81700
Masai
81750
Ulu Tiram
81800
Layang-Layang
81850
Kota Tinggi
81900
Ayer Tawar 2
81920
Bandar Penawar
81930
Pontian
82000
Ayer Baloi
82100
Benut
82200
Kukup
82300
Batu Pahat
83000
Rengit
83100
Senggarang
83200
Seri Gading
83300
Seri Medan
83400
Parit Sulong
83500
Semerah
83600
Yong Peng
83700
Parit Jawa
84150
Bukit Pasir
84300
Sungai Mati
84400
Panchor
84500
Gerisek
84700
Bukit Gambir
84800
Tangkak
84900
Segamat
85000
Batu Anam
85100
Jementah
85200
Labis
85300
Chaah
85400
Kluang
86000
Ayer Hitam
86100
Simpang Rengam
86200
Rengam
86300
Parit Raja
86400
Bekok
86500
Paloh
86600
Kahang
86700
Endau
86900
Kedah
Sungai Jawi
14290
Bandar Baharu
34950
Changloon
6010
Bukit Kayu Hitam
6050
Kodiang
6100
Ayer Hitam
6150
Kuala Nerang
6300
Kuala Kedah
6600
Simpang Empat
6650
Kota Sarang Semut
6800
Baling
9100
Kuala Pegang
9110
Kupang
9200
Lunas
9600
Karangan
9700
Kelantan
Kota Bharu
16150
Melor
16400
Kem Desa Pahlawan
16500
Cherang Ruku
16700
Pasir Puteh
16800
Rantau Panjang
17200
Jeli
17600
Kuala Balah
17610
Ayer Lanas
17700
Dabong
18200
Gua Musang
18300
Temangan
18400
Machang
18500
Melaka
Linggi
71150
Rompin
73509
Ayer Keroh
75450
Bemban
77200
Selandar
77500
Negeri Sembilan
Bandar Baru Enstek
71760
Pahang
Bukit Goh
26050
Beserah
26100
Sungai Lembing
26200
Jaya Gading
26250
Maran
26500
Chini
26690
Muadzam Shah
26700
Bandar Tun Abdul Razak
26900
Damak
27030
Padang Tengku
27100
Dong
27400
Sungai Ruan
27630
Sungai Koyan
27650
Sega
27660
Kuala Krau
28050
Chenor
28100
Bandar Bera
28200
Lanchang
28500
Lurah Bilut
28800
Brinchang
39100
Ringlet
39200
Puchong
47190
Bukit Fraser
49000
Genting Highlands
69000
Perak
Ulu Kinta
31150
Chemor
31200
Tanjong Rambutan
31250
Kampong Kepayang
31300
Malim Nawar
31700
Tronoh
31750
Tanjong Tualang
31800
Jeram
31850
Sitiawan
32000
Sri Manjong
32040
Lumut
32200
Pangkor
32300
Ayer Tawar
32400
Changkat Keruing
32500
Bandar Baru Sri Iskandar
32610
Bruas
32700
Parit
32800
Lambor Kanan
32900
Pengkalan Hulu
33100
Intan
33200
Sauk
33500
Enggor
33600
Padang Rengas
33700
Manong
33800
Rantau Panjang
34140
Parit Buntar
34200
Tanjong Piandang
34250
Kuala Kurau
34350
Simpang Ampat Semanggol
34400
Kamunting
34600
Kuala Sepetang
34650
Simpang
34700
Matang
34750
Trong
34800
Changkat Jering
34850
Pantai Remis
34900
Chenderiang
35300
Temoh
35350
Tapah Road
35400
Bidor
35500
Sungkai
35600
Trolak
35700
Behrang Stesen
35950
Bagan Datoh
36100
Hulu Melintang
36400
Hutan Melintang
36400
Ulu Bernam
36500
Chenderong Balai
36600
Langkap
36700
Chikus
36750
Perlis
Kuala Perlis
2000
Padang Besar
2100
Pulau Pinang
Batu Feringgi
11100
Penang Hill
11300
Ayer Itam
11500
Gelugor
11700
USM Pulau Pinang
11800
Batu Maung
11960
Permatang Pauh
13500
Sungai Jawi
14200
Kubang Semang
14400
Sabah
Likas
88856
Inanam
88857
Tanjung Aru
88858
Tenghilan
89260
Kota Kinabatangan
90200
Pamol
90400
Sarawak
Siburan
94200
Kota Samarahan
94300
Kabong
94650
Sebuyau
94850
Lingga
94900
Pusa
94950
Roban
95300
Debak
95500
Spaoh
95600
Engkilili
95800
Lubok Antu
95900
Belawai
96150
Daro
96200
Matu
96250
Balingian
96350
Julau
96600
Song
96850
Belaga
96900
Sebauh
97100
Tatau
97200
Niah
98200
Long Lama
98300
Nanga Medamit
98750
Sundar
98800
Selangor
Kapar
42200
Bandar Puncak Alam
42300
Banting
42700
Tanjong Sepat
42800
Pulau Indah
42920
Pulau Ketam
42940
Pulau Carey
42960
Hulu Langat
43100
Cheras
43200
Batu 9 Cheras
43207
Seri Kembangan
43300
UPM Serdang
43400
Semenyih
43500
UKM Bangi
43600
Bandar Baru Bangi
43650
Beranang
43700
Sepang
43900
Sungai Pelek
43950
Kerling
44100
Rasa
44200
Batang Kali
44300
Kuala Selangor
45000
Sungai Ayer Tawar
45100
Sungai Besar
45300
Sekinchan
45400
Tanjong Karang
45500
Bukit Rotan
45700
Jeram
45800
Sungai Buloh
47000
Subang Airport
47200
Batu Arang
48100
Serendah
48200
KLIA
64000
Ampang
68000
Batu Caves
68100
Terengganu
Wakaf Tengah
21010
Bukit Payong
21400
Chalok
21450
Sungai Tong
21500
Kuala Berang
21700
Kampong Raja
22200
Paka
23100
Bukit Besi
23200
Ketengah Jaya
23300
Al Muktafi Billah Shah
23400
Kerteh
24300
What is Malaysia address format?
Residential
Mr. Kasmaliza Mohd Norawi
No. 73, Sungai Semambu, 34300 Bagan Serai, Perak, Malaysia
Business + Post Office Box & Nbsp:
Ms. Lilian Tan
Reflection Residences, Mutiara Damansara
47820 Petaling Jaya, Selangor, Malaysia
P.O. Box 10073
47820 Selangor, Malaysia
What is Malaysia Postal Code Format?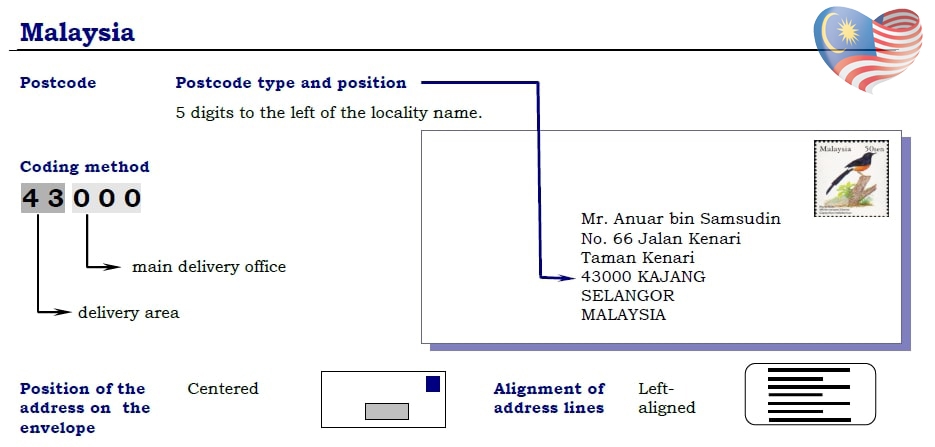 Malaysian Addresses
The correct way to write a Malaysian address is:
Line 1: Recipient's name
Line 2: House name or number/Apartment Number of building
Line 3: Street or District
Line 4: Post code and city
Line 5: State
For example:
Customer Care Department
Level 6, Pos Malaysia Headquarters
Dayabumi Complex
50670 Kuala Lumpur
The address should be in the middle of the envelope. For lock bags and PO Boxes, the number of the bag or PO Box should appear before the postcode.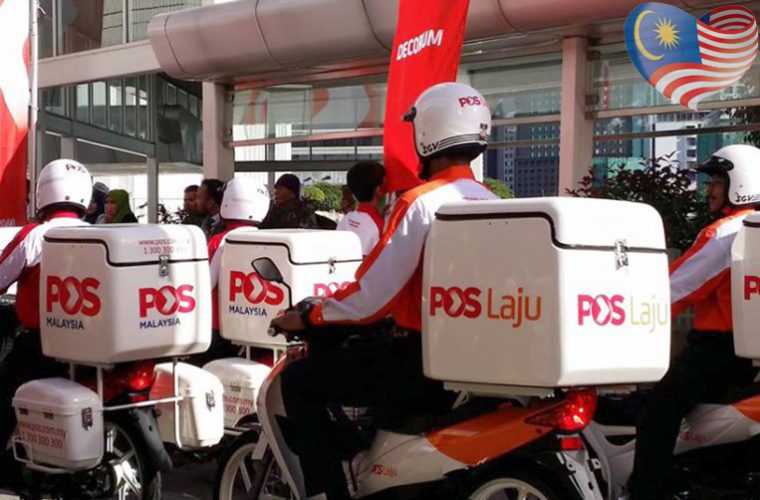 Malaysia Post Mail
Malaysia Post is the official postal service of the People's Republic of Malaysia. It operates under the State Post Malaysia and manages the nation's postal system, including letter and package delivery, express mail services, and logistics. The organization offers domestic and international mailing services, and it cooperates with other postal services worldwide to facilitate global mail delivery.
Malaysia Post Service Types
Malaysia Post, as the official postal service of Malaysia, offers a range of shipping methods to accommodate different needs for both domestic and international mail and parcels. Some of the common shipping methods include:
Malaysia Post Registered Air Mail: This is a cost-effective and secure method for sending small packages weighing up to 2 kg internationally. Packages sent via this method can be tracked online.
Malaysia Post Ordinary Small Packet Plus: This is an economical option for sending small, lightweight items (up to 2 kg) without tracking information. It is suitable for low-value items due to the lack of tracking and limited insurance coverage.
Malaysia Post EMS (Express Mail Service): This is an express service for sending documents and parcels both domestically and internationally at a faster speed. EMS offers door-to-door delivery, tracking services, and some level of insurance coverage.
ePacket: Developed for e-commerce merchants, ePacket is a faster and more affordable shipping option for lightweight parcels (up to 2 kg) being sent from Malaysia to various countries, such as the United States, Canada, Australia, and some European countries. ePacket provides end-to-end tracking services.
SAL (Surface Air Lifted): This shipping method combines surface and air transport, balancing cost and delivery time for parcels weighing 2 kg and 30 kg. It's available for select destinations.
Malaysia Post Air Parcel: Suitable for sending heavier parcels (up to 20 or 30 kg, depending on the destination country) with tracking information. Delivery times are generally longer than EMS but shorter than surface mail.
Malaysia Post Surface Mail: This is a slow and low-cost shipping method for heavy packages (up to 20 or 30 kg, depending on the destination) sent by sea or land transportation. Transit times can take several weeks or months, and tracking may not always be available.
Malaysia Post Service Area
Malaysia Post, the official postal service of Malaysia, is responsible for providing mail services, including letter post, parcel service, EMS (express mail), and logistics services within the country and internationally. The service area of Malaysia Post includes:
Domestic Service: Malaysia Post provides coverage across mainland Malaysia, including provinces, autonomous regions, and municipalities. It also serves Hong Kong, Macau, and Taiwan.
International Service: Malaysia Post has an extensive international presence and offers its services to most countries and regions worldwide. This includes North America, Europe, Asia-Pacific, Africa, and Latin America.
Malaysia Post Tracking Status
| | |
| --- | --- |
| | |
| Item Returned from Customs | Package delayed due to some issues during the customs clearance |
| | A delivery appointment is scheduled |
| | Recipient not available at the given address |
| | Package departed from the facility |
| | Shipment delivered successfully |
| Unsuccessful attemp at delivering the object | The delivery of the package failed due to some reason. Courier usually leaves a notice and will try to deliver again |
| Available for withdrawal in PO Box | The package arrived at a pickup point near you and is available for pickup |
| Delivery Status, Address not clear | Package not delivered due to incorrect recipient address |
| Disponibile per il ritiro presso l'Ufficio Postale a partire dal | The package arrived at a pickup point near you and is available for pickup |
| Absence. Attempted delivery. | Recipient not available at the given address |
| The delivery of the shipment item has been delayed with one workday | Package delayed due to some unforeseen reasons |
| | Customs clearance completed |
| | Package handed over to customs for clearance |
| Addressee not available at time of delivery | Recipient not available at the given address |
| You can collect your item at Pos Outlet as stated in the Call Card | The package arrived at a pickup point near you and is available for pickup |
| | Shipment delivered successfully |
| Unsuccessful item delivery attempt (Inb), unknown | The delivery of the package failed due to some reason. Courier usually leaves a notice and will try to deliver again |
| Your item has been delivered to an agent at | Shipment delivered successfully |
| Item returned from local Customs office | Customs clearance completed |
| | The package arrived at a pickup point near you and is available for pickup |
| Your item has been delivered to the mail room | Shipment delivered successfully |
| Letter Carrier enroute to delivery | The package is out for delivery |
| | The package is out for delivery |
| Delivery Status, No Recipient | Recipient not available at the given address |
| The item accepted from the sender | Shipment accepted by the carrier |
| Allotted for delivery at Customer address | The package is out for delivery |
| Item held by local Customs office | Package delayed due to some issues during the customs clearance |
| Item available at pickup point | The package arrived at a pickup point near you and is available for pickup |
| | Package handed over to customs for clearance |
| Awaiting for declarative procedures | Package delayed due to some issues during the customs clearance |
| Receive item from customer | Shipment accepted by the carrier |
| Unsuccessful delivery, No delivery service for this product to specified delivery point | The delivery of the package failed due to some reason. Courier usually leaves a notice and will try to deliver again |
| | Business is closed at the time of delivery |
| Depart for delivery cancelled | Delivery of the package failed due to some shipping exception |
| | Shipment arrived at a hub or sorting center |
| Processed in the destination country | International shipment arrived at the destination country/region |
| Consignment poste restante in post office and ready for collection | The package arrived at a pickup point near you and is available for pickup |
| | Customs clearance completed |
| Area with delivery subject to differentiated term | Delivery of the package failed due to some shipping exception |
| | Package handed over to customs for clearance |
| Item for Customs examination | Package handed over to customs for clearance |
| | Recipient not available at the given address |
| Ready for customs clearacne | Package handed over to customs for clearance |
| Delivery attempt unsuccessful | The delivery of the package failed due to some reason. Courier usually leaves a notice and will try to deliver again |
| Your item was delivered to a parcel locker | Shipment delivered successfully |
| | The package is out for delivery |
| | Package departed from the facility |
| | Customs clearance completed |
| Due to its size or weight | Delivery of the package failed due to some shipping exception |
| | Shipment delivered successfully |
| Distribution to PO Box in Progress | The package is out for delivery |
| The delivery has arrived at the customs warehouse | Package handed over to customs for clearance |
| | The package is out for delivery |
| Allocated to delivery staff | The package is out for delivery |
| | Package handed over to customs for clearance |
| Your item is ready for collection at Window Delivery counter | The package arrived at a pickup point near you and is available for pickup |
| | Package departed from the facility |
| | Shipment delivered successfully |
| | Delivery of the package failed due to some shipping exception |
| | The package arrived at a pickup point near you and is available for pickup |
| Delivery, Delivery to the addressee | Shipment delivered successfully |
| | Package not delivered due to incorrect recipient address |
| The shipment item has been delivered with Power Of Attorney | Shipment delivered successfully |
| A second SMS was sent to the addressee | The delivery of the package failed due to some reason. Courier usually leaves a notice and will try to deliver again |
| | Package handed over to customs for clearance |
| | Package departed from the facility |
| The import of the item was not authorized | Delivery of the package failed due to some shipping exception |
| | Delivery of the package failed due to some shipping exception |
| | The return package has been successfully received by the sender |
| Czech Post does not display information for this consignment type | Delivery of the package failed due to some shipping exception |
| A notice was left for the addressee | Recipient not available at the given address |
| | Package not delivered due to incorrect recipient address |
| Record item reason for retention by customs | Package handed over to customs for clearance |
| Receive item at office of exchange | Shipment accepted by the carrier |
| | Shipment forwarded to a different delivery address |
| Insert item into domestic bag | Package departed from the facility |
| Delivery unsuccessful, Delivery Advice issued | The delivery of the package failed due to some reason. Courier usually leaves a notice and will try to deliver again |
| Consignment dispatch out from Transit Office | Package departed from the facility |
| | Customs clearance completed |
| | Package handed over to customs for clearance |
| | Package handed over to customs for clearance |
| A second notice was sent to the addressee for the items' release | Package delayed due to some issues during the customs clearance |
| Hold item at point of delivery | Package delayed due to some unforeseen reasons |
| Delivery status not updated | Delivery of the package failed due to some shipping exception |
| Object returned to Correios | Delivery of the package failed due to some shipping exception |
| Delivered, Postal service center | Shipment delivered successfully |
| | Package departed from the facility |
| | Delivery of the package failed due to some shipping exception |
| | Delivery of the package failed due to some shipping exception |
| Unable to notify the recipient via SMS | Delivery of the package failed due to some shipping exception |
| Receive item at delivery office | International shipment arrived at the destination country/region |
| Depart for delivery to addressee | The package is out for delivery |
| Handovered to delivery agent | Package departed from the facility |
| | Delivery of the package failed due to some shipping exception |
| Electronic Notification Received | The carrier received a request from the shipper and is about to pick up the shipment |
| | Package handed over to customs for clearance |
| | Package departed from the facility |
| Your item was delivered at the front door or porch | Shipment delivered successfully |
| | Customs clearance completed |
| Delivery Status, Smart Parcel Locker | The package is out for delivery |
| | Shipment accepted by the carrier |
| | Shipment delivered successfully |
| Envoyer vers le prochain point de traitement | Package departed from the facility |
| | The package is out for delivery |
| | Package not delivered due to incorrect recipient address |
| | Package not delivered due to incorrect recipient address |
| | Shipment accepted by the carrier |
| Unable to deliver item, problem with address | Package not delivered due to incorrect recipient address |
| The item is currently in transit to the destination | Package departed from the facility |
| Delivery attempt made, but the recipient was not reached. A notice of arrival was left for the recipient. | Recipient not available at the given address |
| Delivery has been dispatched from change of destination office | Package departed from the facility |
| | The delivery of the package failed due to some reason. Courier usually leaves a notice and will try to deliver again |
| Handover item to delivery agent | Package departed from the facility |
| | Delivery of the package failed due to some shipping exception |
| | The package arrived at a pickup point near you and is available for pickup |
| | Package delayed due to some issues during the customs clearance |
| Delivery is available to be picked up at the Post Office | The package arrived at a pickup point near you and is available for pickup |
| Your item has been delivered and is available at a PO Box | Shipment delivered successfully |
| | Package delivered to & signed by the customer |
| | The package is out for delivery |
| A second notice was left for the addressee | The delivery of the package failed due to some reason. Courier usually leaves a notice and will try to deliver again |
| | Package delayed due to some unforeseen reasons |
| International item has left originating country | Package departed from the facility |
| | The package is out for delivery |
| Unsuccessful delivery, Other, Attempted delivery today | The delivery of the package failed due to some reason. Courier usually leaves a notice and will try to deliver again |
| The package is delayed and will not be delivered by the expected delivery date | Package delayed due to some unforeseen reasons |
| The shipment item has been delivered to a service point | The package arrived at a pickup point near you and is available for pickup |
| Customer adviced to pickup mail | The package arrived at a pickup point near you and is available for pickup |
| | Delivery of the package failed due to some shipping exception |
| Item held at delivery depot | Package delayed due to some unforeseen reasons |
| Addressee cannot be located | Recipient not available at the given address |
| Unsuccessful delivery due to | The delivery of the package failed due to some reason. Courier usually leaves a notice and will try to deliver again |
| | Shipment delivered successfully |
| | The package is on its way back to the sender |
| Unsuccessful delivery, Addressee has P.O. Box | The delivery of the package failed due to some reason. Courier usually leaves a notice and will try to deliver again |
| Destinataire non joignable lors de la livraison | Recipient not available at the given address |
| Item released from customs | Customs clearance completed |
| | Shipment accepted by the carrier |
| Consignee address not correct | Package not delivered due to incorrect recipient address |
| Undergoing processing for delivery to addressee | Package departed from the facility |
| | Recipient not available at the given address |
| Delivered information notice | Recipient not available at the given address |
| | Package handed over to customs for clearance |
| Available for delivery, The shipment item has been delivered to a service point | The package arrived at a pickup point near you and is available for pickup |
| | The package arrived at a pickup point near you and is available for pickup |
| Receive item at sorting centre | Shipment arrived at a hub or sorting center |
| | Shipment delivered successfully |
| | Package handed over to customs for clearance |
| The addresse was not home | Recipient not available at the given address |
| Customs duties must be paid before we can deliver your goods | The package being held due to pending payment from the customer's end |
| | Package departed from the facility |
| Enroute to delivery office | Package departed from the facility |
| Your item was delivered to the front desk or reception | Shipment delivered successfully |
| | Package delayed due to some issues during the customs clearance |
| | The delivery of the package failed due to some reason. Courier usually leaves a notice and will try to deliver again |
| | Package departed from the facility |
| Processing document by Customs | Package handed over to customs for clearance |
| Delivery Status, Closed House | Recipient not available at the given address |
| | The package is out for delivery |
| The shipment has been delivered | Shipment delivered successfully |
| Delivery Status, Contact the recipient by phone | The customer is contacted before the final delivery |
| | Shipment delivered successfully |
| Back at parcel delivery centre after an unsuccessful delivery attempt. | The delivery of the package failed due to some reason. Courier usually leaves a notice and will try to deliver again |
| | Recipient not available at the given address |
| | Shipment arrived at a hub or sorting center |
| | The package arrived at a pickup point near you and is available for pickup |
| | The package arrived at a pickup point near you and is available for pickup |
| Unsuccessful item delivery attempt (Inb), Other | The delivery of the package failed due to some reason. Courier usually leaves a notice and will try to deliver again |
| Consignment successfully delivered | Shipment delivered successfully |
| Destinataire n'est pas disponible au moment de la livraison | Recipient not available at the given address |
| The item delivered to recipient | Shipment delivered successfully |
| | Package handed over to customs for clearance |
| | The package is out for delivery |
| Item is in delivery transportation | The package is out for delivery |
| | Package departed from the facility |
| The shipment item could not be delivered, Delivery was not possible | Package delayed due to some unforeseen reasons |
| The shipment has arrived at | Shipment arrived at a hub or sorting center |
| Delivery was not possible. The recipient will get a notification with information | Delivery of the package failed due to some shipping exception |
| Forsendelse udleveret i Pakkeautomat, SIGNED BY | Package delivered to and signed by the customer |
| | Shipment arrived at a hub or sorting center |
| Envoies retenus par le douane | Package handed over to customs for clearance |
| | Customs clearance completed |
| Item in office of exchange | Shipment arrived at a hub or sorting center |
| Item arrived to destination country. | International shipment arrived at the destination country/region |
| The shipment has been loaded for delivery. | The package is out for delivery |
| Awaiting customs inspection | Package handed over to customs for clearance |
| The shipment item has been delivered to the recipient | Shipment delivered successfully |
| | The delivery of the package failed due to some reason. Courier usually leaves a notice and will try to deliver again |
| | Package departed from the facility |
| Item Out for Physical Delivery | The package is out for delivery |
| | Shipment delivered successfully |
| | Package departed from the facility |
| Delivery to the destination international office | International shipment arrived at the destination country/region |
| Item Presented to Customs | Package handed over to customs for clearance |
| Item arrived in the destination country. | International shipment arrived at the destination country/region |
| | The return package has been successfully received by the sender |
| Unable to complete delivery | Delivery of the package failed due to some shipping exception |
| Unsuccessful delivery. We apologise that this item could not be delivered today | The delivery of the package failed due to some reason. Courier usually leaves a notice and will try to deliver again |
| Customs inspection concluded | Customs clearance completed |
| Letter notification has been sent to the recipients mailbox. | The customer is contacted before the final delivery |
| Record item customs information | Package delayed due to some issues during the customs clearance |
| | Package departed from the facility |
| Vaine tentative de livraison d'envoi | The delivery of the package failed due to some reason. Courier usually leaves a notice and will try to deliver again |
| | Package departed from the facility |
| | The package is out for delivery |
| Your item was delivered to an individual | Shipment delivered successfully |
| Transfer from office of exchange | Package departed from the facility |
| | Package departed from the facility |
| Registro de entrega exitosa | Shipment delivered successfully |
| With courier for delivery | The package is out for delivery |
| Item presented to import Customs | Package handed over to customs for clearance |
| | Customs clearance completed |
| The item was forwarded to the destination country | Package departed from the facility |
| Delivery at post office registered | Shipment delivered successfully |
| | Delivery of the package failed due to some shipping exception |
| Export of international mail | Package departed from the facility |
| | Package picked up by the customer |
| | Customs clearance completed |
| Item ready for pick up at a Post Office collection point | The package arrived at a pickup point near you and is available for pickup |
| Item returned from Customs | Customs clearance completed |
| | The delivery of the package failed due to some reason. Courier usually leaves a notice and will try to deliver again |
| | The package is on its way back to the sender |
| | Shipment arrived at a hub or sorting center |
| | Shipment delivered successfully |
| | Shipment arrived at a hub or sorting center |
| Item to be presented to local Customs office | Package handed over to customs for clearance |
| Reminder to Schedule Redelivery of your item | Delivery of the package failed due to some shipping exception |
| Arrived at the postal unit for delivery to addressee | The package is out for delivery |
| Delivery Status, GovernmentPublic Company closed | Business is closed at the time of delivery |
| | The delivery of the package failed due to some reason. Courier usually leaves a notice and will try to deliver again |
| | Package handed over to customs for clearance |
| Shipment item undergoing clearance process | Package handed over to customs for clearance |
| Handover to domestic sorting | Package departed from the facility |
| | The delivery of the package failed due to some reason. Courier usually leaves a notice and will try to deliver again |
| | The return package has been successfully received by the sender |
| Unsuccessful delivery, Postal service center | The delivery of the package failed due to some reason. Courier usually leaves a notice and will try to deliver again |
| Delivery Status, P.O. Box (Issue Notification) | The delivery of the package failed due to some reason. Courier usually leaves a notice and will try to deliver again |
| Registro de entrega no exitosa | The delivery of the package failed due to some reason. Courier usually leaves a notice and will try to deliver again |
| | The carrier received a request from the shipper and is about to pick up the shipment |
| | The delivery of the package failed due to some reason. Courier usually leaves a notice and will try to deliver again |