Latest Laos Postal Codes (zip codes) and best post mail service
Quick View About Laos
Laos, officially known as the Lao People's Democratic Republic, is a landlocked country in Southeast Asia. It is bordered by Myanmar, China, Vietnam, Cambodia, and Thailand. With a population of over 7 million people, Laos is a diverse country with a rich cultural heritage. In this article, we will take a quick look at the postal codes and post mail services in Laos.

Overview of Laos Postal Codes
Postal codes, also known as zip codes, are a series of numbers or letters used to identify a specific geographical location for the purpose of sorting and delivering mail. In Laos, postal codes were introduced in 2013 and are made up of five digits. The first two digits represent the province, while the last three digits represent the district or city within that province.
Currently, there are 17 provinces and one special administrative zone in Laos, each with its own unique postal code. The latest postal code for Laos was introduced in 2019 for the newly created province of Xaysomboun.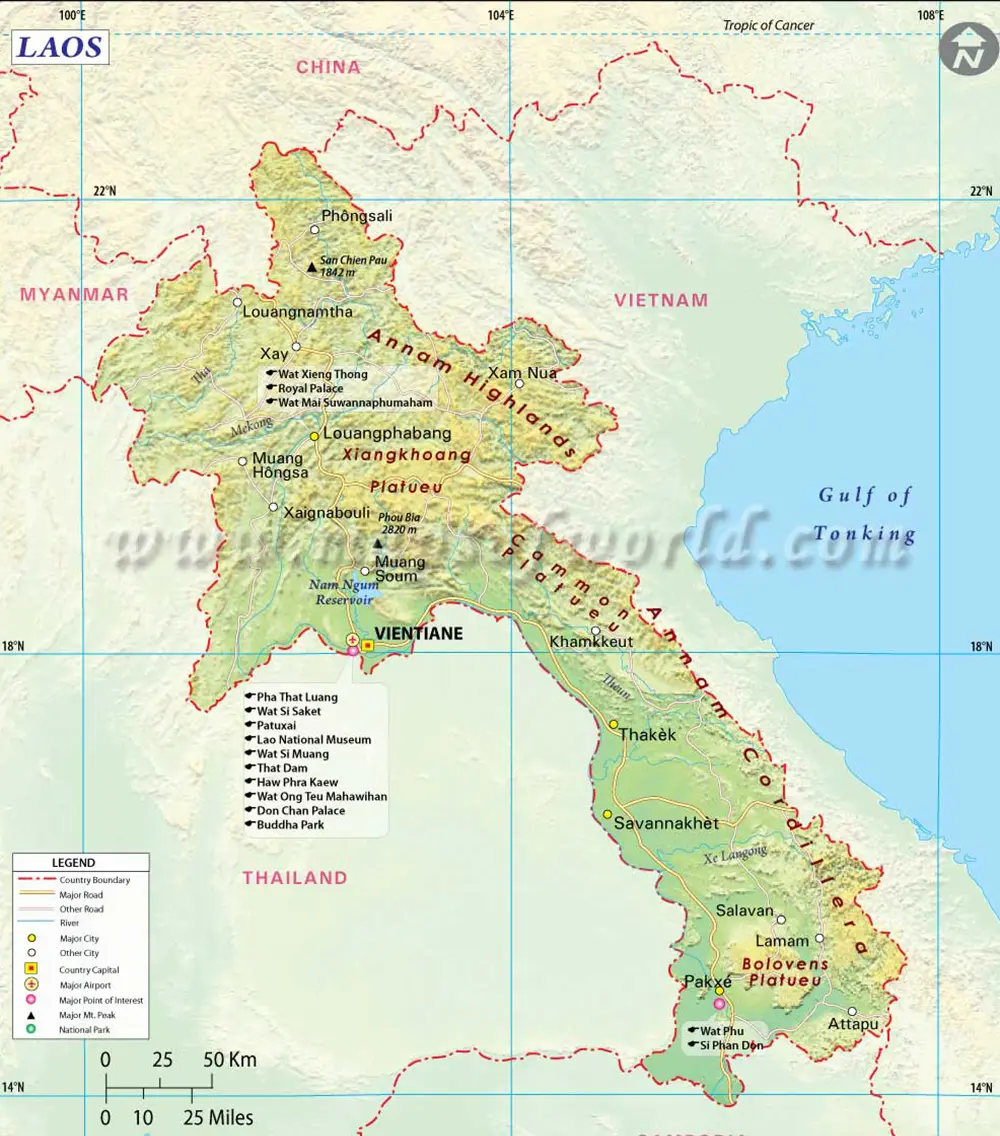 Understanding Laos Zip Codes
Zip codes, also known as postal codes or postcodes, are a series of numbers or letters used by postal services to sort and deliver mail to specific areas. In Laos, zip codes consist of five digits, with the first two digits representing the province, and the last three digits indicating the district or town within that province. The zip code system was first introduced in Laos in 2001 and has been continuously updated to accommodate the country's growth and development.
Importance of Zip Codes in Laos Post Mail
Zip codes play a vital role in Laos' postal system by ensuring efficient delivery of mail and packages. With the increasing volume of mail and packages being sent within the country, having a system of zip codes helps postal workers to quickly sort and deliver items to their intended destinations. This not only saves time but also reduces the chances of mail getting lost or delivered to the wrong address.
How to Use Laos Zip Codes
Using zip codes in Laos is quite simple. When addressing a letter or package, the sender should include the recipient's name, street address, province, and zip code. For example:
John Smith 123 Main Street Vientiane Capital 01000
The zip code should be written at the end of the address, after the province name. It is important to note that some provinces in Laos do not have zip codes, and in such cases, the sender can leave that part of the address blank.
How do I address a letter or parcel in Laos?
The address format in Laos is similar to most countries, with the recipient's name and address written on the front of the envelope or parcel. The postal code should be included after the province name.
What is Laos address format?
Home Delivery:
Mr. Khamsing Sengdeth
14, rue That louang
01160 XAYSETHA
LAO (PEOPLE'S DEM. REP.)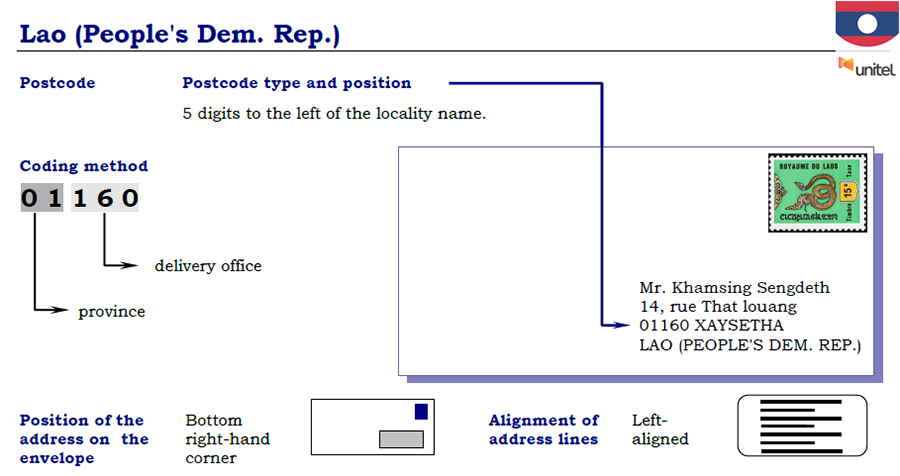 Latest Laos Zip Codes
As mentioned earlier, Laos' zip code system is constantly updated to keep up with the country's development. Here are the latest zip codes for each province in Laos:
Province
District
Postcode
Vientiane
Chanthabuly
1000
Vientiane
Sikhottabong
1010
Vientiane
Sisattanak
1030
Vientiane
Sangthong
1080
Vientiane
Mayparkngum
1090
Vientiane
Hadxaifong
1120
Vientiane
Naxaithong
1140
Vientiane
Xaysetha
1160
Vientiane
Xaythany
1170
Phongsali
Boon Neua
2000
Phongsali
Boontai
2000
Phongsali
Khua
2000
Phongsali
May
2000
Phongsali
Nhot Ou
2000
Phongsali
Phongsaly
2000
Phongsali
Samphanh
2000
Louang Namtha
Long
3000
Louang Namtha
Nalae
3000
Louang Namtha
Namtha
3000
Louang Namtha
Sing
3000
Louang Namtha
Viengphoukha
3000
Oudomxai
Beng
4000
Oudomxai
Hoon
4000
Oudomxai
La
4000
Oudomxai
Namor
4000
Oudomxai
Nga
4000
Oudomxai
Pakbeng
4000
Oudomxai
Xay
4000
Bokeo
Huoixai
5000
Bokeo
Meung
5000
Bokeo
Paktha
5000
Bokeo
Pha Oudom
5000
Bokeo
Tonpheung
5000
Louangphrabang
Chomphet
6000
Louangphrabang
Luangprabang
6000
Louangphrabang
Nambak
6000
Louangphrabang
Nan
6000
Louangphrabang
Ngoi
6000
Louangphrabang
Pak Xeng
6000
Louangphrabang
Park Ou
6000
Louangphrabang
Phonxay
6000
Louangphrabang
Phothong
6000
Louangphrabang
Phoukhoune
6000
Louangphrabang
Viengkham
6000
Louangphrabang
Xieng Ngeun
6000
Houaphan
Huameuang
7000
Houaphan
Kuan
7000
Houaphan
Muang Et
7000
Houaphan
Sop Bao
7000
Houaphan
Viengthong
7000
Houaphan
Viengxay
7000
Houaphan
Xamneua
7000
Houaphan
Xamtay
7000
Houaphan
Xiengkhor
7000
Houaphan
Xon
7000
Xaignabouli
Botene
8000
Xaignabouli
Hongsa
8000
Xaignabouli
Kenethao
8000
Xaignabouli
Khop
8000
Xaignabouli
Ngeun
8000
Xaignabouli
Parklai
8000
Xaignabouli
Phiang
8000
Xaignabouli
Thongmyxay
8000
Xaignabouli
Xayabury
8000
Xaignabouli
Xaysathan
8000
Xaignabouli
Xienghone
8000
Xiangkhoang
Kham
9000
Xiangkhoang
Khoune
9000
Xiangkhoang
Morkmay
9000
Xiangkhoang
Nonghed
9000
Xiangkhoang
Pek
9000
Xiangkhoang
Phaxay
9000
Xiangkhoang
Phookood
9000
Vientiane Province
Feuang
10000
Vientiane Province
Hinhurp
10000
Vientiane Province
Kasy
10000
Vientiane Province
Keo Oudom
10000
Vientiane Province
Mad
10000
Vientiane Province
Meun
10000
Vientiane Province
Phonhong
10000
Vientiane Province
Thoulakhom
10000
Vientiane Province
Vangvieng
10000
Vientiane Province
Viengkham
10000
Vientiane Province
Xanakharm
10000
Bolikhamxai
Bolikhanh
11000
Bolikhamxai
Khamkeuth
11000
Bolikhamxai
Pakkading
11000
Bolikhamxai
Pakxane
11000
Bolikhamxai
Thaphabath
11000
Bolikhamxai
Viengthong
11000
Bolikhamxai
Xaychomphone
11000
Khammouan
Bualapha
12000
Khammouan
Hinboon
12000
Khammouan
Kounkham
12000
Khammouan
Mahaxay
12000
Khammouan
Nakai
12000
Khammouan
Nhommalath
12000
Khammouan
Nongbok
12000
Khammouan
Thakhek
12000
Khammouan
Xaybuathong
12000
Khammouan
Xebangfay
12000
Savannakhet
Atsaphangthong
13000
Savannakhet
Atsaphone
13000
Savannakhet
Champhone
13000
Savannakhet
Khanthabouly
13000
Savannakhet
Nong
13000
Savannakhet
Outhoomphone
13000
Savannakhet
Phine
13000
Savannakhet
Sepone
13000
Savannakhet
Songkhone
13000
Savannakhet
Thapangthong
13000
Savannakhet
Thaphalanxay
13000
Savannakhet
Vilabuly
13000
Savannakhet
Xaybuly
13000
Savannakhet
Xayphoothong
13000
Savannakhet
Xonbuly
13000
Salavan
Khongxedone
14000
Salavan
Lakhonepheng
14000
Salavan
Lao Ngarm
14000
Salavan
Samuoi
14000
Salavan
Saravane
14000
Salavan
Ta Oi
14000
Salavan
Toomlarn
14000
Salavan
Vapy
14000
Xekong
Dakcheung
15000
Xekong
Kaleum
15000
Xekong
Lamarm
15000
Xekong
Thateng
15000
Champasak
Bachiangchaleunsook
16000
Champasak
Champasack
16000
Champasak
Khong
16000
Champasak
Moonlapamok
16000
Champasak
Paksé
16000
Champasak
Paksong
16000
Champasak
Pathoomphone
16000
Champasak
Phonthong
16000
Champasak
Sanasomboon
16000
Champasak
Sukhuma
16000
Attapeu
Phouvong
17000
Attapeu
Samakkhixay
17000
Attapeu
Sanamxay
17000
Attapeu
Sanxay
17000
Attapeu
Xaysetha
17000
Post Mail Services in Laos
The postal service in Laos is operated by Lao Post, a state-owned enterprise under the Ministry of Posts and Telecommunications. Lao Post provides a range of postal services, including domestic and international mail delivery, express mail service, and parcel delivery. They also offer financial services such as money transfers and bill payments.
Domestic Mail Delivery
Domestic mail delivery in Laos is relatively efficient, with most letters and parcels being delivered within 2-3 days. However, delivery times may vary depending on the remoteness of the destination. Lao Post has a network of over 1,000 post offices and 1,500 postal agents throughout the country, making it accessible to even the most remote areas.
To send a letter or parcel within Laos, you can visit any post office or postal agent and purchase stamps or pre-paid envelopes. The cost of domestic postage varies depending on the weight and size of the item.
International Mail Delivery
Lao Post also offers international mail delivery services to over 200 countries worldwide. They have partnerships with major international postal operators, such as DHL and FedEx, to ensure efficient and timely delivery of mail and parcels.
To send international mail from Laos, you can visit any post office and fill out a customs declaration form. The cost of postage will depend on the destination country and the weight and size of the item.
Express Mail Service (EMS)
For urgent or time-sensitive deliveries, Lao Post offers an express mail service (EMS). This service guarantees delivery within 24-48 hours to most major cities around the world. EMS is available for both domestic and international mail and comes with tracking and insurance options for added security.
To use EMS, you can visit any post office and fill out the necessary forms. The cost of this service will depend on the weight and destination of the item.